VIEW Blog Titles from May 2007
ARCHIVE
Blog Posts from May 2007:
Birthday: Johannes Brahms, Peter Ilyich Tschaikowsky, Gary Cooper, Gabby Hayes, Robert Browning, Marcus Loew of Loews Theater chain, Darin McGavin, Edward Land (inventor of the Polaroid lens and camera), Bob Clampett, Amy Heckerling, Traci Lords

Happy Birthday Clampett!Bob Clampett 1913-1984

Greek Festival of the Birth of Apollo.

1904 - Flexible Flyer trademark registered

1914-Jesse Lasky, Cecil B. DeMille and partners formed Paramount Pictures.

1915- THE LUSITANIA- The Civilian oceanliner Luisitania was torpedoed and sunk by the German submarine U-20. 1,198 drowned, including many Americans. The Kaiser later gave a medal to the U-boat Captain Walter Schweige. These acts outraged American opinion and led us into World War I despite many pro-German immigrants. It was revealed in recent years that the reason Lusitania sank so quickly, just 18 minutes - even Captain Schweige was surprised- was that it's cargo hold was full of contraband explosives. First Lord of the Admiralty Winston Churchill fought the German U-boat blockade by covertly transporting purchased American weapons on hospital ships, civilian ocean liners and let some British freighters illegally fly the flags of neutral countries. The German government knew that the Lusitania had been classified by the British admiralty a military cruiser. The German government apologized to the American government and stopped the unrestricted U-boat campaign for two years, but the Lusitania shifted neutral U.S. public sympathy irrevocably to the Franco-English side. Cartoonist Winsor McCay was moved to create a cartoon about the incident.



1926- Gangster Al Capone killed 3 of his men with a baseball bat over dinner.

1937-Nobel Prize winning writer William Faulkner hired by MGM Studios, earning $500 a week. He celebrated by going on a two week long drinking binge. When MGM's Head of Writing Sam Marx had him tracked down to an Oakie migrant camp in the Imperial Valley, he was dragged off boozily whining: " Ah only wanna write for Mickey Mouse !!"
Another time he requested that if he could work at home he would be more productive than in a studio environment. Marx agreed and Faulkner again disappeared. Finally after three weeks Marx got a telegram from Oxford, Mississippi.

1941-Glen Miller records the "Chattanooga Choo-Choo" for RCA. the first gold record million seller.

1942- Battle of the Coral Sea-The U.S. Navy, suffering only defeats up till then, stops a Japanese task force in the first battle between aircraft carriers. This is the first battle in which the two fleets never saw each other but fought long distance with airplanes. Veterans commented that one of the sadder losses was when the aircraft carrier Lexington went down she took the fleet's supply of 6 Bugs Bunny cartoons with her. War is Hell.

1966- "Monday Monday" by the Mammas and the Poppas becomes #1 in the pop charts.

1996- Comedian Martin Lawrence went berserk and ran down a main intersection in Van Nuys Cal. raving and waving a pistol. When asked to explain himself Lawrence blamed it on "Dehydration."

1998- Apple Computers introduced the iMac.
-SEVENTY YEARS AGO- 1937- Bill Cosby,George Carlin, Don Bluth and Robert Redford were born. J.R.R.Tolkien published the Hobbitt. The Hindenburg exploded, Aemelia Earhardt dissappeared, Japan attacked China, Daffy Duck and the antihystamine were invented.




-Seventy Years Ago- Animation artists finally did more than just whine to each other about lousy work conditions.

-Seventy Years Ago- animation artists did more than just screw one another to gain temporary advantage on one picture.

-Seventy Years ago- animation artists did more than moan about not getting a screen credit.

-Seventy Years ago- animation artists were not just grateful for every crumb that dropped from the table of their bosses for the priveledge of making them rich, and took real steps to create a stable livelhood for each other.

-Seventy Years ago- Animation artists didn't just think only of themselves, but stood shoulder to shoulder and laid it all on the line to make things better.

-Seventy Years Ago- Animation Artists united and went on strike for the first time, against the Max Fleischer Studio in New York.

- They were mostly young people, in their twenties. New practicioners in a new technology. There was no safety net if they failed, blacklisting was common. But they belonged to an age of joiners, people who saw more value in united action than going-for-yourself.

-With that spirit they made headlines, made Hollywood major studios like Paramount buckle and sent a message across America- animators are not magicians or gnomes who live under the rainbow, but men and women who pay bills and deserved respect.

All who work in the business of animation owe these brave people a debt of gratitude. I salute them all.

p.s. for those of you who don't know what I'm talking about, go get my book Drawing the Line and turn to chapter 4.
(sheesh, ya jes can't get an uplifting message without a &*%# commercial..)




-Seventy Years Ago- Unity, an old idea that maybe needs a second look.

----------------------------------------------------------
Birthdays: Maximillien Robespierre, Sigmund Freud, Rudolph Valentino, Orson Welles, Robert Peary, "Say Hey!" Willie Mays, Stewart Granger, Toots Schoor, Andriana Caselotti- the voice of Snow White, Ruben Hurricane Carter,Anne Parillaud- Nikita in La Femme Nikita, Britains PM Tony Blair, George Clooney is 47

1919- Wizard of Oz creator L.Frank Baum died of heart disease at 62. He was trying at the time to buy real estate in Los Angeles for an Oz- theme amusement park.

1937- Seventy Years Ago- THE FLEISCHER STRIKE-Cartoonists vote to strike Max Fleischers Studio after Max fires 13 animators for union activity and complaining about the 6 day work week. The strike was settled several weeks later when parent company Paramount forced Max to concede. Strikers sang "We're Popeye the Union Man! We're Popeye the Union Man! We'll Fight to the Finish, Cause We Can't Live on Spinach ! We're Popeye...etc."

1937- The Society of Motion Picture Art Directors formed.

1949-EDSAC invented in England. The first computer that could store programs in it's memory.

2001- Variety reported that the Walt Disney Company in promoting their upcoming summer film Pearl Harbor canceled the plans for Pearl Harbor Happy Meals at MacDonalds as being in bad taste. Hmmm…do ya think..?

2003- A giant tornado destroyed the factory in Jackson, Tennessee that produced most of the world's supply of Pringles Potato Chips.
Birthdays: Tyrone Power, Karl Marx, Elizabeth Cochrane called Nellie Bly, Soren Kierkegard, Alice Faye, James Beard, Michael Palin, Pat Carroll the voice of Ursula in the Little Mermaid, John Rhys Davies, Lance Henriksen

Happy Cinco de Mayo! Like Saint Patrick's Day in Ireland , Cinco de Mayo in Mexico doesn't get that much attention, but it's a good excuse for Mexican Americans to show pride and all the rest of us to guzzle our Dos Equis and Cuervo Especial. Viva la Raza!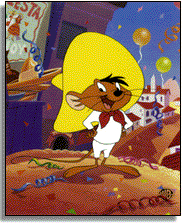 Warner Bros Character Speedy Gonzales, named for animator Frank Gonzales and designed by Bugs Hardaway.

National Cartoonist's Day.

1504 -Sir Anton of Burgundy, known as The Great Bastard, dies at 82. We don't know much about this knight but you gotta love that nickname!

1953- Broadway Director Jerome Robbins was riding high after directing hits like On the Town and King & I when he was labeled a Communist by Ed Sullivan. To save his career this day he testified before Joseph MacCarthy's House UnAmerican Activities Committee HUAC and named names. One actress he finked on -Margaret Lee said" I've just been stabbed by a wicked fairy". Ironically Robbins went on to direct two of his biggest hits "A Funny Thing Happened on the Way to the Forum and the Fiddler on the Roof using blacklisted actors like Zero Mostel, Bea Arthur and Jack Gilford, who all hated him.

1961- Alan Shepard became the first American in space on board Friendship VII. The rocket took him 115 miles into space but not high enough to achieve an orbit. That was done one year later by John Glenn. Shepard was kept on the ground in his capsule for so long he had to pee in his suit. In the upside down position the fluid ran up his back and puddles in his helmet behind his head. Ick.

1968- Albert Dekker, star of monster movies like Dr. Cyclops, was found hanged in his bathroom handcuffed and wearing ladies lingerie and with a narcotics syringe sticking in his arm. The police declared it an 'auto-erotic episode that had gone wrong."




1975- Anne Rice's novel The Interview With The Vampire first published.

1985- President Ronald Reagan started a firestorm of controversy among veterans groups when he laid a wreath in Germany at a cemetery in Bitburg that contained graves of Nazi Waffen-SS soldiers. Some of them may have participated in the infamous Malmedy Massacre of US prisoners. When looking for a place for Reagan to stay the State Department scouted around for a German host who was conservative but had no Nazi connections. Finally they found a Junker Baron who was born in 1942. So Reagan stayed at his castle. Once there the Baron revealed even though his father was not in the party, when born his godfather was Adolf Hitler! Doh!


Don't blame me, I voted for Cheney.
Birthdays: Bartolomeo Christofori'-inventor of the modern piano, Audrey Hepburn –real name Edda van Heemstra Hepburn-Rusten, Roberta Peters, Maynard Ferguson, Pia Zadora, Howard Da Silva ,Tammy Wynette, Randy Travis, Egyptian President Hosni Mubarak, George Will

1799- The Assault on Seringhapatamb- In India the British army storms the fortress of Sultan Tipoo Sahib the 'Tiger of Mysore'. Commanding General John Baird leapt up on the parapet and shouted over the scream of rockets, cannon and elephants :" Up my brave lads and show the world you are worthy of the title- British Soldiers!" Present at the battle was a young colonel Arthur Wellesley who would later gain fame as the Duke of Wellington. Tipoo Sahib was England's chief enemy in India and had been defeated a decade earlier by Lord Cornwallis, who made up for his loss to George Washington at Yorktown. After the battle among the plunder they found the Sultan's favorite toy- a life-size mechanical tiger clawing a man. The tiger had a set of organ keys that played a medley of roars and human screams for Tipoo's amusement. It's in the Victoria and Albert Museum today.

1891 –THE DEATH OF SHERLOCK HOLMES According to Sir Arthur Conan-Doyle this was the day Sherlock Holmes, perished at the Reichenback Falls grappling with sinister Prof. Moriarity- The Napoleon of Crime. Conan Doyle had tired of his eccentric detective and wanted to get on to other types of writing like novels. But English readers were horrified he had killed off the great sleuth. Conan-Doyle couldn't take a walk down the street without someone stopping him:" Sir, How could you?!" When touring the US he wanted to lecture about historical subjects but people only wanted know more about Holmes and Watson. After a while Arthur Conan-Doyle gave in and began a new series of the Further Adventures of Sherlock Holmes.



1897- In Paris during a charity cinematograph show the nitrate film catches fire and 200 die. Movie film before the 1940's was made from a very unstable mixture and could explode from the slightest contact with flame.

1927-The Motion Picture Academy of Arts & Sciences formed. Studio heads Irving Thalberg and Louis B. Mayer originally conceived the Academy as an an arbiter and ombudsman where studio artists could air grievances without fear of retaliation, thereby sidetracking the call for unions. It didn't work because of the nature of it's founders. Writer Dorothy Parker commented: "Going to the Academy with your problems is like trying to get laid in your mother's house, someone's always peeking through the curtains"
After the stock market crash the Academy supported the studio heads enforced employee salary cuts. Soon all pretense as a human resources ombudsman was abandoned and AMPAS focused on being the arbiter of artistic achievement.

1948- Norman Mailor's first novel published: "the Naked and the Dead".

1953 - Pulitzer prize awarded to Ernest Hemingway for The Old Man & The Sea.

1957 - Alan Freed hosts "Rock n' Roll Show" 1st prime-time network rock music show.

1967- The Big Mac hamburger is invented in a MacDonald's restaurant in Pittsburgh.

2000- The Love Bug Computer virus ravaged the worlds commerce through Microsoft Outlook causing $10 billion dollars in damage and shutting down temporarily the e-commerce of large firms like Reebok. It was launched by a Philipino AMA Computer College graduate student as part of his thesis.

2001- Bonnie Lee Bakely, the wife of actor Robert Blake, was found in her car dead of a gunshot wound to the head outside of Vitello's Restaurant in Studio City, Ca. They had just had dinner and Mr. Blake had returned into the restaurant to retrieve a gun he had left at his table. In 2005 the actor was acquitted of his wife's murder, but lost a wrongful death suit to Blakely's family. It is still on appeal. Why did Robert Blake bring a gun to his dinnertable? I guess it's in case the waiters get snippy or something.
------------------------------------------------------
Birthdays: Niccolo Macchiavelli, Golda Meir, Sir Richard D'Oly-Carte, Peter Gabriel, James Brown, Pete Seeger, Betty Comden, Doug Henning, Beaulah Bondi, Mary Astor, Sugar Ray Robinson, Alex Cord, 70's singer Englebert Humperdinck, Dule Hill

1702-William Hyde- The Fifth Earl of Clarendon called Lord Cornbury arrived from England to be Royal Governor of colonial New York. This English aristocrat surprised the solid Dutch Calvinists of former Nieu Amsterdaam by his eccentric behavior. His favorite pastime was dressing up in ladies clothing and jumping out at people at night and pulling their ears. When in drag he bore an uncomfortable resemblance to England's Queen Anne. He later explained he dressed this way so the colonists could see what their queen in England looked like, but nobody believed him. There is today a painting of the Lord Governor in drag at the New York Historical Society . It was alleged that he was a fence for pirates and once asked the New York City council for money to repel a fictitious French attack which he pocketed and bought the land today called Hyde Park.


Lord Cornbury in drag at the New York Historical Society

1888- Poem "Casey at the Bat" published.

1948-THE PARAMOUNT DECISION- In 1938 the independent theater chains had brought suit in Federal court against the major Hollywood Studios over their monopolistic practices. Ten years and a World War later the Supreme Court ruled the Motion Picture Studios did constitute a monopoly and under the Sherman AntiTrust Act ordered them to sell their theater chains. One casualty of this rule was the short cartoon. Because theater managers no longer were forced to run a cartoon, newsreel and short with a feature (block-booking), they opted for the time to run more showings of the main feature.




1968- THE PARIS '68 REVOLT- Police are sent into the Sorbonne University in Paris to break up student demonstrations. The grounds of the university had never been violated by police, even during the Nazi occupation. This act enraged the student leaders who are joined by labor unions and there is fighting in the streets of Paris for the next three weeks that eventually brought down the DeGaulle gov't. All night political meetings center in the Odeon theatre as the likes of Jean Paul Sartre and John Luc Goddard make intellectual manifestations of aesthetic freedom."The More I make Love, the More I make Revolution!" One of the student leaders was Daniel Cohn-Bedit "Danny the Red". Gaullist-Conservative media tried to draw attention to Cohn-Bendit's Jewish foreign background . This caused an even larger angrier march of everyday Parisians and Unionists chanting: "We are all Jews!"


Danny the Red Cohen-Bendit. Vive L'Danny!


1969- Groundbreaking in Valencia for the California Institute of the Arts.

1971- National Public Radio's news program "All Things Considered" goes on the air, the first national news program with women news anchors- Linda Ellerbee and Susan Stanberg.

1973- Chicago's Sear Tower was topped off at 443 meters, to be the worlds' tallest office building.

1978- THE FIRST SPAM E-MAIL- Gary Thuerk, a marketing manager for Digital Equipment Corp wanted to invite all the scientists and professors on the ARPANET system to an event. It was too much work to do one e-mail at a time so he devised a way to mail 600 people at once. So thank Gary that you get endless messages like "Biancas Backdoor Bliss","Increase your potency" and "Nigerian Bank Trustee Investment schemes."
| | |
| --- | --- |
| | |