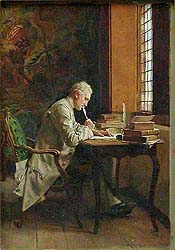 Well, the book is off to a good start. I see DRAWING THE LINE is in the stacks in Barnes & Noble, Powells in Portland, The Strand in Greenwich Village and many more. I did my first podcast today, for Chuck Oberleitner's fan site www.o-meon.com. It's not on line yet, but I'll let you know. He has an interview with Floyd Norman there now which is very good. PLans are moving ahead for the big party at Gordon Biersch in Burbank this friday the 13th, and the big UCLA nite on monday October 23rd. Some more interviews, and in November I take my show on the road to San Francisco and the Big Apple.

But by far the best compensation I've gotten is all the good reactions from the family of the great animation folks I write about. Walt and Selby Kelly's family, Dave Hilbermans, Chuck Jones, Art Babbitts' and the amazing Martha Sigall, and more. All very flattering and excited for the book. Martha told me tonight she was glad that the story was finally told, that it was a story that all animation artists need to know.

For those who don't know her, Martha is an inker and cel-painter who started at Looney Tunes in 1936 and moved to MGM in 1943 and at Hanna Barbera in 1957. She worked with all the great animation directors, walked the picket lines and is blessed with a wonderful memory. I included a lot of her great stories, and you can read her memoirs for yourself- Living Life Inside the Lines:Tales From The Golden Age of Animation by Martha Sigall, Univ Press of Mississippi.
| | |
| --- | --- |
| | |