We all heard yesterday of the death of Iwao Takamoto at age 81.


Iwao Takamoto in 1945, courtesy of Berkeley/edu

Iwao was a young artist of Japanese descent who had been imprisoned at camp Manzanar with his family for the duration of World War Two. When he wasn't picking strawberries for local farms, he was drawing. When the Manzanar inmates were at last allowed to go home, friends suggested he try for a job at the Walt Disney Company. Iwao was hired as an inbetweener and his skills quickly brought him up to key assistant on such classics as Cinderella, Peter Pan and Alice in Wonderland. He was a lead on Princess Aurora on the film Sleeping Beauty. Many stories abound of his pickiness. Every morning the inbetweeners sullenly lined up in the hallway to show him their stuff and get little red x's where they went wrong. Assistants Stan Green and Bud Hester used to play tricks on them while they were waiting.

Leaving Disney in the early 60s' he landed at Hanna Barbera where he became a senior designer. From blank paper Iwao gave birth to Scooby Doo, Astro George Jetson's dog, Penelope Pittstop and the Ant Hill Mob, Dastardly and Mutley, Wally Gator, Peter Pottamus, Hong Kong Fooey and Jabberjaws.

Although Iwao became one of the most important artists at Hanna Barbera when it was called the General Motors of Animation, he was shy, retiring and gracious; content to let others take the spotlight. Even in the studios decline, Iwao was always there. When Hanna & Barbera had shrunk to a few offices in Warner Animation, Iwao was there every day.

In 2001 when my film Osmosis Jones was sharing offices with the preproduction of Scooby Doo, the Movie, I recall how their design team tussled with how to design Scooby, not realizing that the man who thought him up sat in an office on the floor above.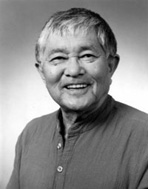 Iwao was blessed with good health and worked almost to the day he died. A gentleman and gifted artist, Adieu Iwao!

----------------------------------------------------------
Birthdays: Woody Guthrie, Richard Nixon, Ray Bolger, Roy Disney Jr., William Powell,George Balanchine, Judith Krantz, Bob Denver, Crystal Gayle, Joan Baez, Simone de Beauvoir, Sir Rudolph Bing, Herbert Lom, Gypsy Rose Lee, Joely Richardson

Festival of Janus, the namesake of January, Roman God of gateways and doors, not
to be confused with Terminus, God of borders and terminal points, Lemintinus the
God of Threshholds and stoops. Cardea the Goddess of hinges or Forculus the God
of the door leaves and sectioned doors.

1768- Former English cavalry sergeant Phillip Astley combined trick riding in a tight circular ring with a clown and some jugglers and took it all on the road. The first Circus.

1857- The Fort Tejon earthquake shook Los Angeles This was the last major quake in Southern Cal of the great San Andreas Fault, an estimated 8.0 !

1914 -John Randolph Bray takes out patents on the principles of film animation: cycles, arcs, keys and inbetweens. He even later tried to sue Winsor McCay, who had already been using them for years.

1924- The breakfast cereal Wheaties invented.

1936- Actor John Gilbert died of a heart attack after years of alcohol abuse. The accepted reason was he was a has-been silent film star who's voice was too thin and squeaky for talking pictures. Actually his voice wasn't too bad, some of it may of had to do with his punching Louis B. Mayer in the mouth when Mayer made a crude remark about Gilbert's sexual relations with Greta Garbo -something like "Why marry her when you're getting it anyway ?.."-BOP! . Mayer got up and screamed: "I'll ruin you if it costs me millions!"Gilbert's fading popularity and decline into alcohol as his second wife Virginia Bruce's film career blossomed was the inspiration for "A Star is Born".

1939- Top Looney Tunes director Frank Tashlin was hired by Walt Disney. He quit after two fruitless years and left so angry he wrote a children's book called the "Bear that Wasn't" about his experiences. " I always pick the wrong people to pick a fight with." he said. An early vice president of the Cartoonists Guild, he also joined the Mouse House to help unionize the studio. In 1945 Tashlin went into Paramount's live action division and became the director of the Dean Martin & Jerry Lewis comedies.

1959- The tv series Rawhide debuted, starring a young cowpoke named Clint Eastwood. President Lyndon Johnson was a Rawhide fan. In a recently released White House tape Dmitri Tiompkins' theme from Rawhide can be clearly heard on his TV in the background."Rollin', Rollin' Rollin'; keep them dowgies moving…Rawhide!!"

1976- First day of shooting in Philadelphia of the movie Rocky. It was the first movie to utilize the Steadicam, a system that balanced hand-held camera shots.
| | |
| --- | --- |
| | |