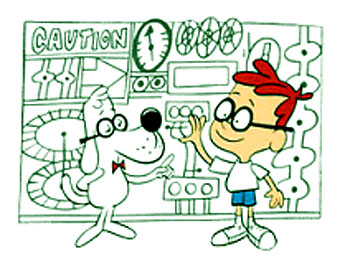 One year ago, for a lark I threw in a trivia question or two with my history. When I stopped, I was surprised when I got a very strong response from readers around the world who wanted me to continue. Since then I asked everything from define the word Perjorative to Who was the voice of Elmer Fudd. I am very flattered that you all like the quiz questions, and you're having so much fun with them.

So Vox Populi- Let the Voice of the People be heard!

----------------------------------------------------------
Question: What is a G-Man..?

Yesterday's Answer below: What was the Gilded Age?
------------------------------------------------------------
History for 10/3/2008
Birthdays: Gore Vidal is 83, Mikail Lermontov, Harvey Kurtzman, Chubby Checker, James Herriot, Eleanor Duse, Emily Post, Leo McCarey the director of the Marx Brothers Duck Soup and many Laurel & Hardy shorts, Steven Reich, Dave Winfield,Neve Cambell, Tommy Lee is 46, Clive Owen is 44

1226- Saint Francis of Asissi died at 44. He seldom bathed and he asked his followers to strip him naked so he could leave the world as he came in. They all sang his Canticle of the Animals, then he exclaimed 'Welcome, Sister Death." His gravesite was kept secret until 1818.

1855- American James McNeill Whistler arrived in Paris to study painting. He had tried to apply to West Point for a military career but failed the entrance exam. Years later he joking told friends "If I hadn't identified phosphorous as a gas I'd be a major general by now!'

1903- Dr Horatio Nelson Jackson, the first man to drive an automobile across the American continent, was fined in his home town in Vermont for driving his automobile faster than 6 miles an hour.

1910- English comedians Charlie Chaplin and Stan Laurel first arrive in the U.S. with a touring British vaudeville company.

1941- Warner Bros. THE MALTESE FALCON "premiered. Screenwriter John Huston asked if he could direct an adaptation of this old Dashell Hammett story, which had been already made into movies twice. This version became the most famous. The name was kept despite producer Hal Wallis wanting to change it to THE GENT FROM FRISCO. Jack Warner was amazed that homely looking little character actor Humphrey Bogart had shown the potential to be a romantic leading man in 'The Petrified Forrest', now the Maltese Falcon established him as a major draw. Warner joked to Bogie about his looks in referring to his contentious brawls with his wife Mayo-"I don't know what women see in you, but the more pots and pans she hits you in the kisser with, the more the dames love you!"


You fat, bloated eediot! -Said like Ren from Ren & Stimpy

1942- In Pennemunde Germany, a group of Nazi scientists led by Dr. Werner Von Braun successfully launch a 12 ton rocket that flies 200 miles. The good thing is Braun proves his thermos-bottle type liquid-fuel rocket engines arranged in a cluster of three can work. After the war they become the basis of NASA's and Soviet rocket programs in the 1950's. The bad thing is the Nazis named them the Vengance-2, (V-2) fill them with explosives and started shooting them at England. When the war ended Von Braun and his team had been working on a rocket that could carry explosives 4,000 miles- to America.

1955- 'Good Morning, Captain.' The Captain Kangaroo kiddy Show debuted on television.

1955- The Mickey Mouse Club TV show premiered. "Who's the leader of the Band that's Made for you and me…?"

1957-Walter Lantz's The Woody Woodpecker T.V. show debuts.

1957- Jayne Mansfield met Greta Garbo and asked for her autograph.

1961- The Dick Van Dyke Show premiered. It made stars of Van Dyke and Mary Tyler Moore and was written by ex-Sid Caesar writer Carl Reiner and Rocky & Bullwinkle writer Alan Burns.

1967- Folksinger and union activist Woodie Guthrie died of Huntington's Chorea. His family dumped his ashes in New York Harbor then went to Nathans on the Coney Island Boardwalk for hot dogs, Woody's favorite.

1992- Bald Irish pop star Sinead O'Connor caused a fuss by tearing up a picture of the Pope on the show Saturday Night Live. She was later booed off stage during a concert at Madison Square Garden.

1993- THE RAID ON MOGADISHU- US troops were deployed with other UN forces to the civil war wracked nation of Somalia to aid the starving population. Once there they found themselves plunged in a chaos of heavily armed warring clans. This day a Delta Force was sent into the capitol city Mogadishu to apprehend lieutenants of the faction leader Mohammed Farah Idide. Once there two helicopters were shot down by hand held missiles and the Deltas were surrounded in the narrow streets by swarms of hostile militia. The US forces fought their way out with the aid of UN Pakistani mountain troops. But the images of dead American troops being dragged through the dusty streets by gleeful Somalis soured the American public back home and the forces were soon withdrawn. Idide was later assassinated and the chaos continued. The Ridley Scott film BLACK HAWK DOWN dramatized the incident.

1995- After a long sensationalist trial turned into a media spectacle, celebrity O.J. Simpson was acquitted of the double murder of his second wife Nicole and Ron Goldman. He was later convicted in a wrongful death suit brought in Civil Court by Nicole's family.

2002- Disgruntled Gulf War vet John Allen Mohammed and his 17 year old stepson John Lee Malvo went on a shooting spree in the suburbs of Washington DC as the DC Sniper. They shot thirteen people at random with one bullet each and terrorized Maryland and Virginia before they were caught. Even Son of Sam killer David Berkowitz was employed from prison to appeal to the Sniper to stop.

2003- The Siegfried and Roy magic show in Las Vegas comes to an end after a large Bengal Tiger attacks Roy Horn and tears his throat open in front of an audience. Most thought it was part of the act.
------------------------------------------------------
Yesterday's Quiz: What was the Gilded Age?

Answer: The time after the Civil War to the Turn of the Twentieth Century (1865-1899), was known in America as a time when the Industrial Revolution created a class of fabulously wealthy tycoons who paid almost no taxes. Much uh…. Like it is now. Vanderbilt, Rockefeller, Carnegie, Huntington, Stanford, Astor, Morgan.

While working people toiled in bad conditions for long hours and little pay, Rich People flaunted their wealth and tried to outdo one another in conspicuous displays. Uh… much like now. People's decorative taste included a lot of overstuffed furniture and gold leaf, and gold paint on decorative moldings.

The term was coined by Mark Twain in his 1873 book The Gilded Age.
| | |
| --- | --- |
| | |