courtesy Asifa/Hollywood.org
I'd like to call to your attention the fellow who did the painting that graces the cover of my book DRAWING THE LINE. Patrick Mate' is a Frenchman who moved to Hollywood and animates for Dreamworks. His credits include films like Balto, Prince of Egypt, Sharktale and Over the Hedge. Once when animator Nancy Beiman was in town, Patrick and his wife Nina invited a bunch of us over for a party. When there I was impressed to see Patricks' other passion was doing paintings of famous people. He enjoys a form of stylized caricature similar to the caricaturist Kruger. I am thrilled to have his work on the cover of my book. His website had examples of his stuff as well as links to a number of other Invincible Gauls or animation. http://www.patrickmate.blogspot.com

courtesy patrickmate.blogspot.com
--------------------------------------------------------
History for 8/15/2006
Birthdays: Napoleon Bonaparte is 237, Samuel Coleridge, Sir Walter Scott,
T.E. Lawrence of Arabia, Ethel Barrymore, Huntz Hall,Bill Baird, Julia Child, Edna Ferber, Sir Robert Bolt, Rose-Marie, Linda Ellerbee, Oscar Peterson, Leon Theremin-inventor of that weird electronic musical instrument that is featured in all those 50s flying saucer movies, Maxine Waters, Nicholas Roeg, Ben Afleck is 35, Debra Messing is 39

778 AD.-Battle of Roncevaux or Roncesvalles. Legendary battle where Frankish Emperor
Charlemagne's top knights -the Palladins: Roland waving his sword Durandel,
Oliver and Ogier the Dane fell fighting the Moors. The battle was probably a small
rearguard skirmish with hostile Basques guerrillas but a poem about the incident
called the Song of Roland expanded it into an epic Christian battle against the
evil Moslem Moors, wizards and devils. The Chanson du Roland became top of the charts
in the Middle Ages. When William the Conquerer's Normans went into battle at
Hastings in 1066 William's minstrel Vailletan sang the Song of Roland at
full gallop while tossing his sword into the air and catching it like a parade drum major.

1057-Scottish king Macbeth is defeated and killed by Malcom III Canmore at the
battle of Lumphanan in Aberdeenshire. But did Burnham Wood move to Dunsinane?

1097- DEUS VOLT ! GOD WILLS IT! The First Crusade was announced at Clermont by
Pope Urban VII. Christian Europe decided that the Holy places in Jerusalem should
not be in Moslem hands. In his sermon the Pope addressed the assembled knights in
their native French:Christian warriors who continually seek pretexts for
war and rape Rejoice! If you must have Blood, then bathe in the Blood of the Infidels,
and Christ will count you among his Warriors! Soldiers of Hell, become Soldiers
of the Living God! They sewed small strips of red cloth in a cross on
their left shoulders and began with a massacre of any Jews they could find. History is at a
loss to find any comparable social phenomenon. It took Islam a generation to understand
that this was a Christian Jihad (Holy war) declared on them. The Moslem Emirs were
just as feudally divided as the European warlords until they united under the brilliant
Kurd Sultan Sa' Allah-al-Dhin or Salladin.

1848 - M Waldo Hanchett patents the dental chair.Cartoonist Al Hirschfield liked to draw while seated in a dentist chair in his study.

1885- Sir Richard Burton completed his translation from medieval Persian of One Thousand and One Arabian Nights. There had been earlier attempts like a French edition in 1809, but Burton's edition introduced the west to Aladdin and his magic lamp, Sinbad the sailor and Sherherazahde.

1911- Proctor & Gamble introduced Crisco shortening.

1958 - Buddy Holly weds Maria Santiago.

1960- The Congo ( Brazzaville) declared independence from France. It had been renamed
Zaire for awhile but is back to the Republic of the Congo today.Remember at the end of Casablanca when Claude Rains says to Humphrey Bogart- "I have a cousin in the Free French garrison down in Brazzaville. I could arrange a passage..?"

1969-WOODSTOCK-Three Days of Peace and Music- The rock concert of the Century opened. The promoters, one of whom was heir to the Polident Denture Cream fortune, were hoping to host
50,000 people and launch a recording studio in the quiet New York farming town.
What they got was 500,000 hippies and the social phenomenon that defined the Age.
At one point the more conservative elements of the community got a court order to
block the land to be used, but farmer Max Yasgur offered his cow farm for the site.
Up till then in the tumultuous 1960s any gathering of young people that
big meant violence and riot, and at one point New York Governor Nelson Rockefeller threatened
to send in the National Guard. But the magic prevailed and there was no violence
outside of 200 bad acid trips and one heroin overdose.
Richie Havens was the first act to play, he did six sets and kept stalling because
the crowd was so immense they had to bring in the other bands by helicopter. When
he ran out of songs to sing Havens started riffing any thing he could think of the
top of his head. This way Havens created his most famous tune "Freedom"
with added in spirituals like "Sometimes I feel like a Motherless Child".
Drugs, sex and rock & roll flowed freely. At one point someone put LSD into the drinking water of
the rescue helicopter pilot . He spent two hours flying in circles over the festival,
thinking he was traveling over one huge expanse of people. One hippy had spent the
entire night high on LSD. As he started to come down, the first thing he recognized
in the dawns early light was Sha-Na-Na on stage doing 50s Doo-Wop. He
thought he had been sent to Rock Hell.
Bambi rains down Death from Above! Another reason why Canadians have such a bloodthirsty reputation. WWII Bomber nose art courtesy rcaf.com

You may have noticed recently I listed two days for the first showing of Walt Disney's Bambi. One of of pitfalls of the trivia game is what date to acknowledge. Before the 1980s movies had a Premiere opening at a first run theater, then ran for a month say in three or four theaters in New York, Chicago and LA, then had a second opening in general release, the 400 plus theaters around North America. A European film like Richard Lester's HELP! starring the Beatles, marks the date of a London Premiere, and an America premiere.

With inventions it gets worse: One date for Thomas Edison conceives the idea of the Light Bulb, another for the date he successfully tests it, another for his patent, another for the public announcement of the invention.

And of course, we also have to deal with the discrepancies in the calendar. The Gregorian reform calendar went into use in Italy and Spain 1582, but wasn't accepted in the Protestant countries for a hundred years and not in England until 1750! So all that history trips up historians on the 14 day difference in the two calendars.
Columbus discovered America on Oct 12, 1492, although he thought he did it on October 22nd 1492, Old Style.

So if I get a few dates crossed, please bear with me. Wasting the worlds energy broadcasting inane bits of film trivia is a dirty job, but someone has to do it.
hey, did mention I wrote a book?

-------------------------------------------------------------------
History for 8/14/2006
Birthdays: Steve Martin is 61, Far Side cartoonist Gary Larson, Erwin "Magic" Johnson, Lina Wertmuller, David Crosby, California Banditto Triburcio Vasquez, Alice Ghostly, Buddy Greco, The 20's Parisian nightclub singer known as Bricktop, Mark "The Bird" Fidrych, Film composer James Horner, Wim Wenders, Emmanuele Beart, Halle Berry is 40

1928 - Ben Hecht & Charles MacArthur's play" The Front Page," premieres in NYC. They later went on to become top comedy writers in Hollywood. MacArthur is the one who sent Hecht the famous cable from LA. "Hecht, some quick, fortunes to be made and the competition are idiots!- Mac" When MacArthur died he put on his tombstone the epitaph "Over My Dead Body!"

1935- President Franklin D. Roosevelt signed into law the National Social Security Act. Considered the most successful US Federal social program ever, today there is great controversy over it's financial overhaul. In 1972 young George W. Bush submitted a paper in his business class at Yale. It's theme was that Social Security was a big commie mistake.

1956- The Marilyn Monroe movie "Bus Stop" premiered.

1965 - Sonny & Cher's "I Got You Babe" hits #1.FYI -their real names? Salvatore Bono and Cheriyn Sarksiian LaPierre.

1965- Jane Fonda married director Roger Vadim, who put the beautiful young blonde in naughty movies like Barbarella. His previous wife Bridgette Bardot was a beautiful young blonde that he put in naughty movies….hmm.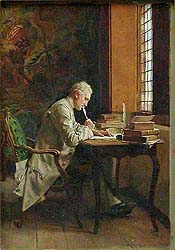 duhh... have I mentioned lately that I wrote a booK?

DRAWING THE LINE Booksigning events planned so far...
October 13th Fri. Burbank Cal. Gordon Biersch - c/o Creative Talent Network.

November 17th Fri. San Francisco Cartoon Museum 313 Mission St., evening talk with
ASIFA/SF 7:00PM

November 18th Saturday -San Francisco- Zeum ,a childrens interactive museum.

November 29th Weds. New York- Chelsea Barnes & Noble, 675 6th Ave near NYU.
7:00PM talk & reception courtesy of the School of Visual Arts and ASIFA*East.

December 8th, Fri. Los Angeles- The Animation Guild Local 839, IATSE Holiday Party, The Pickwick Center, Burbank Ca.

December 14th Hollywood- Dec membership meeting.the preservation society Hollywood Heritage dedicates restoration of 1920s era building near Capitol Records on Yucca that was once the Screen Cartoonists Guild Local 852 offices.

AND MORE TO COME
========================================================================
History for 8/13/2006
B-Dayz: Annie Oakley, Alfred Hitchcock, Fidel Castro, aka The Beard, is 80, Don Ho, Buddy Rogers,
Bert Lahr, Ben Hogan, Richard Baseheart, Saul Steinberg, Regis Toomey, Johann Christoph
Denner (1655)- inventor of the clarinet. Danny Bonaduce, John Logie Baird one of
the inventors of television, Hockey great Bobby Clarke, Daniel Schorr, Bombay movie
star Viyayanthimala

Egyptian Festivals of Isis & Serapis

1907-The first motorized TAXICABS hit the streets of New York. Taxi comes from Taximeter,
a little machine that tallied the fare based on distance traveled. Cab is short
for the earlier form of hired horse drawn carriage. Originally called a Cabriolet,
then a brand name of Hansom Cabs, then just Cabs.

1934- First Little Abner comic strip by Al Capp. Dogpatch, Mammy Yokum, Daisey Mae,
Kickapoo Joy Juice, Jubilation T. Cornpone and the Schmoo are born. Al Capp was
a hard drinking old curmudgeon of a cartoonist who lost one leg when as a child
he fell off a streetcar. He used to bring young women into his office for "interviews"
and would signal the boys in the copy room he had scored by letting his wooden leg
drop loudly to the floor. In his old age he gloried in being a right wing chauvinist
who got into arguments with radical pop stars like John Lennon.

1941- J. Stuart Blackton certainly had an interesting career. The English born artist
became a top newspaper cartoonist, a vaudevillian drag act as Mademoiselle Stuart,
the first American animator, founder of the Vitagraph Company, the movie fanzine
Motion Picture World. He even successfully faked a newsreel of the battle of Manila
Bay in 1898 using toy boats, sparklers and cigar smoke. He made fortunes and lost
them just as quickly. On this day, penniless, he was struck and killed by a bus
on Pico Blvd.

1942 Disney's Bambi opened in theaters nationwide. Today the film looks quaint
but in its time artists felt it was as realistic as artists could attain. One designer
Rico LeBrun had a hunter friend bring in a real deer he shot in the Sierras. LeBrun
set up drawing and anatomy sessions to study the dead animal. But LeBrun was so
inspired by the opportunity he refused to dispose of the carcass even after several
days it began to smell badly and attract flies. Finally the other animators waited
until LeBrun had left for lunch and tossed the rancid thing.

1946- MGM cartoon Northwest Hounded Police, the short in which Tex Avery perfected
the 'Tex Avery Take" - used since in films like Mask, Roger Rabbit and
Casper.

1955- Shooting wrapped on Cecil B. DeMille's The Ten Commandments. He was remaking
the film he had done in silent times. One wag said: DeMille has done God one better
because he has now parted the Red Sea twice."

1991- Jack Ryan died. The Toymaker was the inventor of Hot Wheels toy cars, and
helped launch the doll Barbie.
History for 8/12/2006
Birthdays: Cecil B. DeMille, The alien Alf- 1757, Cantinflas, Buck Owens, George Hamilton, Edith Hamilton, Diamond Jim Brady, William Goldman, Mtsislav Rostropovitch, Xenia Sharpe (educator who invented the childrens reader Dick and Jane, See Dick Run...etc.) Kathy Lee Bates-the author of the song America the Beautiful, John Cazale- Fredo in the Godfather movie

The Golden 12th. In England this is the traditional beginning of Grouse hunting season.

1851- Mr Issac Singer received a patent on his new sewing machine. Elias Howe, who had invented the sewing machine first, immediately sued him. But Singers improved design was so much superior to Howes that he quickly recouped al the penalties paid and eventually bought out Howe. The Singer Sewing Machine Company is still around today.

1869- San Francisco lunatic Joshua Norton, who called himself Norton Ist, Emperor of the United States, today published an Imperial Edict outlawing the Democratic and Republican Parties. Hmmm… he may be on to something!

courtesy of SFhistoryencyclopaedia.com

1877-THE BIRTH OF RECORDED SOUND. Thomas Edison announced his sound recording invention and demonstrates it by recording "Mary Had a Little Lamb" on a tin cylinder. Edison never quite understood the possibilities of a music industry and was convinced that the recorded sound was going to be a used primarily for people to listen to the voices of deceased family, sort of like a voice from the grave. That idea was so popular that it translated to the Logo of the RCA Company with the familiar image of the dog listening to "His master's voice". The original incarnation of that dog listening to his master's voice supposedly had the whole dog /recorder entourage sitting on the master's coffin. A few years later Emile Berliner from Georgia later invented the flat record disc. Edison thought the disc was clumsy and too fragile. In the future he declared, everyone would use recording cylinders.

1915 - "Of Human Bondage," by William Somerset Maugham, published.

1927- the William Wellman movie "WINGS" opened with Howard Arliss and Buddy Rogers, the only silent film to win best picture at the Academy Awards- because the awards were only started the following year and by then sound was all the rage.

1932 Aldous Huxley's Brave New World first published. Before anyone ever heard of stem cells Huxley had written a scholarly paper on the moral dangers inherent in controlled eugenics. Writer H.L. Mencken urged him to put his ideas in a fiction form to reach a wider audience. The title comes from Shakespeare's the Tempest " Oh Brave New World, that has such people in it!'
In the late 1940s Huxley moved to Hollywood to try and write screenplays. He submitted one to Walt Disney for a feature animated film of Alice in Wonderland.

1981-TWENTY FIVE YEARS AGO- IBM introduced its first PC- personal computer and PC-DOS I.. Unlike Apple, IBM shared the basic hardware design, so a myriad of cheaper competitor PC's soon flooded the market.

1988- Martin Scorcese's film The Last Temptation of Christ opened in theaters to howls of protests from New Right religious groups. There had been more inflammatory interpretations of the Christ story on screens in the past like Pasolini's Gospel According to Saint Matthew and the Canadian film Hail Mary, but the church groups weren't that media savvy yet. Like all these protest efforts, all the controversy did was boost box office.
Today the model shop and stage crew split off from Industrial Light & Magic to form The Kerner Optical Company. The new company will continue producing the practical effects that have won them so many honors over the years. The company
name comes from the original code name for ILM that was printed on the front door of the San Rafael campus.
-----------------------------------------------------------------

Birthdays: Antonio Salieri, Frederick Ludwig Jahn 1778- founder of the Gymnastics Movement, Alex Haley, Jack Haley- the Tin Man in the Wizard of Oz Hulk Hogan- real name Terry Bollier- he's 55, Dick Browne the creator of Hagar the Horrible, Steve Wozniak the co-founder of Apple Computers, Raymond Leppard, Lloyd Nolan, Mike Douglas, Patti Duke Austin

1270-Prince Edward of England leaves Dover for his Crusade. Nobody had pointed out to Eddie that by 1270 the Crusades were pretty much over and done with. He didn't accomplish much except inspiring that really neat church hymn in Chariots of Fire- "Jerusalem" .

1866 - World's 1st roller skating rink opens (Newport RI)

1896 - Harvey Hubbell patents electric light bulb socket with a pull chain.

1932- Rin Tin Tin died. The German shepherd was the first animal movie star and for awhile was the mainstay of struggling little Warner Bros studio. Jack Warner called him "our little rent check."

1949- Margaret Mitchell, author of "Gone With the Wind" was hit by a taxicab and died 5 days later.

1956- Abstract Artist Jackson Pollack, known as Jack the Dripper, died when he drunkenly drove his car into a tree near East Hampton.

1957- The Toyota Car Company of Japan introduces itself to the United States with a car called the Toyopet. It's first years sales are so bad they almost gave up on the U.S.

1962- actor Sir Lawrence Olivier founded the National Theatre in London.

1972- San Antonio Texas holds it's first Cheech & Chong Day.

1997- LA police wrestle down and arrest actor Christian Slater. They encountered him in a cocaine delirium shouting "The Germans are coming to kill us all!"

2001-First day shooting on the film Hero, directed by Zyiang Yi Mou.
| | |
| --- | --- |
| | |