Last week, the Hollywood entertainment industry was rocked by the news that the Motion Picture Fund Hospital and Residence was broke and was closing.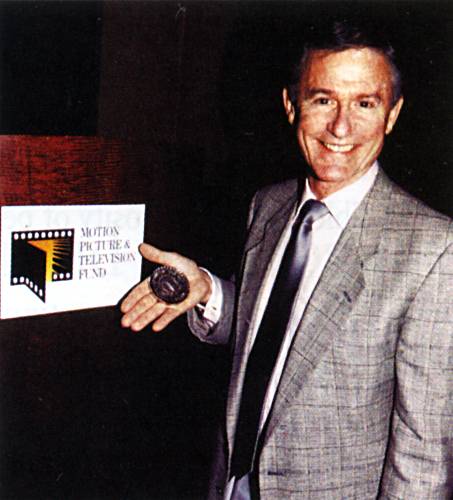 the late Roddy McDowell at a fundraiser for the MPH

The fund was started in 1940 and to retire to the home all you needed was twenty years in show-business, union or non-union, performer, technician or executive. Past residents included Max Fleischer, Larry Fine, Cal Howard and Looney Tunes director Art Davis. Currently I stop in to visit Chris Jenkins, who directed many of Rocky & Bullwinkle Show episodes and created Super Chicken for the Tom Slick Show.
They run a great Hospital Clinic which Pat & I have used in the past, as well as many other industry people.

Today The Motion Picture & Television Fund Long-Term Care unit is planning
to evict 130+ of its oldest, weakest, most needy and disabled
residents beginning in mid-March. This decision affects not only
those residents in Long-Term Care, but every resident in assisted and
residential care on the Wasserman Campus who may one day require the
next level of care.

When asked by members of Saving the Lives of Our Own, CEO Dr. David Tillman responded that no amount of money could be raised that would change the decision to close the facilities.

The Motion Picture Home was supported by Hollywood biggies like Bob Hope, John Ford, Sam Goldwyn and Walt Disney. It survived the collapse of the old studio system in the 1960s, and every financial crisis since. It seems strange that an industry that can give $20 million to one actor and routinely float budgets up to $200 million a movie, suddenly can't afford enough to keep this great institution going.


Spencer Tracy and Walt Disney at a celebrity polo match at the Will Rogers estate to benefit the Motion Picture Fund. Courtesy of Corbis images.

Humphrey Bogart once said of our industry:"These guys love ya, so long as you can make them a buck. Soon as that's over, they forget you ever existed..."

The motto of the Home was " We Take Care of Our Own." Now grass-roots movements are starting to rally among filmdom's denizens to do something to save the hospital. check out their site:

http://www.savingthelivesofourown.org/
| | |
| --- | --- |
| | |