Quiz: Why are so many people in English-speaking countries named Smith and Jones?
Where there a lot of blacksmiths in the Middle Ages?

Yesterdays Question answered below: Was George Elliot, author of Middlemarch and Silas Marner, actually a woman?
--------------------------------------------
history for 3/2/2009
Birthdays: Sam Houston, Alexander Graham Bell, Kurt Weill, Desi Arnaz ( Desiderio Alberto Arnaz y de Acha III ), Ted Geisel aka Dr.Suess, Mikhail Gorbachov, Willis O'Brian, Moe Berg, Jon Bon Jovi, Karen Carpenter, Lou Reed, Jennifer Jones, John Cullum, John Irving, Tom Wolfe, Senator Russell Feingold, Javier Bardem is 40

1820- It had been thought in modern times that the Pyramids in Egypt were solid monuments with no chambers. This day Italian archaeologist Giovanni Belzoni discovered the long lost entrance to the Great Pyramid of Giza and explored it's corridors and burial chambers.

1836- TEXAS DECLARES INDEPENDANCE FROM MEXICO. In 1821 the Mexican Congress had given Yankee settlers permission to live in the under-populated northern province of Teijas. Soon there were 3,000 Tejanos to 100,000 Yanquis living there. After a military coup in 1833 brought General Antonio Lopez de Santa Anna to power conditions in the outer provinces got harsh. Taxes were bad and the army sent to police them were drawn from the dregs, usually convicts. Mexico also wanted the American settlers to liberate their black slaves. When settlers leader Stephen Austin went to Mexico City to complain he was immediately jailed for fomenting insurrection. The Republic of Texas independence declaration was signed at Washington-on-the-Brazos. One of the signers there was John Wheeler Bunton, the Great Grand-Uncle of Pres. Lyndon B. Johnson. Washington had had their eyes on Texas for years; some say Sam Houston had planned this move long ago with his mentor President Andy Jackson. But the Texas revolt was as much a revolt of the ethnic Mexican Teijanos as the gringos. Similar revolts broke out at the same time in California and Jalixsco, but we remember Texas mostly because it succeeded.

1917-CZAR NICHOLAS II ABDICATED THE THRONE OF RUSSIA with a note scribbled in pencil. He had tried to abdicate in favor of his younger brother Archduke Michael as regent for his son Alexis, and save the dynasty. But Michael wanted none of it and the revolutionary forces tearing at Russian society. He ignored his pleas. After 303 years the Romanov Dynasty was at an end.

1922- A 21 year old veteran named Walt Disney after getting out of the army began studying in the public library William Lutz's book "Motion Picture Animation and How it is Made". In Kansas City he and his brother Roy persuaded the owner of a small chain of vaudeville theaters to fund some cartoons. Today the Newman's Laff-O-Grams Company was formed. A year later the Disney brothers would move to Hollywood and start a new enterprise called the Walt Disney Company.

1923- THE FIRST TIME MAGAZINE. Founders Henry Luce and Claire Booth Luce were among the more powerful of the nations cultural elite. Conservative to the core -to the end of their days they thought Franklin Roosevelt and Civil Rights were big mistakes, they still experimented with LSD when it was thought by Harvard professors to be mind expanding. In the late 1980's the Time merged with Warner Communications to form Time-Warner, the world's largest media conglomerate.

1933- Movie "KING KONG" premiered at the new Radio City Music Hall in New York and the Roxy. Twas Beauty killed the Beast. No CGI around.

1940- SEABISCUIT-. The small ungainly race horse Seabiscuit had lost the Santa Anita Handicap Stakes twice and at 7 years old had ligament tears and was considered washed up. But he was entered one more time to try to win this race. The jockey Red Pollard was an alcoholic who had broken his leg and collarbone and was told he couldn't walk, much less ride ever again. Today this unlikely duo raced one more time against odds more like a Hollywood movie than a stakes race. The biscuit not only won his last race, but set a track record, the second fastest time ever and the richest win for that time. It's called one of the greatest comeback stories in sports history. When discussing the Sports Legends of the Twentieth Century- Ali, Ruth, Michael Jordan, Seabiscuit is the only non-human.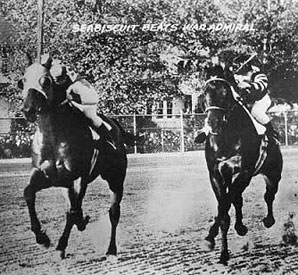 1960- Wilt Chamberlain ("Wilt the Stilt") scores 100 points in one game for the Philadelphia Warriors . Wilt averaged a phenomenal 55 points per game that year and the NBA instituted a number of anti-Wilt regulations to ensure guys under 6'2 could get back in the game, like offensive goal tending, etc. Wilt also claimed to have put his off the court time to good use. He claims to have made love to 3000 women during his pro career.

1961- Pablo Picasso married his second wife Jacqueline. He was 80, she was 35. Jacqueline cared for the increasingly reclusive artist and kept even his family at a distance. When Picasso died in 1973 she turned away many family members from the funeral. Jacqueline committed suicide in 1986.

1965- US military bombers do the first bombing raid inside of North Vietnam in a campaign that got the designation Rolling Thunder. Today Rolling Thunder denotes motorcycle clubs who rally once a year in Washington to demand veterans rights and an accounting for all remaining servicemen Missing in Action.

1971- Charles Engelhard died, a venture capitalist who's wild investments and grand lifestyle made him the inspiration for Ian Fleming's villain Auric Goldfinger.

1972- Pioneer 10 space probe launched. The first satellite to the outer planets, it sent back the first closeup photos of Jupiter in 1973 and left our solar system in 1983. It carries a plaque with a representation of men and women, a map of the Earth and Richard Nixon's signature on it. It is in deep space now and will reach the star Ross 246 in the constellation Taurus in the year 34,600 A.D. Boy, I can hardly wait!

1976- Francis Ford Coppola began shooting his epic film" Apocalypse Now" in the Philippines. The film was plagued by cost overruns, a typhoon and his Philippine Army helicopters frequently flying off to fight real guerrillas in the middle of shooting, but somehow it all got done.

1979- The Anglo-French Concord supersonic airliner service introduced. It was discontinued because of bad economics in 2003.

1982- Science Fiction writer Phillip K. Dick died of a stroke in Santa Ana California. The author of stories the movies Blade Runner, Minority Report and Total Recall were based. Dick said he was a times possessed by a superalien who appeared in his mind in a beam of pink light.His biography is entitled:" I am alive and you are dead..."



1989- At a photo session, NY Mets outfielder and recreational cokehead Darryl Strawberry threw a punch at the team's first baseman, Keith Hernandez. The scuffle started over comments about salaries and ended with the Straw walking out of camp. A sportswriter for Sports Illustrated describing the fight said" Darryl Strawberry finally hit his cut off man."
-------------------------------------------------------------
Yesterday's Question: Was George Elliot, author of Middlemarch and Silas Marner, actually a woman?

Answer: Yes. George Elliot's real name was Mary Anne Evans 1819-1880.
| | |
| --- | --- |
| | |