Today at a National Cartoonists Society event I had the chance to shake hands with legendary old sports cartoonist Bill Gallo. I remember all his imaginative cartoons in the NY Daily News sports section. That moment and an interview asking me about my choice of comic books brought me back to a memory.

Summer 1964,on a hot night my dad would take me for a walk a few blocks to the local Candy Store on the corner of Seaview Ave & Rockaway Parkway in Canarsie, Brooklyn.




The candy store is a ubiquitous neighborhood institution that featured everything from a rootbeer float to cigarettes to milk to Good & Plenty candy. The air was thick with cigarette smoke, the floor sticky from spilled soda pop and echoing with the chatter of old men. But the center of this regional meeting house was the piles of newspapers and the comic book rack.

In New York at the time you could choose the NY Times, the Herald Examiner, the NY Post or the Daily News. We were a Daily News family.

My dad would get the evening edition of the News, a container of milk and a pack of unfiltered Camels, Kool cigarettes for mom, back home watching Ed Sullivan.

Meanwhile I would be allowed to peruse the comic books, and get one or two at 12 cents each. I browsed through the rotating rack with the gravity of a judge at the Westminster Dog Show. Hmmm.... Spiderman vs. Green Goblin again, Fantastic Four vs Dr. Doom again, Double Issue of Hawkman and Green Lantern, and Our Army At War featuring Sgt Rock and the Haunted Tank. Cool!

Only years later as a professional did I realize I was attracted by the drawing and inking techniques of John Buscema, Jack Kirby, and Joe Kubert.

I think every animation person begins as a fan of cartoon art, and only later comes to analyze what he or she was intrigued by.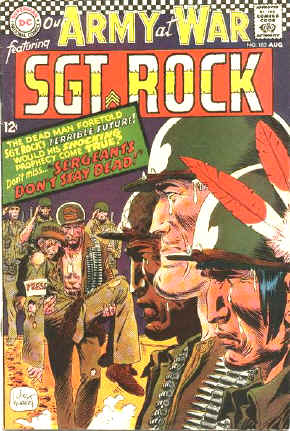 I kept trying to copy the cross-hatching style,and that eye squint

------------------------------------------------------------
Quiz: Sometimes when discussing the politics of the last 8 years, you hear the term Bizzarro World. Who created that idea?

Yesterday's Quiz Answered Below: Who sang the solo vocal on the original theme song of Star Trek?
-------------------------------------------------------------
History for 5/25/2009
Birthdays: Miles Davis, Ralph Waldo Emerson, Josef Broz Tito, Igor Sikorsky, Pontormo, Bennett Cerf, Claude Akins, Leslie Uggams, Bill Bojangles Robinson, Beverly Sills-aka Bubbles Silverman, Anne Heche, Irwin Winkler, Mike Myers is 46, Ian McKellen is 70

1660-RESTORATION DAY- After Oliver Cromwell executed King Charles Ist, he declared the British Monarchy abolished, and ruled England with a junta of generals as Lord Protector. When Cromwell died of natural causes in 1659 he tried to elevate his son Richard Cromwell in his place. But the son is not the father. The rickety system didn't work, and Richard earned the nickname "Tumbledown-Dick". The generals led by General Monck had no other remedy to avoid chaos other than recalling King Charles' son Charles II from exile in Flanders to be king of England. For many years Restoration Day was a holiday in the UK. Charles returned this day with a taste for a new sport he learned in Holland of racing small boats called yachts. He also liked to take a morning walk on Constitution Hill, which is why such a walk is now called a constitutional.

1720- John Copson became the first Insurance Agent in the New World.

1787- First meeting of delegates in Philadelphia to write the U.S. Constitution.
Interestingly enough, nobody really asked them to. They were only summoned by Congress to iron out some bugs in the Articles of Confederation. However James Madison and Alexander Hamilton hatched a plan to chuck the whole system and write a new document. Ben Franklin was carried in on a sedan chair from time to time but at 81 he was so old he didn't offer much beyond moral support.

1878- Gilbert & Sullivan's HMS Pinafore premiered at the Savoy in London. "So Stick to your desk and never go to Sea, and You can be the Leader of the Queen's Naveeee"

1895- Author and playwright Oscar Wilde sentenced to prison for sodomy.
The terrible conditions of his imprisonment in Redding Gaol will break his spirit and health and lead to his early death in exile in 1900. In a 1995 ceremony honoring him in Westminster Abbey it was revealed the laws that sentenced Wilde are still on the books in England.

1906- Putting on the Ritz! London's Ritz Hotel opened.

1911-The beginnings of Mexican Revolution forced longtime dictator Gen. Jose Porfirio Diaz into exile. As a young man Diaz had fought the French under Juarez but later seized power for himself. Under his long rule Mexico industrialized and gained railroads and schools. He had once said:" My poor Mexico. Too far from Heaven and too close to the United States."

1911- Thomas Mann visited Venice Italy. On the Lido Beach he was inspired to write A Death in Venice.

1927- Ford had put America on wheels with the Model T, the most successful car model in history. Today they stop making the Model T after 15 million cars, costing on average $300 each, $26 dollars down with monthly payments. Asked what color to make them, Ford answered:" Any color so long as it is black."

1935- Babe Ruth hits his last home runs. The Bambino was in his last year, working out his contract with the Boston Braves. This day in Pittsburgh the Babe showed his old form when he hit three home runs and a single. His record of 714 home runs held for over sixty years.

1942- First day shooting on the film " Casablanca".

1950- Brooklyn Battery Tunnel opened in NYC.

1957- Sid Caesar's Your Show of Show's canceled after nearly a decade. The show used future star writers like Mel Brooks, Carl Reiner, Woody Allen and Neil Simon. The show pioneered the executive strategy of network programmer Pat Weaver to not let the show be owned by an entire sponsor but the network would produce the show and would sell the sponsor commercial time in 30 second chunks. Pat Weaver's daughter is Sigourney Weaver.

1961- THE SPACE RACE- The United States had been chafing about how far ahead the Soviet Union was in the exploration of space. In an address to Congress this day President John F. Kennedy pledged the wealth and resources of the U.S. to beating Russia to the Moon. "Our pledge is within the next ten years to send a man to the moon and return him safely to Earth… We choose to go to the Moon not because it will be easy but because it is hard!" The Moon landing was achieved in 1969. Today it is acknowledged that without the motivation of the Cold War the conquest of the Moon would have happened much more slowly. In 2004 President George W. Bush tried to appropriate some of JFK's luster by declaring a great national effort to get to Mars, but then followed it up with nothing.

1965- The Saint Louis Gateway Arch dedicated.

1968- The Rolling Stones release Jumping Jack Flash.

1979- Ridley Scott's sci-fi classic Alien opened. It featured the exotic designs of Hungarian artist Giger and John Hurt with a classic case of chest pains!

1980- Evangelist Oral Roberts sees a 900-foot Jesus over his bed.

1982- Sci-fi film Blade Runner opened.

1986- Hands Across America stunt to help hunger has 7 million people at one time holding hands at noon.

----------------------------------------------------------------
Yesterday's Quiz: Who sang the solo vocal on the original theme song of Star Trek?

Answer: Metropolitan Opera soprano Frederika Von Stade. Despite her Prussian name, she was born in Somerville New Jersey. Her friends called her Flicka. I once saw her as Sophie in Die Rosenkavalier and she rocked!
| | |
| --- | --- |
| | |