Quiz: In World War Two slang, what kind of weapons were called pineapples and potato mashers..?

Question: When offered a glass of water, who said- " I never drink anything that fish copulate in"…..?
---------------------------------------------------------------------------
HISTORY FOR 8/27/2010
Birthdays: Man Ray, Martha Ray, LBJ ( Lyndon Baines Johnson), Hegel, C.S. Forester, Hannibal Hamlin- Abe Lincolns first term vice president, Barbara Bach, Theodore Dreiser, Lady Antonia Fraser, Tommy Sands, Tuesday Weld is 67, Mangesuthu Buthelezi, Paul Rubens-aka Pee Wee Herman is 58

53 B.C.- JULIUS CAESAR LANDED IN ENGLAND- Caesar paused from his conquest of Gaul to check out the British Isles. He didn't stay long because Channel storms were playing havoc with his supply ships. Just long enough to fight some Celts under their chief Cassilvelaunus, collect some tribute and add a chapter to his memoirs. The Romans returned in A.D. 61 under instructions from Claudius to conquer and colonize.

1664- NIEUW AMSTERDAAM BECOMES NEW YORK. The English had disputed Holland's stake in America based on the early exploration of John Cabot. Now with the growth of the New England colonies, the English Civil War over and the Spanish Menace diminishing England sent a large battle fleet under Colonel Rollins to New Amsterdam to demand the surrender of the colony.



The Dutch governor was an old one-legged mercenary named Peter Stuyvesant. He wanted to make a fight of it and had even set up a battery of cannon on -where else? the Battery. However his city council were men of commerce, not soldiers. They told him if he wanted to fight he should do it himself because they were surrendering. Even his own son was against fighting. Stuyvesant in a rage shouted at the burghers:" Keep to your shovels and barrows!" The governor himself hobbled up to the cannon pointed at the British fleet and lit a match to fire the first shot. He paused and noticed the silent stares of all those around him. The chaplain of the colony, Dominie Megapolensis, silently took Stuyvesant by the hand down from the fort and Stuyvesant signed the surrender.

1667- The first record in English of a Hurricane, this one striking near Jamestown Virginia. Of course the Spanish in the Caribbean had been seeing hurricanes since Columbus's third voyage in 1503.

1776- THE BATTLE OF LONG ISLAND- The worst defeat for Americans in the Revolutionary War. The British regiments destroy George Washington's army in Brooklyn while he was in Manhattan still waiting for the main attack. Washington sent two generals to command, Generals Sullivan and William Alexander, who insisted everyone call him Lord Stirling in memory of some Scottish inheritance he claimed he was cheated out of. The British General Henry Clinton marched down the Kings Highway to Jamaica then found a secret path behind Yankee lines, guarded by only 5 militiamen. Clinton had walked these paths when he was a young officer stationed in NY. His superior Lord William Howe at first refused the idea- he said it smacked of the German School of Tactics. He felt the Americans were too stupid to panic when their flank was turned. But the Yankees did panic and Lord Howe won a great victory.
One Scots Redcoat officer wrote: "Multitudes of retreating Americans who attempted to escape across the Gowanus River were drowned or suffocated in the morasses- a proper punishment for Rebels!"

1789- The French Revolutionaries publish THE DECLARATION OF THE RIGHTS OF MAN. They wanted the American ambassador Thomas Jefferson to help them write it, but he worried it would compromise his diplomatic immunity. So he agreed to look over their shoulder during revisions. Most foreign ambassadors had fled Paris. But the French radicals considered America a fellow Republic.

1814- President James Madison and the remains of the U.S. Government came out of hiding in the forests of Arlington and re-entered the burned out remains of Washington D.C.. It had been left by the British Army after being put to the torch. Looters scampered over the smoldering remains of the White House and Congress. Secretary of War Armstrong, who inadequately defended the Capitol, resigned after blaming everyone but himself. Mayor Blakes's fear upon his return was of a rumored slave insurrection, so he armed every available white male for police duty. Meanwhile the exhausted inhabitants of Washington could hear another British force across the Potomac looting the town of Alexandria, given up without a fight.

1814- As the British invaders roamed the Maryland countryside, an elderly Scottish immigrant doctor named Beanes was dragged out of his house by Royal Marines and packed off to the flagship off shore. He was accused of mistreating captured British soldiers. Since he was born in Scotland, he could face a charge of treason. An appeal was made by his neighbors to a respected Georgetown attorney named Francis Scott Key to go try and win his release. Key showed up at the ship with written affidavits from the incarcerated British wounded affirming Dr. Beanes innocence. The British agreed to release them both, but only after their big assault on Baltimore. This is why Francis Scott Key was on the British warship in time to watch the Rockets Red Glare, the Bombs Bursting in Air , etc.

1814- Meanwhile in England poet Percy Shelley eloped with Mary, the only daughter of John Godwin and Mary Wollenstonecraft. Godwin had objected to Shelley's proposal for his daughters hand because he was an opium addict, a sexual libertine, an atheist and already married with a baby daughter! Yeah, but besides all that what's your objection? They ran off followed by Mary's stepsister Claire who started sleeping with Lord Byron. Mary of course was the author of Frankenstein.

1910- The first radio message sent from an airplane.

1910- Edgar Rice Burroughs published Tarzan of the Apes.

1915- Italy declared war on Germany and Austria and entered World War One.

1917- Straight Shooting, the first film directed by John Ford released.

1930- Lon Chaney Sr. died of throat cancer.

1955- The first Guinness Book of World Records published.

1950- NBC and General Foods abruptly canceled the hit television show "the Aldrich Family" when a pamphlet called Red Channels accused one of the show's stars Jean Muir, of being a communist.

1953- The film Roman Holiday introduced a new young actress from Holland named Audrey Hepburn.

1967- Beatles manager Brian Epstein overdosed on sleeping pills.

1979- Retired Lord Louis Mountbatten was killed by the IRA, from a bomb placed on board his yacht.

1968- Former master animator Bill Tytla's request to return to Disney was turned down. The artist who animated Grumpy the Dwarf, Dumbo and the Devil on Bald Mountain even offered to do a free "trial animation test" to show he still had it. Disney exec W.H. Anderson wrote him:" We really have only enough animation for our present staff." Bill Tytla died later that year.

1990- Guitar great Stevie Ray Vaughan was killed in a helicopter crash outside Alpine Valley Wisconsin, after an "All Stars of the Blues" show. Stevie Ray took the last remaining seat on the helicopter, after Eric Clapton got off, claiming he'd rather take a limo back to Chicago, which was about an hour away.

2008- Barack Obama nominated for President of the United States. The first African American candidate from a major party.
----------------------------------------------------------------
Yesterday's Question: When offered a glass of water, who said- " I never drink anything that fish copulate in"…..?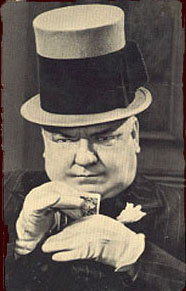 Answer: Comedian W.C. Field. He actually said " I'd never drink anything fish fornicate in." And he may have used a stronger word, that I cannot use here.
| | |
| --- | --- |
| | |