More Wisdom from the Ancient Animators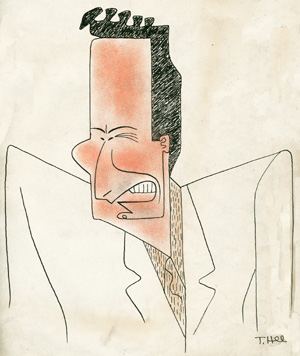 courtesy of billpeet.net

...after Walt Disney had made a big success with Snow White and the Seven Dwarves, his next thought was to make films more realistic, more impressive and more pretentious. And I think he was going in the wrong direction. What makes Snow White special are the marvelous personalities, and not it's attempt at getting more conventional......He tried all the technology available at the time, but I still say the charm of the animation is the obvious appearance of it. It is a drawing come to life. And the living drawing is the charm of it. It has always been, no matter how elaborate you make it.
Animation stands alone.

-Bill Peet, from Storytelling in Animation, The Art of the Animated Image, Vol.II, American Film Institute press, 1988

--------------------------------------------------------------
Birthdays: Benedict Spinoza, Henri de Toulouse-Lautrec, Scott Joplin, William F. Buckley, John Lindsay, Dale Carnegie- author of How to Win Friends and Influence People, Dick Powell, Garson Kanin, Cass Gilbert-the architect of the first skyscraper, Steve Yeager, Denise Crosby, Billy Connolly is 65

1933- The RKO movie Flying Down to Rio, the first pairing of the famous dance team Fred Astaire and Ginger Rogers.

1937- The Andrew Sisters record their Boogie-Woogie version of the German song "Bei Mir Bist Du Schon".




1938- LENI DOES TINSELTOWN -Adolf Hitler's top filmmaker Leni Reifenstahl arrived in Hollywood to meet the film community and show off her new film 'Olympia". Nazis Counsel General in L.A. Gerhard Gyssling bragged to the press that all Hollywood was dying to meet The Third Reich's top film artist. But Hollywood had different ideas. Paramount, Warner Bros., Columbia, Fox and Goldwyn refused to speak to her and picketers hounded her every step. Well known Conservatives like Louis B. Mayer and John Wayne were polite but begged off the bad publicity. The only studio heads who would meet Leni Reifenstahl were Hal Roach and Walt Disney. Uncle Walt gave her a tour of the studio but begged off running her film, saying the IATSE union projectionist would make trouble. ( uh-huh....) Years later Disney said he didn't really know who she was. ( uh-huh......)

1941- After suffering a strike and declining revenue because of the war in Europe Walt Disney's studio was in trouble. Disney animator Ward Kimball noted in his diary for this day: " 100 layoffs announced. Studio personnel from 1600 down to a Hyperion level of 300. Geez, It this the writing on the wall?" Disney saved itself with doing Defense films for the Army. After limping through the 1940's with the release of Cinderella in 1949 Walt Disney was back on top..

1947- THE WALDORF DECLARATION, THE START OF THE HOLLYWOOD BLACKLIST- 50 Hollywood moguls like Harry Cohn, Jack Warner and Dori Charey meet at the Waldorf Astoria in New York to formulate a group response to the House UnAmerican Activities Committee anti-commie hearings that were targeting Hollywood. Besides the heat from the feds their stockholders were clamoring for them to get the Reds out! They agreed to enforce an industry-wide blacklisting of anyone refusing to cooperate with the HUAC Committee. Nothing was ever officially written down or published, if you were blacklisted you suddenly were unable to find any work.
Eric Johnston, spokesman for the Motion Pictures Assoc. said on this day: "As long as I live, I will never be party ot anything as unAmerican as a blacklist!"
Two days later on Nov. 26th he said:We will forthwith discharge and never again knowingly employ a Communist. Loyalty oaths for the Entertainment Industry are now compulsory. Many Hollywood artists signed Communist Party cards in the 1930's when it was chic' to be lefty and the Communists were the only open opponents of segregation and Hitler. One screenwriters' excuse was CP parties had the prettiest girls. Out of an estimated 15,000 entertainment workers only around 300 were ever actually proven to be Communists. Famous blacklist victims included Zero Mostel, Lillian Hellman, Lloyd Bridges, Dashell Hammett, Gale Sondergaard, Edward G. Robinson, Charlie Chaplin, Sterling Hayden & Dalton Trumbo. Animators blacklisted included John Hubley, Phil Eastman and Dave and Libby Hilberman.'Somewhere over the Rainbow' composer Yip Harburg was blacklisted for writing a song: 'You Gotta Friend Named Joe" which the committee took to mean Russian dictator Josef Stalin.


Movie stars led by Humphrey Bogart and Lauren Bacall protest the HUAC hearings in Washington.

1950- The musical Guys & Dolls opened. I got da horse right here, his name is Paul Revere, I know a jock who tells me Never Fear, Can Do- Can Do..The Jock sez da horse can –do

1963- To complete the surreal drama that shocked America into the Sixties, JFK assassin Lee Harvey Oswald is shot on nationwide T.V. by smalltime gangster Jack Ruby. He is taken to the same hospital and has the same doctors as Kennedy but still dies. Ruby, real name Jacob Rubenstein, always hung around the Dallas police station so no one thought it was unusual to see him around.

1968- Hey Jude by the Beatles topped the pop charts while Tammy Wynette's Stand By Your Man headed the Country & Western listing.

1976- The Band announced at the Winterland in San Francisco that this was their last concert.

1991- Freddy Mercury, lead singer of the rock group Queen, died of HIV/AIDS.

1998- America On Line bought their chief competitor Netscape.
| | |
| --- | --- |
| | |