Quiz: We always read things like "Dick Cheney and his cohorts," or "Move On and their cohorts.." So, what the heck is a cohort?

Yesterday's question- Queen Elizabeth II celebrated her 60th wedding anniversary. Is she the longest reigning English monarch? Answer below…
____________________________________________
History for 11/21/2007
Birthdays: Francios Arouet called Voltaire, Marlo Thomas called That Girl,, Rene Magritte, Adolphe Marx called Harpo, Colman Hawkins called Bean, Stan ' the Man' Musial, Tom Horn called the last Outlaw, Pope Benedict XlV, Earl the Pearl Monroe, Goldie Hawn, Harold Ramis, Ken Griffey Jr, Mariel Hemingway, Lorna Luft, Troy Aikman, Bjork

In the Orthodox Church this is Feast day of Saint Michael the Archangel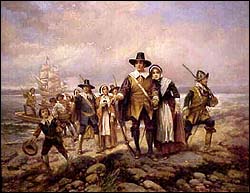 1620- THE PILGRIMS LAND AT PLYMOUTH ROCK- Legend has it Mary Chilton and John Alden were the first ones to set foot upon American soil. The English religious sect after first leaving England had lived in Utrecht but the Dutch couldn't stand them either. They had set sail for Virginia but bad weather had blown them to the coast of Massachusetts. The area they were settling was some of the most densely populated Indian land in North America, but the smallpox spread by preceding European explorers had decimated the tribes, leaving entire villages empty. When the Pilgrims saw this they held a thanksgiving service in honor of: "He who prepares a way for His people by sweeping away the heathen." The Puritans landed several years later but they were a separate group who didn't like the Pilgrims. Then came the Quakers whom nobody liked.
The Plymouth Rock enshrined in modern Plymouth was identified in 1677 by an elderly survivor of the landing as the huge rock escarpment they landed on. The city fathers tried to pry it loose but only a little chunk broke off. That's why Plymouth Rock looks pretty small for a ship to land on.

1718- BLACKBEARD THE PIRATE KILLED. William Teech from Bristol England had served on privateers fighting the French. When the war was over he went into business for himself. He grew a huge black beard, which he twisted into ringlets and tied smoking cannon fuses into it to scare people. This day two sloops of Royal Marines sent from Virginia colony led by a Lieutenant Maynard RN, boarded Blackbeard's ship when she ran aground on the coast of North Carolina. The fighting was all hand to hand. Blackbeard finally went down after he was shot five times and slashed with cutlasses 25 times. Blackbeard had stationed a black child with a lit match in the powder magazine with orders to blow everything to hell the moment the battle was lost, but the boy was killed before he could accomplish his task. After the battle Lt. Maynard found papers proving the Royal Governors of Bermuda and North Carolina were receiving bribes from the pirates for safe harbor. Blackbeard's head was cut off and hung it from the bowsprit for the trip home. (No one had invented foam dice yet.) They threw the rest of his corpse into the ocean where legend says it swam around the ship once before sinking. Shiver Me Timbers!



1794- Honolulu Harbor discovered by British explorers.

1920- Bloody Sunday- In Dublin IRA chief Michael Collins sent out his best assassination squad, nicknamed the Twelve Apostles. In the early morning of one day they rounded up and shot 20 of the top British counter terrorist police inspectors, nicknamed the Cairo Gang. In some cases they forced the wives to watch their husband's executions. The British paramilitary constabulary nicknamed the Black & Tans reacted to the killings by entering a soccer stadium during a match and opening fire on the players and fans with rifles and machine guns. 25 were killed and scores wounded .

1933- Columbia director Frank Capra went to Claudette Colbert's home to talk her into delaying her holiday vacation long enough to star with Clark Gable in "It Happened One Night". Colbert said she would only do it for double her normal salary and if they would be done by Dec 23rd so she could spend Christmas with friends at Squaw Valley Idaho.
They made the picture on a rush and Colbert later told her friends:" I just finished the worst picture in the world!" It Happened One Night" became a monster hit for Capra, Columbia and is one of Colbert's most memorable performances. At one point in the story Clark Gable bites on a carrot and says" What's up, Doc?" giving Warner Bros director Tex Avery a neat thing for his new character Bugs Bunny to say....



1934- Cole Porter's musical 'Anything Goes!' opened on Broadway. Ethel Merman starring, In olden days a glimpse of stocking was looked upon as somewhat shocking. Now Heaven knows- Anything Goes!"

1942- Warner's "A Tale of Two Kitties" the first Tweety Pie. I tawt I taw a puddy cat !

1959- The day after he was fired WABC radio DJ Alan Freed refused to sign a statement that he never received cash payments or payola to run Rock & Roll records on the air, which is exactly what he did.

1963- President John F. Kennedy and Jackie fly into San Antonio for a swing through Texas to gather support for a possible re-election run. Tomorrow would take them to Houston for breakfast then through Dallas....

1963- Robert Stroud, the 'Birdman of Alcatraz' died behind bars at 73. Jailed in 1916 for murdering a man who beat up his girlfriend, he spent 54 years in prison, 42 in solitary confinement. His study of birds enabled him to become an expert in bird diseases, he wrote three books. Burt Lancaster played him in the movies as a tragic hero, but those who knew him said he was a morose psychopath who stabbed another inmate and murdered a guard. He was known to shave off all his body hair and drink alcohol distilled from the birdseed admirers sent him. His own mother hoped he'd never be paroled.

1964- The Verrasano Narrows Bridge opens in New York Harbor. I remember the first person through the gate was a motorcyclist who "popped a Wheelie" and tried to cross the bridge balanced on his back tire.

1967- Mission Accomplished I? General William Westmoreland announced that the North Vietnamese were losing the Vietnam War. Two months later US and ARVN forces were hit by the massive nationwide Tet Offensive.

1969- THE BIRTH OF THE INTERNET- In 1957 after Sputnik scared the US the Defense Department asked the Rand Corporation to theorize a communication system that could survive Russian atomic bombs. They conceived of a "net" of computers all in communication with another around the world. Because there was no center a bomb could not knock out the entire system. This day in 1969 UCLA scientists J.C.R. Licklider, Robert Taylor and others working for the Defense Dept. successfully hooked up five computers at Stanford, UC Santa Barbara and Univ if Utah using long distance phone lines. They called it ARPANET- Advanced Research Projects Agency-NET, a few years later Internet. By 1978 the Defense Department didn't want to run the thing anymore so they offered to turn over the entire Internet to ATT for free. AT&T said no thanks, we just don't see the value in it. In 1992 the US government made the Internet public and the rush was on.

1980- A huge fire at the MGM Grand Hotel in Las Vegas killed 80 people.

1980- Australian Olivia Newton John's disco anthem to aerobic exercise "Let's Get Physical " goes to number one of the pop charts and stays there for ten weeks.

1987- Bruce Willis married Demi Moore in Las Vegas. The divorced five years later.

1989- Junk bond king Michael Milken pleads guilty to insider stock trading and 98 counts of fraud. He now does lectures on ethics in business.

1999- 90 year old writer Quentin Crisp died. The author of the Naked Civil Servant had moved from England to San Francisco to lower Manhattan- he asked a friend "I'm moving to New York, I wonder if I should first learn the language?" Another time when Quentin was accosted by young punks he retorted:" Gentlemen, do you not know you are disturbing a National Heritage? I have been declared one of the Stately Old Homo's of England!" Sting wrote a song about him- Englishman in New York.

__________________________________________________________
Quiz: Yesterday Queen Elizabeth celebrated her 60th wedding anniversary. Is she the longest reigning English monarch?

Answer: Crowned in 1953, Queen Elizabeth II recently passed Queen Elizabeth Ist as the second longest reigning British monarch. But she'll need to stick around ten more years, to 2017, to catch Queen Victoria 1837-1901– 64 years on the throne. Victoria was crowned when veterans of Waterloo and Yorktown were still around, and she lived long enough to talk on a telephone and watch a movie.
| | |
| --- | --- |
| | |