Steve Moore, artist, filmmaker and raconteur, has a wonderful website called FLIP. It's purpose is to present stories by animators for animators. For those who want to know more about animation professionals, this site is all written by industry insiders. Jeff DeGrandis, Nancy Beiman, Dan Jeup, Alan Smart, Tina Price and many Moore have graced his pixels with their eloquence.

But now he had to go and ruin it all! Because in a moment of weakness, he interviewed me for the January issue! I attribute this lapse in judgement as symptomatic, since his initial desire to relocate from warm sunny LA for snowy damp New Jersey. And as a former citizen of Hoboken, I know whereof I speak!.....just kiddin! Since he's settled in the Garden State he has found fulfillment, love, family, decent pizza and seasonal Nets tickets. I'll send you my old windshield ice scraper!

Thanks for letting me blow gas, Brother Steve! Seriously, FLIP is a cool site. Everybody should check it out!



----------------------------------------------
Quiz: If the months were named by the Romans, who named the days of the week?
____________________________________________
History for 1/2/2008
Birthdays: Turkish Sultan Mehmed IV-1642, Frederic Opper the cartoonist of Happy Hooligan, Phillip Freneau, Rev Jim Baker, Roger Miller, Issac Asimov, Julius LaRosa, Tito Schipa, Renata Tebaldi, Tex Ritter, Cuba Gooding Jr, is 40, Tia Carrere

1496- Did Leonardo da Vinci try to fly? Leonardo studied the motor actions of birds and sketched numerous flying machines. In one of his notebooks Leonardo had written:"On the second day of January, I will make the attempt." When one of his aides Antonio broke his leg it was said he broke it trying to pilot one of his masters flying machines.



1522- Adrian VI, a Dutchman was elected Pope. He was the first non Italian since 1378 and the last non-Italian until John Paul II in 1978. He really tried to be a true Christian spiritual guide and agreed with Martin Luther that the church was too corrupt and sinful in it's ways. He demanded he and his cardinals live on only one ducat a day, about $12.50, he walled up the Belvedere Palace and it's collection of ancient Greek and Roman art as pagan idolatry. Poets and artists were furious that this Pope cancelled all their rich contracts. The unemployed poet Aretino called the cardinals "miserable rabble" and that they should all be buried alive for electing this lousy pope. After three months Adrian died. This time the cardinals elected a Medici Pope who loved art, music and parties. The people of Rome sent flowers to Adrian's doctor to congratulate him for losing his patient.

1611-THE BLOOD COUNTESS- Beautiful Transylvanian Countess Elizabeth Bathory was indicted for the murder of 610 people. She apparently believed that bathing in the blood of virgin girls would keep her skin beautiful- remember Oil of Olay wasn't invented yet. The crimes of the Medieval nobility were often winked at until like Count Giles de Rais-Bluebeard in France they become so outrageous they couldn't be ignored any longer. When peasant girls kept disappearing around Csejthe Castle word got back to her big uncle King Sigmund Bathory of Poland, the nemesis of Ivan the Terrible. When King Sigmund discovered the full horror of her story he had Elizabeth walled up alive in her chamber. Daily food passed through a slit in the wall. When after a few years the empty dishes stopped being passed through that slit was bricked up as well.

Darlink,pass the loofah!

1688- The great insurance house Lloyd's of London founded. In the past they've insured Betty Grable's legs, Bruce Springsteen's lungs and offered a million English pounds to anyone who could prove Elvis Presley was still alive.

1873- Richard Connolly becomes the first American to embezzle a million dollars -he actually embezzled four million. He was the financial controller for the City of New York under Boss Tweed. He padded invoices so that the final cost to build a small municipal jail exceeded the cost of rebuilding the British Parliament! Eventually the Tweed ring bilked New York City out of $60 million dollars. Today Connolly skipped town. Boss Tweed was nabbed and died in jail but Slippery Dick Connolly lived in Europe happily ever after.

1878- Farmer John Martin thought he saw something shiny flying in the sky above Denizen Texas. He is the first person to describe it as a "flying saucer."

1882- John D. Rockefeller's Standard Oil company controlled almost 90% of the U.S. crude oil output but the government seemed poised to hit it with anti-monopoly laws. So anticipating this move he reorganized Standard Oil into a Trust with himself as chief Trustee. Standard Oil later became ESSO (S-O) then EXXON.

1937- Hollywood actor Ross Alexander had hit on tough times. He had been in a few movies like Captain Blood and Max Reinhardt's A Midsummer Nights's Dream but his career seemed to be stalled and he was deeply in debt. This day the 29 year old went into the barn behind his Valley ranch home and shot himself. The Warner Bros. Studio looked around for a replacement to refill their roster of male leads. They replaced Alexander with a Illinois college sportscaster named "Dutch"- Ronald Reagan.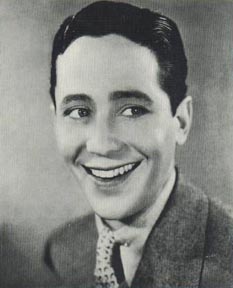 Ross Alexander

1958- Maria Callas threw one of the more celebrated temper tantrums in Opera history when she stormed off the stage at La Scala in the middle of Bellini's Norma with the President of Italy in the audience. La Divina Callas was a Greek-American with a beautiful voice and the slimmest waistline since Lili Pons. She was part of the Jet-Set society culture and her temper was famous.

1960- Young Mass. Senator John F. Kennedy announced he was a candidate for president. When asked why do you want to be president? Kennedy replied:" Because it's the best job there is."

1971- Israeli archaeologists in Jerusalem discovered the 2000 year old remains of a crucified man. No, they didn't think it is was You-Know-Who. But it did provide the first physical proof that Romans really used that method of execution.

1984- The Zenith corporation announced it would stop selling video recorders in Betamax format and go over wholly to VHS. Other electronics giants followed suit and VHS won out over the higher quality Beta system.

1995- Washington D.C. Mayor Marion Barry was inaugurated for a second term after winning election despite his conviction of smoking crack cocaine. As comedian Chris Rock said: "Who ran against him? Who was such a bad choice that he lost to a crackhead? "
| | |
| --- | --- |
| | |