The Creature Comforts gang explain Art!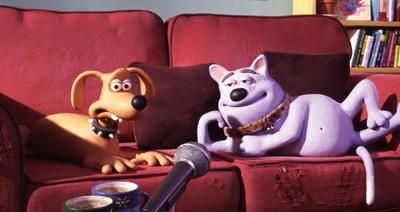 http://www.youtube.com/watch?v=pDo_vs3Aip4

Thanks to my old school mate, illustrator Diane Dawson-Hearn for dropping me a line about it.

--------------------------------------------
Quiz: Was William Shakespeare of Stratford really the author of all those wonderful plays?

Yesterday's Question answered below: Was Ben Franklin married?
--------------------------------------------_________
History for 4/22/2008
Birthdays: Queen Isabella I of Castille, Dr. Robert Oppenheimer, Immanuel Kant, Madame De Stael , Alexander Kerensky, Arron Spelling, Eddie Albert, Glen Cambell, Betty Page 87, Marylin Chambers is 55, Charlie Mingus, Peter Frampton, John Waters, Jack Nicholson is 71

Happy Secretaries Week (since 1954).Happy Earth Day (since 1970) and Turn Off Your T.V. and Get Real Week in Canada.

753 B.C.-Founding of Rome by Romulus and Remus. The Romans counted time from this foundation date. So A.D. 1 to them was 754 AUC or Anno Urbis Conditae- from the "Founding of the City". So this year 2008 is 2,762 AUC.

1741- Georg Frederich Handel dipped his quill into ink and began to write the Messiah.

1793- THE UNITED STATES DECLARED IT'S NEUTRALITY IN THE NAPOLEONIC WARS. This decision caused the split in American opinion that formed our two party system and soured the last years of George Washington's presidency. The France that helped us win the Revolution was Louis XVI's Royal France, but she had now become a people's republic like ours, so far the only other in the world. The French Revolutionary Convention had a Stars and Stripes flag hanging proudly in it's hall. Americans danced in the streets when the Bastille fell and started calling each other "citizen". The common people and Thomas Jefferson's new party felt we owed it to France to support a fellow people's republic against the European autocrats. The more conservative Federalists like Alexander Hamilton and John Adams were afraid of guillotines and anarchy and openly wanted Mother Britain to win. Jefferson called them Monocrats, they called his side Democrats. European tried to push America into choosing a side: America almost declared war on France in 1797,1804 and 1808, and almost declared war on Britain in 1800 and finally did in1812. Napoleon had hoped America would then send over her navy to ferry his army across the Channel to get at England. Small wonder George Washington's advice upon retiring was "Avoid entangling foreign alliances."

1811- Last of the Parthenon Marbles pried off their walls in Greece and sent back to England on a British frigate. Lord Byron was on board and called Lord Elgin, the supervisor of this act, "The Spoiler". Today the marbles are still at the British Museum and the Greeks are still mad about it.

1876- Composer Peter Tschaikowsky completed his score for the ballet Swan Lake.

1898- Teddy Roosevelt formed the First US Volunteer Cavalry, called the Rough Riders. It was a curious mix of Teddys' personal tastes- Harvard bluebloods and polo champions mixed with rough western cowboys and rodeo stars.

1906- In earthquake destroyed San Francisco, one day after the last of the fires were declared officially out, the Market Street cable car began running once more.

1934- In Little Bohemia Hunting Lodge in Wisconsin Public Enemy No.1 John Dillinger shot his way out of a FBI ambush. The FBI not only failed to stop Dillinger, they shot an innocent bystander who got caught in the crossfire.

1940- Writer Ernest Hemingway cabled his editor Max Perkins from Havana about a new novel he was writing.-" Title is "For Whom the Bell Tolls" from passage John Donne Oxford Book of English bottom page seventy one STOP Please register immediately."

1952- The first nuclear bomb test shown on network TV -Tommy Turtle says duck and cover!

1954- THE ARMY–McCARTHY HEARINGS began. Senator Joseph McCarthy's Senate committee chasing communists in the government had finally bit off more than it could chew when it took on the U.S. Army. Sparked by the drafting of Private G. David Shine, a young crony (and possibly lover ) of chief counsel Roy Cohn, a hearing was held to investigate Senator's McCarthy's charges that the Secretary of the Army and several other top Pentagon officers were in reality Russian spies. After a short time the hearing evolved from an indictment of the army into a probe of Senator McCarthy's red baiting tactics. It lasted for three months and spellbound the nation on live t.v. At one point Senator McCarthy submitted a note that the television cameras be turned off for a minute so he could wipe his nose. After one heated session Roy Cohn and Robert Kennedy had to be separated or they would've come to blows. Finally under the withering voice of Joseph Walsh "Senator, have you no shred of decency?!" McCarthy was finished as a political force.

1970- The first Earth Day. The idea was started by Senator Gaylord Nelson as a Teach-In to bring attention to environmental issues.

1978- Comic actors Dan Ackroyd and John Belushi debut two new characters on the Saturday Night Live TV show, Joliet Jake and Ellwood Blues. The Blues Brothers are born.

1996- Christopher Robin Milne dies at age 75. The young boy who's fascination with a bear in the London Zoo called Winnie inspired his father A.A. Milne to write the Winne the Pooh stories. Christopher Robin wasn't always appreciative of all the attention. He said of his father: "Someday I'll write some verses about him and see how He likes it!"

2000- The estranged wife of Mr Juan Gonzales of Cuba had grabbed their son Elian and tried to escape by boat to the United States. The wife and her lover drowned in the attempt but little 6 year old Elian survived and became a cause–celebre of the Cuban exile community in Miami. But Mr. Gonzales had come from Havanna to get his son back. Back in Havana Fidel Castro had a ball making political hay out of the Yankee Imperialistas stealing children from their parents. Finally after months of media circus US marshals under orders of Attorney General Janet Reno raid forcibly grabbed Elian Gonzales from his uncles home and gave him back to his father. His father pledged:" I want no one to ever stick a camera in my son's face again!"
------------------------------------------------------------------------------------
Yesterday's Quiz: Was Ben Franklin married?

Answer: Dr Franklin married Deborah Reed in 1730. Free spirits, they had been living together by mutual consent. They only married so Ben's illegitimate son by another, William, could be made legitimate and stand a chance in society. They had one daughter.
| | |
| --- | --- |
| | |