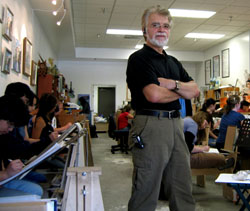 Dave Master, courtesy of Sheldon Borenstein's academy site.shedlonsartacademy.com



A new article I did on educator Dave Master is up now on Animation World Network wwww.awn.com.

Also Cartoon Brew has a note about my Click & Clack show.


--------------------------------------------
Question: What is a Pyrrhic Victory?

Yesterday's Question: Walt Disney called his animators the Nine Old Men. Did he invent that term? Answer: See 1939.
----------------------------------------------------------------
History for 5/27/2008
Birthdays: James 'Wild Bill' Hickock, Julia Ward Howe, Aemelia Jenks-Bloomer, Dashiell Hammett, Vincent Price, Dr. Henry Kissinger is 85, Leopold Goldowsky (the inventor of Kodachrome film), Hubert Horatio Humphrey, Herman Wouk, Christopher Lee is 86, Rachael Carson, Harlan Ellison, Joseph Feinnes, Peri Gilpin, Richard Schiff,Paul Bettany is 37

1647-The first witch execution in Salem Massachusetts. Contrary to popular perception more witches were hanged or crushed with stones than burned.

1647- Peter Stuyversant inaugurated as Dutch Governor of New Amsterdam. The one legged old soldier was a staunch Calvinist who was sent to "clean up the town".

1703- Czar Peter the Great laid the cornerstones for his new capitol Saint Petersburg. The Baltic Port was called at one time Petrograd and Leningrad but was changed back to the original name in 1989. It was the capitol until Lenin moved it back to Moscow in 1917.

1895 - British inventor Burt Acres patented a film camera/projector

1930-HAPPY BIRTHDAY SCOTCH TAPE! Mr. Richard Drew of Saint Paul Minnesota invented cellophane tape, marketed by the 3M Company under the brand name Scotch. Three years later Drew invented Masking Tape as a way for car manufacturers to pain cars two tone.

1933-SEVENTY FIVE YEARS AGO- Disney's cartoon"The Three Little Pigs" premieres, whose song "Who's Afraid of the Big Bad Wolf" becomes a national anthem of recovery from the Depression. It was also a favorite song of Adolph Hitler. Director of the short Burt Gillette left Disney afterwards to run the Van Bueren Studio in New York.
The Three Little Pigs was a major breakthrough for animation. The color and the quality made everything else up to that time look crude. It marked the point where Disney Animation moved out in front as the creatively dominant force in animation.

1935- The U.S. Supreme Court strikes down Franklin Roosevelt's National Recovery Act (The NRA) program. Roosevelt responds by trying to stack the court with judges more to his liking. Good thing that doesn't happen today, eh Boys & Girls? He referred to them as 'The Nine Old Men', a sobriquet Walt Disney would borrow in 1949 for his animators.

1937- San Francisco's Golden Gate Bridge opens.

1949- Actress Rita Hayworth married Prince Aly Khan.

1961 – The first black light is sold

1969 – Construction on Walt Disney World Orlando began.

1977-The Sex Pistols release their single God Save the Queen, the Fascist Regime in time for the Queen's Jubilee year.

1995- Actor Christopher Reeve was left paralyzed from the neck down after falling from his horse in an equestrian event in Charlottesville, Va. He became a spokesman for stem-cel research but his national effort was stymied by powerful religious lobbies. Reeves died in 2004.
---------------------------------------------------
Answer to yesterday's question: Look back at 1935.
| | |
| --- | --- |
| | |