VIEW Blog Titles from March 2009
ARCHIVE
Blog Posts from March 2009:
Question: Why is tomorrow called April Fools Day?

Yesterday's Question Answered Below: Who was the last President to wear facial hair?
------------------------------------------------
History for 3/31/2009
Birthdays: Rene' Descartes, Franz Josef Haydn, Serge Diagheliev, Richard Chamberlain is 79, Cesar Chavez, Herb Alpert, Gordie Howe, Liz Claiborne, Gabe Kaplan, Rhea Perlman, Shirley Jones, Richard Kiley, Volker Schlondorf, William Daniels, Lucille Bliss the voice of Crusader Rabbitt, Christopher Walken is 66, Colin Farrell is 33. Ewan McGregor is 37, Al Gore is 61

1146- St. Bernard preaches the Holy Crusade at Vezalay, King Louis VII of France and Emperor Conrad of Germany declare the SECOND CRUSADE. After all the ready-made pilgrim cross emblems were distributed Saint Bernard tore his own cloak to pieces for cross making material. Folks don't remember much about the Second Crusade because it was pretty much a non-event. Conrad took the land route through the Balkans to the Holy Land and by the time he got to Jerusalem his army was about 5 guys. The French king's army arrived intact but he was more of a tourist than a conqueror, after visiting the holy places and gathering some medieval tourist trinkets ( 'My folks went on Crusade and all I got was this lousy T-Shirt!") he went home. They wasted most of their time in an unprovoked attack on the Emir of Damascus, who at the time was one of the Christians' only Moslem allies. The most memorable person on the voyage was the French Queen, Eleanor of Aquitaine, who had an affair with a Saracen Prince, and legend has it inspired the troops by riding barebreasted to Damascus. Later she would leave Louis and marry Henry Plantagenet of England and give birth to Richard Lionheart.

1814- PARIS FALLS- Since his Retreat from Moscow, Napoleon seemed to be fighting all of Europe. Today the allied armies of Austria, Sweden, Prussia and Russia captured Paris despite a spirited defense in the suburbs of Montmartre by Marshals Moncey and Marmont. Moncey had reformed the municipal police and is considered the father of the Paris Gendarmerie.

1836- Charles Dickens first work published "The Posthumous Papers of the Pickwick Club."

1840- Congress lowers the minimum workday for federal workers from 11.4 hours a day to 10 hours a day. At this time in mines and factories people worked an average 12-16 hour day. The 8 hour day wasn't achieved until 1913, not until 1941 in Hollywood and it's still a dream in most digital effects studios and dot-com companies today.

1889- The Eiffel Tower opened to the public to celebrate the centennial of the French Revolution. Twice as tall as the Saint Peter's in Rome or the Great Pyramid of Giza. The Wizard of Iron Gustave Eiffel also designed the armature holding up the Statue of Liberty. Eiffel's original deal with the French government called for the tower to only stay up for twenty years, then pulled down if no further use can found for it. Eiffel agonized about what to do as the deadline approached but fortunately by 1909 Wireless radio transmissions became important and the Eiffel Tower was a great broadcast antenna.

1905- THE RETURN OF SHERLOCK HOLMES- Sir Arthur Conan Doyle brought back his famous sleuth in a new series of adventures. Conan Doyle had created Sherlock Holmes and Doctor Watson in 1887 but by 1893 he had tired of the characters, he wanted to write more serious fiction like his novel The White Company. So he killed him off. Holmes fell to his doom fighting Prof. Moriarity at the Reichenbeck Falls. The reaction of the public was astonished outrage. It seemed whenever Conan Doyle went out inevitably someone would stop him and say "You Blackguard! How Could You ?!" Finally Conan-Doyle bowed to public pressure and resumed the career of the inhabitants of #221B Baker Street.

1930 -Reacting to charges that the movies had become too naughty, Hollywood producers accept the MOTION PICTURE CODE. It was regulated by Will Hays, former Republican Party Chairman. The regulation wouldn't really start to have strength until 1935-36 when pressure groups like the Catholic League of Decency went after Mae West and the Tarzan pictures. The Hays Code forbade open sex and obscenity:
- twin beds only in a bedroom, nightclothes buttoned to the neck.
-if a couple were seated together on a bed they must have at least one foot touching the floor,
-"kisses with a duration of no longer than 3 seconds, parting with lips closed."
Lots of jokes were spawned like: "Give him the bird!" "If the Hays Commission would let me, I'd give him the bird!" One other little known clause was the forbidding of members of different races from kissing on camera. So Anna Mae Wong, the greatest Chinese actress of her time, could not play a Chinese heroine if her co-star was a Caucasian with eyepieces.

1931- ITT transmits the first message by microwave, from Dover to Calais.

1943- Rodger & Hammerstein's "Oklahoma!" debuts. Despite the opinion of producer Mike Todd -"No legs, No Laughs, No Chance", the musical becomes one of the great hits of American musical Theater.

1950- Thor Heyderthal's book of his exploits Kon Tiki published. This was an account of his 4200 mile voyage which proved ancient mariners could have traveled from Peru to Polynesia on boats made from tied reeds.

1962- The Los Angeles County Museum of Art opened on Wilshire Blvd. No, it didn't display customized surf boards or the ideal tuna melt with sprouts, but an exhibit of paintings by Bonnard.

1967- In a small London nightclub rising young rock & roller Jimmy Hendrix burned his guitar for the first time. British rock luminaries like Paul MacCartney, John Lennon and Pete Townsend sat in the audience stunned at the technical brilliance of this unknown former paratrooper who played left handed. The pieces of his guitar were purchased by Microsoft chairman Paul Allen and today are in his Seattle Rock Museum.

1968- Depressed over Vietnam War, the strong primary surge of Sen. Eugene McCarthy and the challenge of his old enemy Bobby Kennedy, President Lyndon B. Johnson announced he would not run for re-election. Borrowing the words of General Sherman in 1884 he says: "If Nominated Ah will not Run, If elected Ah will not serve.." In retirement Johnson resumed cigarette smoking and neglected his health. He was dead in four years.

1973- Comic strip hero Smilin' Jack gets married, the strip concludes next day.

1991- Former child star Danny Bonaduce arrested for fighting with a transvestite prostitute.

1995- In Corpus Christy Texas famed Tejana singer Selena Perez was shot and killed by an obsessed fan. The woman Yolanda Saldivar was president of the Selena Fan Club. "the gun just went off, I didn't mean to shoot anybody." Uh-huhh.

2003- Countdown with Keith Olbermann premiered on MSNBC.

2004- Left wing radio network Air America went on the air.
-----------------------------------------------------------------
Yesterday's Answer: Which was the last President to wear facial hair?

Answer: President William Howard Taft ( in office 1909-1913) , wore great walrus mustachios. Ever since, they've all been clean shaven, except for Presidential candidate Thomas Dewey, who was defeated by Truman in 1948.
A friend in Europe sent me this ad for a new feature length film in Germany, Lissi and the Crazy Emperor. Does that guy look inspired from my image? Judge for yourself.


click to enlarge
---------------------------------------------------
Question: Who was the last American President to wear facial hair?

Yesterday's Question answered below: Who were Harvey Girls?
--------------------------------------------------------------------------
history for 3/30/2009
Birthdays: Maimonides- Moses Ben Maimon, Anna Sewell (the author of Black Beauty), Vincent Van Gogh, Francisco Goya, John Astin, Peter Marshall, Warren Beatty is 72, Eric Clapton is 63, Disney animator Marc Davis, Arthur Lee Harrington the designer of the first Jeep, Tracey Chapman, Robby Coltrane, Paul Reiser, Celine Dion, Nora Jones is 30

3,201BC- According to translated Sumerian records from Feb.17th in the month of Hilu to the month of Eshil-March 30th occurred the GREAT FLOOD, that the story of the flood of Noah in the Bible was based on.

To the Romans this was the Festival of Salus, the God of Public Works and Public Safety.

1282- THE BIRTHDAY OF THE MAFIA- The Sicilian Vespers. Because of the strategic location of the Isle of Sicily her people were never allowed their own government. Sicilians were constantly being conquered by Carthaginians, Greeks, Romans, Arabs and Crusaders. So when in 1282 they were under the harsh rule of French-Norman knights, they formed secret societies. This night at the ringing of the evening vesper bells as a signal, they all ran out and cut up every Frenchman they saw. This was the first "hit". Later at the turn of the century Mafia families like "Il Mano Negro (The Black Hand) and La Cosa Nostra ( our way) brought their clan structure to the U.S., supplanting the earlier Anglo-Jewish-Irish gangsters. No one is really sure just what the word Mafia means; "Morte Alla Francia Irredenta Arreghana", the Arab response "Ma Fi"- Don't Ask Me…or some woman who's daughter was raped by a French knight called out MaFilia!- My Daughter! Italian comic Pat Cooper said Mafia meant "the Mothers and Fathers Italian Association".

1492-THE JEWS EXPELLED FROM SPAIN- Shortly after conquering the last Moorish strongholds in Spain their Most Catholic Majesties Ferdinand & Isabella issue an edict giving all Jews three months to convert or leave the country. Jewish people had held exalted positions in the Moorish Emirates of Granada and Cadiz like the philosopher Maimonides, some even became Vezirs or Prime Ministers. Ferdinand & Isabellas own doctor Abraham Senior was Jewish. Some Jews tried to flee to Portugal but most went to Moslem countries like Turkey and Morocco where the persecution of the children of Issac was less fierce among the children of Ishmael. Many Jews who live in Bosnia and Kossovo speak Old Spanish- Ladino instead of Yiddish or Hebrew. The Inquisition made it a any Jewish practice a crime, even people who changed their sheets on a Friday or turned to the wall to die were accused of Jewish Heresy. Whenever there is a call in Spain to make Queen Isabella of Castile a saint, this little issue pops back up.

1534- The English Parliament passed the Act of Succession declaring King Henry VIII's divorce from Catharine of Aragon and marriage to Anne Boleyn legal and any criticism of it to be treason. All Englishmen and women were required to take an oath of loyalty to ensure their agreement. This oath was what got Sir Thomas Moore and Bishop Fisher beheaded.

1788- The great French philosopher Francois Voltaire had been exiled to estate at Fernay away from court for decades because of his criticism of the Catholic Church. Now at age 84 and the most famous writer in the world, he returned to Paris to see his last play Irene debut, but in reality to die. This night his passage to the theater became a triumphant procession as his coach was mobbed by cheering people shouting Vive Voltaire! After the play he was too frail to take a bow so a bust of him was placed center stage and adorned with garlands and flowers.

1789- Father of the U.S. Navy John Paul Jones is accused in Russia of having sex with a minor. He later proved the girl was over 16 but Catherine the Great told him to leave anyway. Jones had turned mercenary and organized Catherine's Black Sea fleet. He retired to Paris ill and exhausted- Thomas Carlyle said he looked "like an empty wine skin."

1809- First Lady Dolly Madison began the tradition of regular White House receptions in the Drawing Room. Her husband James Madison, despite being the writer of the Bill of Rights, was a timid person and was not good in crowds. But the vivacious Dolly dominated these soirees and accomplished more politicking than many of her male counterparts. Recently Michelle Obama renewed the Weds soirees.

1822- FLORIDA ACQUIRED BY THE U.S.. During the War of 1812 Spain allowed Britain to use Florida as a base for raiding the U.S.. They also provided safe haven for the hostile Seminole Indians. This annoyed American politicians who wanted to have Florida anyway. General Andy Jackson concluded the First Seminole War by invading Florida and throwing the Spanish Governor out of Pensacola in 1818. What Jackson had started roughly, John Quincy Adams concluded diplomatically, with the Adams-Otis Treaty, buying Florida from Spain for $5 million.

1842- Dr. Crawford Long of Georgia uses Ether as an anesthetic in an operation. Before that surgeons had to have good biceps to hold down their patients while sawing on them. In 1846 another doctor named W.T.G. Morton did a public demonstration of the Ether anesthesia process and tried to hog the glory of the invention, refusing to share any prizes with Dr. Long.

1853- The pencil eraser patented.

1860- Leslie's Illustrated Newspaper refers to Harriet Lane, President James Buchanan's niece as "FIRST LADY of the Land". Buchanan was a bachelor and may have been gay, So Ms. Lane performed the duties of the White House hostess. Earlier in 1840 President Zachary Taylor eulogized Dolly Madison as First Lady, before that Martha Washington and Abigail Adams were referred to as Lady Washington and Lady Adams. But this is the first official use of the term First Lady for the President's consort. Some first ladies disliked the title. Jacky Kennedy said it "makes me sound like a show-horse."

1867- Seward's Folly. Secretary of State William Seward negotiated the deal with Czarist Russia to buy Alaska for $7.2 million or two cents an acre. You can see Russia from your window...

1918- Thomas Edison sold his studio and gets out of the movie business. He had earlier fired W.K.L. Dickson inventor of the movie studio set, Edwin Porter the inventor of the narrative film and closeup, and J. Stuart Blackton the inventor of cartoon animation for annoying him too much about filmmaking. Edison was more interested in finding a way to extract iron ore from rocks using magnets.

1968- In New York's Bowery district two children find the body of a homeless drug addict. The John Doe is later identified from fingerprints as Bobby Driscoll, 31, Walt Disney child star and the voice of Peter Pan.

1981- PRESIDENT RONALD REAGAN SHOT. After only few weeks in office President Ronald Reagan is shot by lunatic John Hinckley. Hinckley was trying to impress actress Jodie Foster. Reagan recovers. Jodie Foster was unimpressed. Oh well, at least Hinckley was a Republican. In a bit of bizarre theater during the confusion Presidential Security advisor General Alexander Haig went to the media and announced he was in control: " I am minding the store." This is in direct conflict with the 25th Amendment to the Constitution, which states plainly the line of succession goes from the President to the Vice President the Speaker of the House to the Senate Leader Pro-Tem. Fortunately, no one took Haig seriously.


Presidential press secretary James Brady was shot in the head, which left him permanently brain damaged. He and his family later sponsored the Brady Handgun Bill, which was passed by President Clinton, but not renewed by Pres. George W. Bush.
Ironically, one of the reason Ronald Reagan's life was saved was because Secret Service agents rushed him to the nearest emergency room, which was a Washington DC ghetto hospital with much too much experience with gunshot wounds. Reagan quipped to the doctors working on his collapsed lung- "Hey, you guys aren't Democrats, are you?"

2000- Dreamworks animated feature the Road to El Dorado premiered.
---------------------------------------------------------------------
Yesterday's Question: Who were Harvey Girls?

Answer: By 1875 most of America traveled by railroad. Before dining cars were invented the food at stop overs was pretty foul. A man named Harvey established a string of restaurant/inns along the Acheson-Topeka and Santa Fe lines. This was the first ever franchise restaurant chain. In 1883 these inns were maintained by the famed Harvey Girls, women from age 18-30 who served as waitresses and tourguides of their area. In 1946 there was a movie called The Harvey Girls starring Judy Garland.


Today is the Centennial of the birth of Disney animator-director Jack Kinney.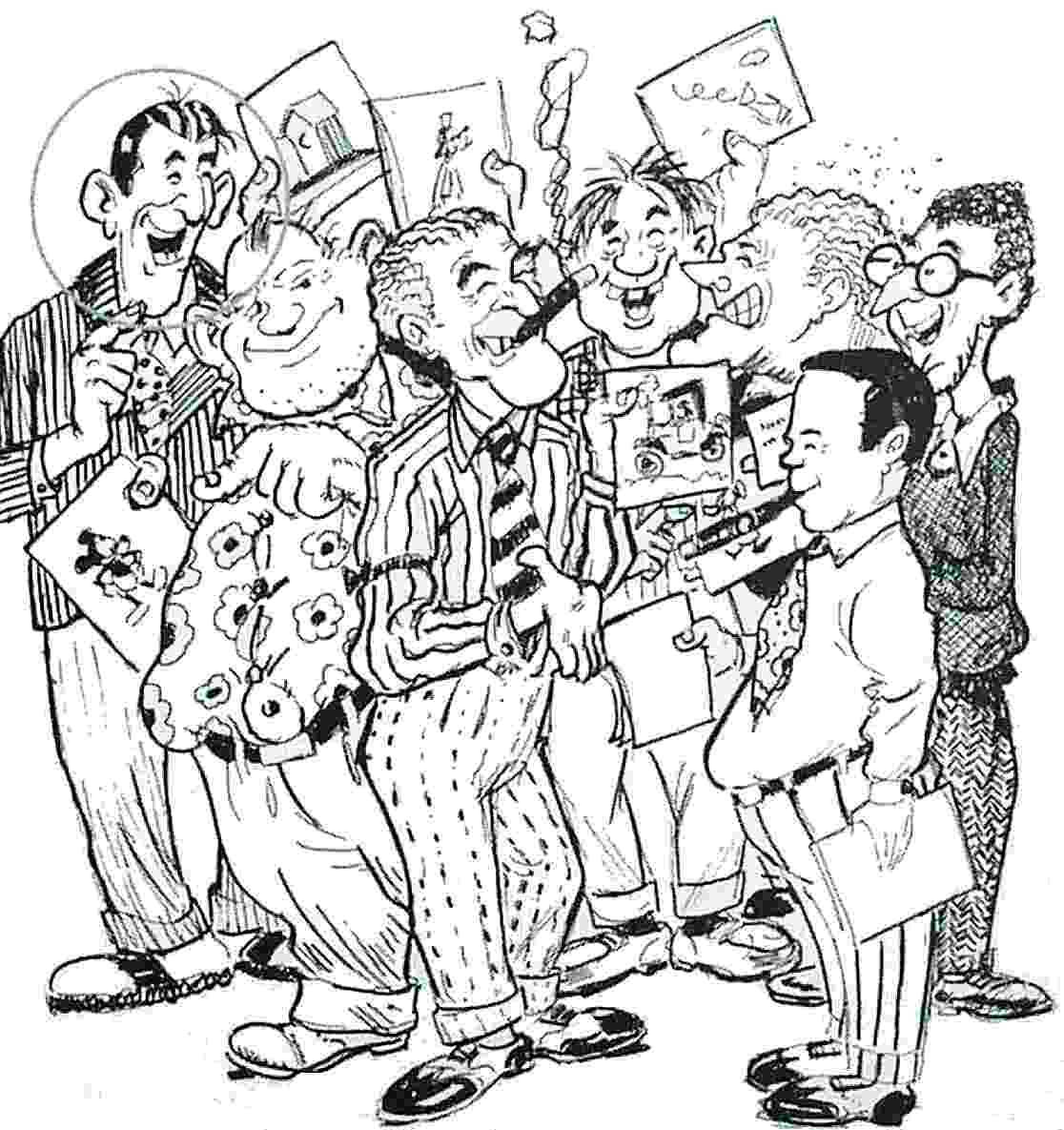 Kinney in the center, surrounded by his colleagues like Carl Barks and Roy Williams. Sketch by Jack Kinney

Kinney 1909-1992 born in Utah and joined the studio in 1931. He was an animator on such hits as THE BAND CONCERT (1935) and MOOSE HUNTERS, He later went into storyboard and directed many of the funnier SPORT GOOFY shorts like HOCKEY HOMICIDE and MOTOR MANIA. He also directed the Oscar winner of 1943 DER FUEHRER'S FACE, and CASEY AT THE BAT. He also directed the Mr Toad section of ICHABOD & MR. TOAD.




Kinney described how he was laid off after many years of memorable service by a freshly minted production exec who never heard of him. I'm sure many of my generation know what THAT feels like! He did animation in the Southwest and worked with creating film making skills among Native American groups on reservation.

In retirement he wrote a wonderful unauthorized tell-all about the Mouse-House called Walt Disney and Other Assorted Characters. It's out of print, but if you see one, jump on it. It's a great resource for an alternative view of the studio, written without a political agenda, but without rose-colored glasses either.

He clearly admired Walt Disney, but he didn't shrink from describing him at times as a chain-smoking neurotic fascist, who enjoyed his scotch at the end of the day. Kinney was also very close to Roy Williams, the Big Mouseketeer from the Mickey Mouse CLub TV show. Kinney illustrated it all himself.

HAPPY 100TH, JACK!
Quiz: Who were Harvey Girls?

Yesterday's Question: What is a Jeremiad?
----------------------------------------------------------
HISTORY FOR 3/29/2009
Birthdays: President John Tyler, Sir William Walton, Eric Idle is 66, former English P.M. John Major, Bud Cort, LaToya Jackson, Eugene McCarthy, Jennifer Capriati, M.C. Hammer, Walt "Clyde" Frazier, Cy Young, Christopher Lambert is 52, Disney animators Jack Kinney, Brendan Gleeson is 54, Lucy Lawless, Elle MacPherson, Amy Sedaris is 48

327 AD St. Jonah was squished to death in a wine press.

1461- Battle of Towdon. Edward IV Yorkist army defeated the last organized Lancastrian forces ending the War of the Roses.

1519- Pope Leo X sent uppity monk Martin Luther an invitation to come to Rome and explain his curious opinions. Luther quickly understood his chances- once in the Vaticans' hands, at best he would be sent to some obscure Italian monastery to live out his days in a vow of silence. At worst he would burn at the stake on a slow fire with a nail hammered through his tongue like earlier papal critics Jan Hus and Savonarola. Martin Luther decided to tell Rome thanks but no thanks, he'd stay in Germany where it was safe.

1638- The first Swedish colonists arrive in Delaware. Remember at this time Sweden was just as big a kickass power in Europe as England or France. The built a settlement they call Fort Christina. Twenty years later the fort was captured by the Dutch under Peter Stuyversant. Despite their short stay the Swedes left a lasting impression on the New World. They brought with them plans for steam baths and invented the Log Cabin.

1697-FRONTIER LIFE- French allied Abanaki Indians raided the cabins of Haverhill Massachusetts. The Indians carried off Mrs. Hannah Dustin and her maid. When Mrs. Dustins baby began to cry the Indians killed it, then being Catholic converts they paused to say a Rosary. But the frontier mother was not in a forgiving mood. This night when the warriors who guarded them slept Mrs. Dustin and her maid quietly rose, grabbed tomahawks and murdered all the Abnakis. Then being aware of the Massachusetts bounty on Indian scalps she paused before fleeing to scalp all the bodies. She made it back home and earned 25 English pounds in prize money. Rev. Cotton Mather included her story in his 1697 book Humiliations Follow'd with Deliverances, an early American best seller.

1814- As Russian, Swedish, Austrian and Prussian armies closed in around Paris Napoleons court led by Empress Marie Louise fled the city. Napoleon himself was at Troyes with his army. He rushed but arrived too late to save the city.

1886-COCA-COLA Invented. Atlanta Pharmacist and liver pill salesman John Pemberton developed the carbonated drink originally with some Cocaine and his bookkeeper Francis Robinson penned the famous script logo still in use today. Advertising for the drink claimed it cured everything from hysteria, cholic and the common cold.
The formula is still a secret. During World War Two the Nazis openly worried how a break with the United States would effect their supply of Coca Cola so Dr Goebbels arrested Coke execs in Germany and forced them to develop Fanta Cola.

1903-THE BIRTH OF THE DRIVE IN RESTAURANT? New York tycoon CKG Billings wanted to celebrate his new racing stables in Washington Park. So he invited 50 of the top New York financial society to a formal black tie dinner at Sherry's Restaurant, except the entire dinner would be eaten on horseback. The horses were kept in a circle and a canvas painting of the English countryside provided the backdrop to the room. The moguls ate from solid silver trays and sipped champagne from straws in their saddlebags. The Horseback Dinner was one of the more outrageous examples of Gilded Age wealth and excess .

1936-Republic Pictures formed.

1939- Moviestars Clark Gable and Carole Lombard marry. They had a happy marriage until Lombard was killed in a plane crash in 1942. It's been said the first California King Size mattress, slightly larger than normal king size, was ordered custom made for Gable and Lombard for their rather exuberant assignations at the Hollywood Roosevelt Hotel.

1951- 'The King and I' debuts on Broadway with Gertrude Lawrence and Yul Brynner, who shaved his head for the first time for the role.

1952-President Harry Truman announced he would not seek reelection.

1962-THE BILLY SOL ESTES AFFAIR- Estes was the "fertilizer king" and considered an insider in the Kennedy White House. His arrest by the F.B. I. for selling $30 million dollars in fraudulent fertilizer tanks implicated several heads of the agriculture department. It became the only major scandal of John F. Kennedy's administration. Before his career in fertilizer Estes tried running a funeral parlor but went out of business, ran for local office but was defeated by a write-in candidate. He became a campaign manager for the failed 1956 Presidential bid of Adlai Stevenson. As campaign manager he paid for large quantities of parakeets to be dropped by plane over major American cities and chant in unison "Vote for Adlai!"

1971- First day of shooting on the film the Godfather. Francis Coppola wanted young actor Al Pacino for the Michael Corleone role but while waiting for the offer Pacino had signed with Fox to do a different film- The Gang that Couldn't Shoot Straight. Producer Robert Evans begged and pleaded with Fox exec James Aubrey "The Smiling Barracuda" to get Pacino released from his contract. Finally Aubrey replaced him with Jerry Ohrbach. He called Evans and said:" All right, you can have the midget."

1973- Last U.S. combat Troops leave Vietnam. President Nixon that night announced "Peace with Honor". Communists conquer South Vietnam in 1975.

1974- Mariner 10 was the first satellite to reach the planet Mercury.

1975- The Communist North Vietnamese capture DaNang, South Vietnam's second largest city, signaling the beginning of the final drive to Saigon to end the Vietnam War.

1979- The House Committee Investigation into Assassinations, published their conclusions. They concluded that "President John F. Kennedy was in all probability killed by a conspiracy " but just who and why and what to do about it, they didn't know.

1989- As part of one of the silliest Oscar telecasts in history, actor Rob Lowe (The West Wing) had to dance and sing 'Proud Mary" with a Las Vegas showgirl dressed as Disneys Snow White. Lowe had just been embarrassed by the publication of a videotape shot in a hotel room of him having sex with two teenagers. The Disney Company immediately threatened a lawsuit and the Academy apologized and replaced director Alan Carr with Gilbert Cates.

1992- Presidential candidate Bill Clinton uttered the legendary American phrase:" I smoked pot- but I didn't inhale!"
--------------------------------------------------------------------------
Yesterday's Quiz: What is a Jeremiad?

Answer: Originally from the French ( jérémiade ) After the prophet Jeremiah (circa. 650 - 580 B.C.) of the Old Testament who announced the misfortunes of Judah. He is (apochryphaly?) attributed the 'Lamentations' commemorating the fall of Jerusalem in 587 B.C. A Jeremiad came to describe a persistent, mourneful, tirade lamenting present conditions.
Quiz: What is a Jeremiad?

Yesterdays Question answered below: What language did Pirate Jenny and Mack the Knife speak?
------------------------------------------------------
History for 3/28/2009
Birthdays: Paul Whiteman, Pearl Bailey, Freddy Bartholemew, Dirk Bogarde,
Confederate Gen. Wade Hampton, pianist Rudolph Serkin, Swifty Lazar, Marlin Perkins, Diane Weist is 61, Reba McEntire, Vince Vaughn is 39, Julia Stiles is 28

193 A.D. -THE DAY THE WORLD WAS AUCTIONED- The Roman Emperor Pertinax had just been slaughtered by his Praetorian Guards and the Praetorian Prefect Marius Maximus wisely turned down the promotion- bad retirement benefits, you know. The men realized they can't be Imperial Guards without an Imperial type person to guard. They might even get sent back to the front! So they posted an announcement that "who ever wanted to be Emperor and Lord of the Known World" should come to the Praetorian camp that night and submit a bid. Several senators competed but the winner was Didius Julianus, with a winning bid of 15,000 silver pieces per man in the 1,500 man Guards. Almost none of the Roman generals went along with this dippy solution to the succession to the throne of the Caesars. Julianus was soon bumped off in a violent civil war that saw Septimius Severus the winner.

1456- Today is the feast of St. John Capistrano. The Saint of the Swallows of California was born in Italy and was a preacher, was married, fought the Turks in Hungary, and in later life after becoming a monk was put in charge of the Holy Inquisition in Central Europe. He hated and burned the Hussites and other Protestant reformers and ordered all Jews to wear yellow badges so as not to seduce good Christians. He was so hated that a century after his death from plague the Calvinists desecrated his grave and threw his bones down a well. The Mission St. John Capistrano in California was named so by monk Fra Junipero Serra even though the Saint never visited the Golden State.

1776- Happy Birthday San Francisco! Don Juan Bautista De Anza brought 247 colonists to the tip of a rocky promontory in a huge foggy natural harbor and built a Presidio, or fort. When a monk came six months later to built a mission he called it San Francisco de Asiacutes. The neaby village was called Yerba Buena for all the good herbs growing in the area. Juan de Anza explored and mapped most of the route from Old Mexico through Northern California but is not as well known to Americans as the Anglo explorers John Freemont, Kit Carson and Jim Bridger.

1778 -GEORGE WASHINGTON ANNOUNCED MAJOR GENERAL BARON VON STEUBEN, LATELY OF KING FREDERICK THE GREAT'S SERVICE, WOULD TRAIN THE AMERICAN ARMY.- It turned out later Von Steuben was not a real Baron, never met the Great Frederick and never rose higher than Major. Even his medals were fakes purchased at a London theatrical costume shop. But America was the land where if you want to be called Baron, then you are a baron. Von Steuben did an excellent job training the farmers and shopkeeps in modern warfare. He wrote: " In Germany I order a soldier to do something and they do it. In America when I order a soldier to do something I must then explain WHY I want him to do it and WHY it is important!" The minutemen enjoyed watching him scream in a language they didn't understand, and at night around the campfire his big pet greyhound Azor howled along to the music. Proof of his methods success was at the Battle of Monmouth, Lord Cornwallis groused: " Hmpf! Damned rebels formed up well."

1800- Congress voted to extend Franking privileges to Martha Washington. Franking meant she could mail letters without having to pay for postage.

1862- SIBLEY'S RAID. THE BATTLE OF LA GLORIETA PASS-The Gettysburg of the Far West. Confederate Henry Hastings Sibley pitched the idea to the High Command in Richmond that since most of the US Army was now back East fighting the Civil War there was no one to stop them from expanding the Confederacy from Texas to the gold fields of California and the Pacific Coast! Richmond let him equip a brigade of Texas Volunteers and they quickly overran Santa Fe, Alberquerque and won a skirmish at Valverde. Plans were made for the Confederate conquest of Colorado, Utah and set up a new rebel state in Arizona. Fighting got as far west as some Pima villages that one day would be Phoenix. But what Richmond didn't appreciate was the regional rivalry – As soon as Colorado and New Mexico men heard they were being invaded by Texans, they rushed to fight them. And Sibley turned out to be a bad leader- because of his drinking habits his men called him a Walking Whiskey Barrel. This day a pitched battle was fought outside of Tuscon in Glorieta or Apache Pass. The Confederates won the battle but during the confusion a Yankee captain named Chivington sneaked behind the Rebel lines and burned Sibley's supply train. This proved decisive since you can't march armies in the Western deserts without supplies and water. Sibley had to fall back to Texas, he riding in a remaining wagon drunk with officers wives while his men marched with no water. On the Yankee side there were several leaders including a Colonel Slough who the Colorado men hated so much they planned to shoot him during the battle, frontier scout Kit Carson and many Hispanics led by Andres Pico, who once led Mexican troops against Yankees in the Mexican War. I guess he felt one change of flag in a lifetime was enough.

1870- THE ROCK OF CHICKAMAGUA KILLED BY A NEWSPAPER.- Gen. George H. Thomas, retired Union war hero has a heart attack in a St. Louis Hotel after reading an editorial saying all in all he wasn't that great a general. Survivor of shot and shell, they found him in his room clutching a written rebuttal to his chest.

1881- P.T. Barnum formed a partnership with his chief competitor James Bailey to create Barnum & Bailey's Circus. He proclaimed it the Greatest Show on Earth!

1920- Silent film stars Douglas Fairbanks & Mary Pickford married.

1928- Via radio broadcast, the public heard the voice of Charlie Chaplin for the first time.

1930- The name of the City of Constantinople was officially changed to Istanbul, Turkish for "The City". Angora was renamed Ankara.

1935- Leni Reifenstahl's hypnotic movie paean to Nazism- Triumph of the Will, premiered.

1941- English writer Virginia Woolf filled her pockets with stones and drowned herself in he River Ouse in Sussex. Her body was never found.

1942- Albert Hurter, brilliant designer for Walt Disney's "Snow White' and 'Pinnochio" died of rheumatic fever.

1979- THREE MILE ISLAND- Partial Meltdown of the Pennsylvania reactor panicked the nation. Despite the official attempts to belittle the danger Governor Richard Thornburg in Harrisburg moved his office underground to a bunker and Cardinal Krol of Philadelphia gave the entire county of Lancaster and Harrisburg a blanket unction (Last Rites). just in case.... The accident spawned the largest civilian protests since the Vietnam War and nuclear energy business has never recovered.

1999- Matt Groening's cartoon series Futurama debuted.

-----------------------------------------------------------------------------------
Yesterday's Question: What language did Pirate Jenny and Mack the Knife speak?

Answer: Kurt Weill wrote the original Threepenny Opera in German, working from the original Beggars Opera of 1728 that was done in English.
| | |
| --- | --- |
| | |