VIEW Blog Titles from June 2009
ARCHIVE
Blog Posts from June 2009:
Quiz: The doctor for Michael Jackson has been accused of being a Doctor Feelgood. Who was the original Doctor Feelgood?

Yesterday's Quiz answered below: Gustav Holst was the composer of the Planets. What country was he born in?
-----------------------------------------------
History for 6/30/2009
Birthdays: Buddy Rich, Lena Horne is 92, Czeslaw Milosz, Susan Hayward, Mike Tyson is 43, Deanna Durbin, Howard Hawks, William Goldman, Martin Landau, Essa-Pekka Salonen, David Alan Grier, Vincent D'Onofrio, Monica Potter, Rupert Graves

1520- " La Noche Triste- THE NIGHT OF SORROWS" at Tenochtitlan. The Aztecs finally realize that Cortez and his conquistadors aren't visiting gods and drive them from the capitol with great slaughter. Almost half the Spaniards died on this one night. Some Spaniards attempted to escape by diving into the lake and swimming but were dragged down by the weight of their stolen gold and drowned.


Cortez forced his hostage the Emperor Montezuma to go out and quiet the multitudes, but the crowd killed him with a shower of stones. During the fighting, captured Spaniards were dragged up the steps of the great pyramid of Huitzilopochtli and sacrificed while their comrades could only watch in horror. The temple towered over the city so everyone could see. After the ritual sacrifice the Aztecs would eat barbecued strips cut from the man's thighs. Remember this the next time you order fajitas. Diarist Bernal Diaz de Castillo remembered that during a lull in the fighting the Aztecs would call out :' You Spaniards better go home. I'm stuffed!" Cortez would regroup his forces and with the aid of allied Indian tribes and a terrible smallpox epidemic eventually reconquer the city.

1559- King Henry II of France is warned by a weirdo named Michel de Nostre Dame or Nostradamus, to beware of lances. Henry laughed it off because nobody fought that way anymore. However to celebrate a dynastic marriage and peace treaty with Spain part of the Rue Saint Antoine in Paris was closed off for a joust with blunt lances–kind of a Renaissance version of a "Medieval Times" party. Forty year old King Henry jousted with the Dukes of Guise and Savoy and knocked them down. He complained they let him win and ordered his Scottish body guard Montgomery to lay on for real. In a freak accident, Montgomery's lance splintered and shot through the king's gold helmet visor and into his brain, killing him. Nostradamus was quickly put on the royal payroll.

1632- Caecilius Calvert, the second Lord Baltimore, was awarded proprietorship of a new English colony forming north of Virginia named Maryland. The colony's charter left open the issue of the official sanctioned church, so Baltimore could make it a haven for his fellow Roman Catholics.

1643- In Paris the son of an upholsterer named Jean Coquelin signed a contract to establish the Ilustre Theatre. Jean also took on a stage name- Moliere .

1832- The Great Pierce Island Rendezvous- In the Old West the end of June marked the one time of the year the solitary Mountain Men would come down out of the Rockies and meet together. At the rendezvous they contacted fur company representatives to turn in their furs and pelts for gunpowder, blankets, trade trinkets and whiskey. There were several rendezvous sites including Bent's Fort and Papoagia but Pierce Island was one of the more celebrated.



1837- The steamboat St. Petersburg arrives at Ft. Union to give the Indians of North Dakota blankets, knives and smallpox. The resultant plague all but wipes out the Assinoboines, Sans Arcs, Mandans and decimates the Blackfeet.

1882- Charles Guiteau, assassin of President Garfield and major league fruitcake, was hanged. He had acted as his own lawyer on a defense that God had ordered him to kill the president. One prison guard hated Guiteau so much he took a shot at him but missed, prompting a Congressman to order an investigation of the marksmanship of government officers. Tickets to the execution went for as much as $300 Each. Guiteau's last words as he dropped through the gallows trapdoor was "Glory Haleileiuyah!"

1893- PRESIDENTIAL COVERT OPERATION- Shortly after becoming President, Grover Cleveland developed a cancer on his upper jaw. Without telling anyone in the government or even his own Vice President, Cleveland slipped off to New York, and went on board the yacht of millionaire Elias Benedict. A makeshift operating room has rigged up inside with the table secured to the mainmast. The excuse for the trip was a relaxing cruise with a rich friend. As the ship bobbed in New York Harbor, doctors removed part of Clevelands upper jaw and placed a rubber plate in it's place. The Secretary of State and the First Lady completed the charade by sunning themselves on deck. Cleveland never had cancer again and died of old age. The event was kept such a secret, few today even know it happened.

1894 - London Tower Bridge opened.

1908-A mysterious explosion occurs in remote Tunguska Siberia with the estimated strength of several atom bombs. No meteorite remains was ever discovered. Soil at the epicenter had been turned to glass. It was speculated as a comet impact or a UFO crash. But it has never been completely explained.

1914 – A young English trained Indian lawyer named Mohandas K. Ghandi was arrested for the first time, trying to win equal rights for non-European citizens in South Africa. Years later in India he would earn the name the Mahatma, or the Great Soul.

1933- A group of actors meet in secret at Frank (the Wizard of Oz) Morgan and form the Screen Actors Guild. The secrecy was because studios threatened to blacklist anyone who so much as breathed the word union. Among the founding members that night are James Cagney, Groucho Marx, Joan Crawford, Franchot Tone, Frederic March, Robert Montgomery and Boris Karloff.

1934-"NIGHT OF THE LONG KNIVES"- Chancellor Adolf Hitler arrested his own stormtroopers during their convention and had them all shot. Hitler was placating the top industrial and military powers to consolidate his hold on Germany. The SA or Brownshirts led by Ernst Roehm were mostly street thugs and convicts who expected to get top jobs in the army when the Nazi's came to power. The Prussian officer corps didn't think this was a hot idea. For their loyalty Herr Hitler wasn't fussed about having to liquidate his old friends. Ernst Roehm insisted that if he was to be killed, he wanted Adolf himself to pull the trigger. Instead, Hitler sent several Gestapo officers who ended Roehm's life in a fusillade of pistol shots. The new unit took over the SA's duties called the SS, or blackshirts, under former chicken farmer Heinrich Himmler.

1936- Margaret Mitchell's bestseller 'Gone With the Wind" first published.

1936- the 40 hour work week made a federal law.

1937- Congress voted to shut down the Federal Theater Program, the division of the government funded WPA that produced plays for Depression wracked poor people. The FTP produced cutting edge works of Orson Welles, Clifford Odets and Eugene O'Neill and at it's height reached 25 million people. But conservative senators thought it had become too radicalized by lefties for a government program. Theater actors working in L.A. on a hit production of Pinocchio held a mock funeral for the puppet. Over it's casket was the headstone FTP: Born 1934, Killed by an Act of Congress, June 30th 1937.

1940- Cartoonist Dale Messick takes over the Brenda Star comic strip and adds the trademark sparkles.

1948- Bell Laboratories announced the Transistor, a possible substitute for radio-vacuum tubes.

1953- The first Chevy Corvette rolled off the assembly line. Only three thousand were made, all white with red interior selling for $3500.

1971- The 26th Amendment to the U.S. Constitution ratified, giving 18 year olds the right to vote.

1975- Just 4 days after divorcing Sonny Bono, Cher married rocker Gregg Allman.

1996- Margaux Hemingway, considered the first modern Supermodel, committed suicide at 41. Her grandfather Ernest Hemingway committed suicide, and his father before him.



1997- Britain gave the colony of Hong Kong back to China upon the completion of the 99 year lease settled by the Second Treaty of Chuen Pee in 1898. While much was being made of a democratic state being turned over to a totalitarian regime, Hong Kong only had direct elections of it's own officials since 1991.
----------------------------------------------------------------------------------------
Yesterday's Quiz: Gustav Holst was the composer of the Planets. What country was he born in?

Answer: He was born in Cheltenham, England, the son of Swedish immigrant parents.
I heard from Camille Leganza some news about the Irish animated feature the Secret of Kells- "The Secret of Kells" won the Audience Award at the Edinburgh International Film Festival! One of our producers, received the award from Sean Connery! Very cool.



I saw the film a few months back, and it's pretty good. Very interesting styles. Animated Celtic filagree.

It's one of the cold hard facts of doing animated features, that just because you complete an animated feature, it doesn't mean it will get a deal to be distributed to theaters in the U.S.A. I've seen many good international movies that for one reason or another didn't reach American theaters. I worked on Rock & Rule in 1982, and John Korty's Twice Upon a Time. Last year Nina Paley's beautiful Sita Sings the Blues came out on line, but I don't recall if made it to a theater.

Knocking on the door this year for some American Pie is

Brendan and the Secret of Kells ( Ireland) Tom Moore & Nora Twomey, which I hear will indeed get an limited American release.

Mary & Max by Adam Elliot ( Australia)

Missing Lynx by my old pal Raul Garcia ( Spain) This film won a Goya Award, Spain's Oscar.



I wish them luck and hope we all get to seen them in theaters. And remember, if we get more than 15 animated features released in the U.S., the Academy gives us 5 nominations instead of 3.
----------------------------------------------------------------
----------------------------------------------------------
Quiz: Gustav Holst was the composer of the Planets. What country was he born in?

Yesterday's Question answered below: What is a Te Deum?
----------------------------------------------------------------------
History for 6/29/2009
Birthdays: Bernard Hermann, Roscoe Fatty Arbuckle, Slim Pickens, Nelson Eddy, Gary Busey, John Hench, Little Eva, Harmon Killabrew, Antoine de Saint Exupery, Anna Sophie-Mutter, Leroy Anderson, Maria Conchita Alonso, Robert Evans, Ray Harryhausen is 88

65 AD- Feasts of Saints Peter and Paul. Supposing to be the date they were executed by order of Nero. Paul was beheaded in the Mamertine prison. He had the right to die quickly because he had honorary Roman citizenship- Civitas Romanum Sum! Peter was taken to Vatican Hill and when he expressed joy that he would die as Jesus had the Roman guard conceived of a variation and crucified him upside down. When later Roman Emperor Commodus learned the Christians venerated Vatican hill because of that event, he had his favorite racing horse buried there.

1762- Catherine the Great overthrew her husband Czar Peter III in a palace coup. When Catherine received word that Peter intended to depose her to marry his mistress she decided to strike first. Peter was mentally ill, so few believe he managed to make a child Her husband the Czar –Autocrat preferred playing with his toy soldiers in bed. But in those days if a marriage didn't produced children it was assumed the woman was at fault. Catherine had a son the Czarevich Paul. So the remainder of the Romanoff dynasty may well be the spawn of Count Orloff in the Guards, Polish Prince Poniatowski or any one of a number of men. Catherine was not even Russian; her original name was Sophie von Anhalt-Zerbst. She was given the name Catherine when she converted to Eastern Orthodoxy to marry. The Russian troops worshipped their "little mother" because her first order after the coup was to cancel Peter's planned war with Denmark, which the men thought foolish. Czar Paul was beaten and strangled, and Czarina Catharine became one of Russia's great rulers.

1776- SO YOU WANT INDEPENDENCE EH?- This day outside New York Harbor near Sandy Hook New Jersey an immense British fleet was sighted. 500 ships bringing 32,000 redcoat troops and supplies 3,000 miles. It was led by the Howe brothers- General Lord Willam Howe and Admiral Richard Howe, "Black Dick". One American soldier wrote:" There must be no one left in London, they are all here." Simultaneous forces were headed for the Carolinas and at the mouth of the Chesapeake to menace Philadelphia. The British regulars were augmented by regiments of Hessian German mercenaries, trained in the schools of Frederick the Great, reputedly the finest in the world. General George Washington with his little army of amateur farmers were going to face the largest amphibious invasion of that century.

1776- THE BATTLE OF SULLIVAN'S ISLE. At the same time, Colonial Minutemen repulsed another English seaborne attack, this one at Charleston, South Carolina. A rebel song of the time poked fun at the British commander, Sir Peter Parker's Lament :

" With Much Labor and Toil
Unto Sullivan's Isle
Came I like Falstaff or Pistol.
But the Yankees ('Od rot'em)
I could not get at 'em
And they terribly mauled my poor Bristol! (-HMS Bristol)

But My Lords do not fear
For before the next year,
('Though a small island could fret us)
The continent whole
We shall take by my soul,
If the cowardly Yankees will let us!"

1799- The little Kingdom of Naples had trouble deciding who's side it was on during the Napoleonic Wars. It was very pro-British until a French army showed up, when they drove out the king and became pro-French. The British came back with a fleet and put the king back on his throne. The Neopolitan King Ferdinand "Big Nose" VII had told his British friends:"treat my Naples like it was a rebellious Irish village ". On this day the commander of the Neopolitan Navy, Admiral Carracciolo, who had changed sides several times, was captured and brought before Admiral Horatio Nelson. Nelson convened a drumhead courts-martial, sentenced and hanged the old Italian from his flagship's yardarm all on the same day. His lack of mercy, even of enough time to allow the condemned time to say his prayers remains one of the only black marks on Nelson's otherwise brilliant naval career. After a yardarm hanging the body is cut loose and allowed to drop into the sea. In a grim postscript several days later King Ferdinand was looking out across the harbor when he dropped his spyglass in horror. Carracciolo's body, bloated, fish knawed and pop-eyed from the hanging, had resurfaced and was looking right at him.

1801- Composer Ludwig van Beethoven confessed to a friend that he was going deaf.

1863- Robert E. Lee with his army now invading Pennsylvania, learned from an actor turned spy named Harris that the Yankee army he thought he left back in Virginia was now following him and was close by. There was a danger his army could be attacked while in it was strung out in several columns foraging for supplies. Angry that Jeb Stuart's cavalry was off lost somewhere instead of scouting Lee orders his grey columns to turn away from Harrisburg and Philadelphia and concentrate where five main roads intersected. A little town named Gettysburg. Harris said he was not a spy but a patriot, yet he always insisted he be paid for his services in gold instead of worthless Confederate paper money.

1927- The first commercial plane reached Hawaii from the US mainland. It was a seaplane and at one point it ran out of fuel, landed in the water and the crew rowed the final few miles.

1935- Disney's short "Who Killed Cock Robin?" Disney animators considered this film a breakthrough for them in the development of realistic personality acting in animation . Around this time Disney artists forbade the use of black exclamation marks popping out of the characters heads to express alarm like they are used in print comics.



1936- Pope Pius X published the encyclical warning of the evils of Motion Pictures. "They glorify Lust and Lascivious behavior."

1940 – ROBIN THE BOY WONDER- According to Batman Comics, this day mobsters rubbed out a circus highwire team known as the Flying Graysons, leaving their son Dick an orphan. He was taken in by millionaire Bruce Wayne so Batman could have his Robin.

1940- First day shooting on the film Citizen Kane.

1941- One week after the German invasion began, at a secret meeting in Moscow, Soviet leader Josef Stalin was finally made to understand by his defense committee just how badly the Red Army was being beaten by the Nazis Blitzkrieg. Stalin left the room saying " Lenin had left us a powerful state and we have screwed it up!" By mid-October Hitler's tanks would be at the outskirts of Moscow.

1950- The Hollywood Ten are given jail sentences for contempt of Congress.

1956- President Eisenhower signed the Interstate Highways Act, allocating millions of dollars to build a system of interstate freeways connecting all the major U.S. cities. Ike was an engineer in the 1920s and saw the deplorable condition of American roads and during World War Two he saw the Germans use autobahns to move heavy mechanized units quickly Many innovations for smooth traffic transitions like the cloverleaf intersection and blending lane were first developed by German Bauhaus engineers for the autobahn.

1956- Marilyn Monroe married author Arthur Miller.

1966- Rolling Thunder. US B-52s bomb Hanoi for the first time.

1967-Actress Jane Mansfield and her dog are decapitated in a car crash when their car slammed into a parked tractor-trailor. Her children including Marisa Hargitay were in the back seat.

1968 - "Tip-Toe Thru' The Tulips With Me" by Tiny Tim peaks at #17.

1974- Isabella Peron, the second wife of Juan Peron after Evita, became President of Argentina.

1978- Actor Bob Crane, best known as the star in the television series Hogan's Heroes, was found beaten to death with an electric cord around his neck in a Scottsdale Arizona hotel room. Around his body were pornographic literature and a large library of home made porn tapes. The murderer was never found.

1989- Don Johnson married Melanie Griffith.

1992- The President of Algeria Mohammed Boudief was assassinated during a speech.

2002- President George W. Bush formally turned over presidential power for two hours to Vice President Dick Cheney while he underwent a colonoscopy- i.e. a fiber optic camera is shoved up his butt.
---------------------------------------------------------------------------
Quiz: What is a Te Deum?

Answer: A Te Deum was a celebratory mass, when something really good happens to the kingdom. Czars and Kings were often ordering Te Deums to be sung after some big victory or election of a Pope. From St Ambrose' hymn, Ted Deum Laudamus, give thanks to the Lord.
Quiz: What is a Te Deum?

Yesterday's Quiz Answered below: If a puta is a prostitute, what is puttanesca sauce?
-----------------------------------------------------
History for 6/28/2009
Birthdays: King Henry VIII, Luigi Pirandello, Jean Jacques Rousseau, John Dillinger, Richard Rogers, Gilda Radner, Cartoonist George Booth, John Elway, Don Baylor, CIA chief Leon Panetta, Mary Stuart Masterson, Kathy Bates is 60, John Cusack is 42, Mel Brooks is 82

1098- THE HOLY LANCE- Outside the city of Antioch Kerbogha the Saracen Emir of Aleppo was defeated by the warriors of the First Crusade inspired by the "Holy Lance". The Crusaders were surrounded and starving, when a monk from Marseilles named Peter Bartholomew began to have visions of St. Andrew. The Saint told him to instruct the Crusader warlords where to dig to find the Holy Lance that pierced the side of Christ. At first the monk was too frightened to go up to the barons but plucked up his courage after Saint Andrew appeared to him in a second vision and boxed his ears for not following his orders. Boy, that's one touchy saint! They dug in a church as instructed and found nothing, then dug up every other church in town until they found a rusty spike that looked close enough. The army was so zazzed over this obvious sign of divine favor that they stormed from the gates of the city to give battle. The Crusader Bishop Alhdemar Du Puy bolstered their religious zeal by dressing up three mounted knights in pure white, having appear on a distant hillside and declared they were the Saints Jude, Andrew and Maurice come down to fight the unbelievers. Thus inspired, the Crusaders joyfully slaughtered all before them. After the victory Peter Bartholomew started to order the crusader barons around and get real uppity. The warlords told him that they were going to build a huge bonfire and that if he could walk through the inferno unharmed, then God must surely be acting through him. By the morning of the test the little monk had run off.

1751- The first volume of the ENCYCLOPAEDIA appeared in print. French philosophers Diderot, D'Alambert and Voltaire inspired by the ideas of English scholars Newton and Francis Bacon decided to put a summary of all human knowledge into one work. Encyclopedie is from the Greek "Knowledge all in the Round". It took thirty years to write all the volumes, the last volume the index was published in 1780. But in those days the Encyclopedists were as much a political and anti-clerical movement as a fount of trivia. That these humanist scholars should attempt to define concepts like "God" The Soul" "Heaven and Hell," without Church permission was considered a declaration of philosophical war. The liberal thinking in the Encyclopaedia did a lot to advance the thinking of the Enlightenment and the American and French Revolutions.

1778- BATTLE OF MONMOUTH- The largest land battle of the American Revolution. George Washington had gotten word that the main British army had quit the rebel capitol of Philadelphia and was falling back to New York. He resolved to strike the British army while strung out on the march. It was the first battle where the Americans, their discipline stiffened by Baron Von Stueben's drills, could slug it out face to face with the redcoats. The temperature was a stifling 90-100 % F and many men collapsed from heat exhaustion. This was where Molly Harris, called Molly Pitcher, took her husbands place manning a cannon. She laughed when an enemy cannonball flew between her legs taking away parts of her lower petticoats.


The battle was a draw, but Washington had shown his army wasn't a mob of raggedy-ass farmers, but a true modern army. Washington also silenced his last critics among the other generals. His second, General Charles Lee, was retreating from the field when Washington rode up and rallied his men. Lee was dismissed from the service, but not before Washington gave him a piece of his mind. An eyewitness said: "As a connoisseur of swearing I can attest that General Washington excelled at calling Lee every swear word one could think of. It was wonderful. He swore until the leaves shook from the trees!"

1868- Artist Claude Monet was broke and so depressed he jumped in the Seine River. After splashing around for a while, he decided its silly to drown himself so he swam to the riverbank and went for a drink. He outlived all the Impressionist painters of his generation, dying in 1926.

1914-WORLD WAR ONE STARTS- commenting on 40 years of European peace, Otto Von Bismarck had said:" The next European war can only happen if some damn fool thing happens in the Balkans." The Austro-Hungarian Empire was muscling the little kingdom of Serbia. Austria had already annexed Bosnia in 1909 and Serbia claimed it as theirs. The heir of the Austrian throne, Archduke Franz-Ferdinand went on a provocative tour of the Bosnian town of Sarajevo in an open limousine. One terrorist Nedjelko Cabrinovic, hurled a bomb at the car but the driver avoided it and took another route. The Archduke stopped at city hall where he and the mayor got into an argument. The mayor claimed:"This city is absolutely safe!"


The motorcade proceeded until it was stopped by traffic at an intersection. Then 18 year old Bosnian Serb Gavrilo Princeps stepped out of the crowd and fired his pistol. The first bullet hit the Archduchess Sophie Chotek who slumped lifeless over her husbands lap. Franz Ferdinand cried out: "Mama don't die! For the children!" when another bullet killed him. The bullet holed car and uniforms are still preserved in Vienna today. Austria and Germany and Turkey declared war on Serbia and Russia and France and England. Later the whole world joined in the lunacy, about 58 nations and 22 million deaths, the last declaration was Honduras declaring war on Germany two months before the armistice. Gavrilo Princeps died of tuberculosis in an insane asylum in 1918, unaware that he had set the world on fire.

1919- The VERSAILLES TREATY is signed, finally ending the First World War. President Wilson had wanted a peace based on mutual respect and self-determination, but the winning powers led by Clemenceau and Lloyd George brushed aside his naive suggestions and wanted revenge. The German delegate was Count Brockdorff-Rantzau, a stiff monocled Prussian who's autocratic demeanor annoyed Wilson and lost probably the only sympathetic ear there." Isn't it always the same with those people?" Wilson complained.
Economist John Maynard Keynes warned the penalties heaped upon postwar Germany by article #232- The War Guilt Clause- would create a grave economic crisis for her and the world, all but predicting the Great Depression to come. The terms imposed on the defeated Germany were so crushing and humiliating that they were a major factor in the German public turning to Adolf Hitler. World War Two has sometimes been called the "War to settle the Treaty of Versailles"

1928- Louis Armstrong & Earl Hines recorded West End Blues.

1944- German commanders in the West Field marshals Rommel and Von Rundstedt had a showdown with Hitler at Berschesgarten. They tell their Fuehrer bluntly that since the Allied breakout at Normandy the war in the West was already lost. Germany must make peace at any price before she is totally destroyed. Hitler said the Allies would never make peace with him so he knows they mean he must resign. Hitler rants about the new miracle weapons that would turn the tide, but Rommel asks him about what to do now. Hitler angrily throws them out. Von Rundstedt was forcibly retired and another officer promoted over Rommel's head. Erwin Rommel decided to join in a generals plot to overthrow the Nazi leadership.

1950- General Douglas MacArthur flew out from Tokyo to see for himself the beginnings of the Korean War. He stood on a hilltop watching the terrible spectacle of the city of Seoul in flames. As bullets zipped around him and smoke and screams filled the air, he calmly lectured the newspapermen about the similarities to Napoleon's attack on Ratisbon in 1809.

1969- 40 YEARS AGO- THE STONEWALL UPRISING- New York City Police got a false tip about a stabbing in a mob owned transvestite Stonewall bar in Greenwich Village. Others claim the cops were there to get their kickback, and when it wasn't paid, they started arresting patrons. When they harass the bar without warning, the patrons began to fight back. In the 60's era of social revolution and liberation movements the fight caused three days of urban rioting and a new movement, the Gay Pride Movement, was born.

1971- Mobster Joe Columbo tells an Italian/American Unity Day rally in Columbus Circle, NY that the "Mafia" is a myth invented to insult people of Italian ancestry. A minute later hitmen sent by "Crazy Joe"Gallo, shot him down off the speakers platform.

1997- Heavyweight prizefighter Mike Tyson was banned from boxing and fined $3 million for biting off a chunk of Evander Holyfield's ear during a match.

2000- Little Cuban boy Elian Gonzales was taken by his father back home to Cuba after being in the US for 7 months. The 6 year olds estranged mother took the child and fled to Miami on a raft of refugees. She and her boyfriend drowned and the child was cared for by distant cousins and uncles. The Cuban boy's fate became sensationalized by the US media and the vocally militant anti-Castro Cuban community of Miami. Fidel's regime also had fun making publicity out of the traumatized boy's plight. Finally Attorney General Janet Reno ordered the family home raided by US Marshals to unite the boy with his father. Back in Havanna Juan Miguel Gonzales said:"I never want anyone to stick a camera in my sons face again!"
----------------------------------------------------------------------------------------------------------
Yesterday's Quiz: If a puta is a prostitute, what is puttanesca sauce?

Answer sent in from my friend J. Hoffner: In Italy, Puttanesca sauce was the food served by ladies who serviced, servicemen. Since they were Putanna's, the sauce was "nicknamed" after them...They were only allowed to shop for ingredients one day a week, so as not to mingle with respectable women. So they learned to make do with leftover ingredients.



Sophia Loren has a famous recipe
Mushroom (Puntanesca) Sauce. \

In pan over heat add olive oil, then drop in several anchovy filets
mushing them with your wooden spoon until they are a paste. Add garlic,
then 1 pound of sliced, cleaned mushrooms. Once they have wilted, add 28
ounces of roughly chopped plum tomatoes, cook together for 25 minutes.
IN the last 5 minutes, add 1-2 tablespoons of worchester sauce, a
teaspoon of oregano and freshly ground pepper. Just before taking off
the heat, I add a few tablespoons of chopped fresh flat parsley.
The new biography of the great cartoonist Harvey Kurtzman is finally available.



Harvey, like his contemporary Wally Wood, is not as well known today, but he was a very influential and important figure in American cartoon art in the mid-twentieth century. He created the look of EC comics, Mad Magazine, Little Annie Fannie for Playboy and enabled Monty Python to get started.( He introduced John Cleese to Terry Gilliam). He was a great teacher and I'm proud to say, he was my friend. As he was a friend who helped many cartoonists get their starts, like R. Crumb, Art Spiegelman, Drew Friedman, Bat Lash and Russell Calabrese.

http://www.amazon.com/Art-Harvey-Kurtzman-Genius-Comics/dp/0810972964/ref=sr_1_1?ie=UTF8&s=books&qid=1246087080&sr=1-1

Congratulations to authors Dennis Kitchen, Paul Buhle and Harry Shearer( forward) for a great keepsake. Buy it now! Sell your children, mortgage your dog, pry pipes from the walls to sell the copper, just get it! Hoo-Rah!

-----------------------------------------------------------------
Quiz: If a puta is a prostitute, what is puttanesca sauce?

Yesterday's Quiz answered below: What is a coup d' etat?
----------------------------------------------------------------
History for 6/27/2009
Birthdays: Swedish King Charles XII "the Madman of the North", Helen Keller, Norma Kamali, Charles Stuart Parnell, Bob" Captain Kangaroo" Keeshan, Emma Goldman, Walter Johnson, Ross Perot, Isabella Adjani is 54, Lauren Hill, Alice McDermott, Tobey McGuire is 34, Tony Leung Chu Wai is 47

1542- Juan Cabrillo set sail from Mexico to explore the unknown California Coast. He was told he might find a magic kingdom of Califa, a land of brown amazons with golden swords.

1787- English historian Edward Gibbon completed his most famous work-The Decline and Fall of the Roman Empire. The massive history ran thousands of pages and took twenty years to write. When he presented the first volume bound in gold to mad King George III, the King said: -"What's this? Another damn big, black, square book, eh Mr. Gibbon? Scribble, Scribble!"

1788- The Battle of the Liman. Catherine the Great's fleet defeated the Turkish navy in the Black Sea near the Moldavan coast. What is memorable about this was one of the Russian admirals was Pavel Ivanovich Jones, or John Paul Jones from the US Navy. During the night Jones got in a little boat manned by one Cossack named Ivak and had himself rowed out into the middle of the Turkish Navy to inspect it. Jones suffered no discovery and even paused to write graffiti on the stern end of a Turkish battleship to prove he was there. He wrote in chalk the French: "This ship to be burned- Paul Jones". Next day it was.

1829- James Smithson died. The English scientist had amassed a huge fortune from patents yet was snubbed by polite London society because of his illegitimate birth. So he turned his back on his mother country and willed his money to the United States, specifically asking a museum be set up in his name. The Smithsonian Institute was the result.

1844- Mormon leader Joseph Smith and his brother Hyram were killed by a mob in Illinois. After being shot down Smith was propped up and used for target practice. A man drew his Bowie knife to decapitate the body but Mormon folklore says his hand was stopped by a thunderbolt.

1863- George Gordon Meade named commander of the Union Army of the Potomac. The quiet Pennsylvanian was awoken out of his sleep at three a.m. by a courier sent by special train from Washington. At first he thought he was under arrest. General Meade would have command for just one week before he would have to fight the greatest battle in U.S. history- Gettysburg.

1876- Major Gibbon's column discovered the remains of Custer and the Seventh Cavalry at the Little Big Horn. It was near one hundred degrees Fahrenheit in the dry sun. At first from a distance they thought the naked bloated bodies were skinned buffaloes. Custer's men had all been paid their monthly wages before riding out of Fort Lincoln. The Indians were uninterested in paper greenbacks, so among the carcasses little piles of money were blowing through the greasy grass. Because hostile Indians were still in the vicinity Gibbon's men hastily buried the soldiers where they fell. A few years later when a proper burial detail arrived to re-inter the bodies and remove Custer's remains to West Point they had trouble telling just who was who. So they shoveled a few bones and some yellow hair into a box and called it Custer. As late as 1991 Gen. George A. Custer III has refused to have the West Point tomb opened for DNA testing.

1905- Big Bill Haywood banged a board on the table to call to order the First Meeting of the I.W.W.-the International Workers of the World. Mother Jones, Dorothea Parsons, Eugene Debs, Emma Goldman and Fighting Bob LaFollette were also present. The I.W.W. nicknamed the Wobblies, was a labor movement that sought to unite all working people into one big international organization.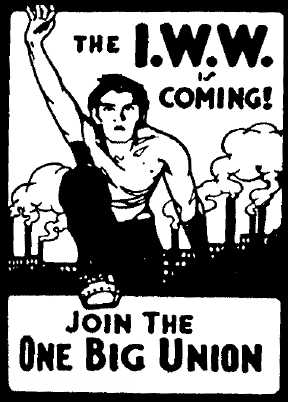 Their romantic message of labor brotherhood, carried by poor folksingers like Joe Hill, was popular among miners and farmworkers. But their radical politics terrified big business. When they came out against U.S. participation in World War One the government violently suppressed them.

1922 - Newberry Medal 1st presented for kids literature, the first winner was Hendrik Van Loon.

1949 - "Captain Video & His Video Rangers," debut on DUMONT-TV.

1966- TV soap opera Dark Shadows premiered, starring Barnabas Collins the Vampire.

1973- Senior White House Counsel John Dean testified to the Watergate committee that President Richard Nixon maintained an Enemies List. The list ran from Senator Ted Kennedy to journalists like Daniel Shore to June Foray who did the cartoon voice of Rocky the Flying Squirrel.

1984- Hollywood introduced the PG-13 rating to indicate graphic violence, invented for the film Indiana Jones and the Temple of Doom. Fresh monkey brains,anyone?

1995- Boyishly proper British actor Hugh Grant is busted for soliciting sex from a Sunset Blvd. street hooker named Divine Brown. Grant had just released a film called the Englishman " Who went up a Hill and Came down a Mountain". Pundits had fun changing the title to "The Englishman who went to L.A. a Hugh and Came Back a John."

2007- British Prime Minister Tony Blair stepped down after ten years. His first nickname in office was Bambi.
----------------------------------------------------------------------------------------------
Yesterday' s Quiz: What is a coup d' etat?

Answer: An overthrow of a government by force. Literally "to strike a blow at the state."
Quiz: Iranian protesters are calling conditions a coup d'etat. What is a coup d' etat?

Yesterday's question answered below: What was the origin of the phrase,the Real McCoy?
-----------------------------------------------------------------------------------
History for 6/26/2009
Birthdays: Peter Lorre- born Laszlo Lowenstein, Pearl Buck, Abner Doubleday, Babe Deidrickson-Zacharias, Willy Messerschmidt, Claudio Abbado, Woolie Reitherman, Gregg LeMond, Vittorio Storaro, Colonel Tom Parker, Pat Morita, Chris Isaak, Derek Jeter, Chris O'Donnell, Sean Hayes is 39

363 AD- Julian the Apostate slain falls in battle. Julian was the Roman Emperor who decided his stepdad Constantine had made a mistake making the world Christian and we should go back to Zeus, Venus, Hercules and the lot. This is why he is called "Apostate". Despite his religious views, he wasn't a bad leader.


During his invasion of Persia his camp was surprised by the army of the Grand Surenna, the Persian Prime Minister. Julian jumped on a horse without his heavy breastplate and rode into the melee. As he was struck in the chest by the enemy spear, he supposedly looked heavenward and said:" You have won, Galilean." The legions elected emperor a Christian General Jovian, and Europe never looked back.

1483- Duke Richard of Gloucester, having locked up his two nephew princes in the Tower of London "for protection", has them declared illegitimate, so he could become King Richard III. Even after Richard was killed in battle and the Tudor Dynasty in place the two little princes seemed to have disappeared. In 1903 their two little skeletons were discovered buried under a staircase in the Tower.

1496-Michelangelo Buonnarotti arrived in Rome to look for work. Coming from the city of Florence he was treated as the citizen of a foreign country.

1541- Francisco Pizzarro, the conqueror of Peru, was eating dinner in Lima when his enemies rushed in and stabbed him to death.

1815- After Waterloo, Napoleon requested a condition of his abdication be that he be allowed to go to the United States. He started to study books on America and the provisional French government prepared two frigates at Rochefort to take him across the Atlantic. Napoleon said his goal was now to be a scientist and study flora and fauna but he also said to another "Come, let us go to Texas and found a new Empire in the Desert!" But the allies would not allow this dream to manifest. The British took him instead to a lonely prison island off the coast of Africa, Saint Helena.

1830- Ascension of King William IV of Great Britain after the death of his brother George IV. While still Duke of Clarence, William kept a certain actress, a Mrs. Jordan as a mistress, by whom he sired ten illegitimate children. One day he told his mentally tottering father, George III, that he paid her 1000 pounds annually for this service. Reportedly, the feisty king was much agitated by this revelation and replied: "A thousand, a thousand--too much! Too much! Five hundred quite enough! Quite enough!" Some time later, following the collapse of his relationship with Mrs.Jordan, and after perhaps reflecting on his father's words, William demanded repayment of a portion of her "allowance." She responded by sending him the announcement for a play that read, "Positively no money refunded after the curtain has risen."

1858- The U.S. Army marched into Salt Lake City Utah. This was considered the end of the Mormon Rebellion. The city was deserted as Mormon leader Brigham Young had ordered the population to flee into the mountains. The US commander Col. Albert Sidney Johnston would later die at Shiloh leading Confederate forces. In the soldiers' gambling tents, nicknamed FrogTown, was a teamster and card-shark named William Clark Quantrill, who would one day lead his rebel guerrillas-Quantrills Raiders in a bloody path across Kansas and Missouri.

1870- Atlantic City inaugurated its ocean side boardwalk; the first of it's kind in the US.

1888- Scots writer Robert Louis Stevenson embarked from San Francisco to wander the South Pacific and finally settle in Samoa.

1906- The first Grand Prix automobile race was held at Le Mans, France. The winner was Hungarian Ferenic Szisz with a top speed of 63 miles an hour! Szisz also was sporting those newfangled rubber tires on rims, which change faster than regular wood wheels.

1924 - The Ziegfeld Follies opens on Broadway.

1925- Charlie Chaplin has a lavish Hollywood premiere for his new film the Gold Rush. He had edited the film in secret in an upstairs hotel room in Salt Lake City to keep away from the public and his wife's bill collectors.

1926- From his London flat John Logie Baird invented television. The Boob Tube has no one single Tom Edison-like inventor but many claimants. The Englishman joined the ranks of others who claimed to have invented TV first, including Richard Farnsworth, Vladimir Zworkin, Dr. Lee DeForrest and Deutsches Kino.

1927- The Cyclone Rollercoaster ride debuted at Coney Island Amusement Park. It was built on the site of the Switchback Railway, the first modern rollercoaster. The Cyclone is still thrilling and scaring people today.

1945- The United Nations is born when 50 nations sign the U.N. Charter in War Memorial Opera House in San Francisco. John F. Kennedy was there trying his hand as a journalist.

1961- John F. Kennedy makes his "Ich Bin Ein Berliner" speech at the Berlin Wall. He electrifies and inspires all Europe despite " ein berliner" also meaning a local brand of little jelly donut. The proper way to say I am a Berliner is "Ich bin Berliner". I guess "The Proudest boast a free man today can say is, I am a little jelly donut!" has a certain cachet for some folks. The crowd smiled but was polite.


Today in Berlin tourist shops, you can buy a plastic donut with JFK's speech coming from a hidden computer chip.

1964 - Beatles release "A Hard Day's Night" album.

1965-"Hey, Mr. Tambourine Man " by the Byrds hits number one on the US pop charts. Bob Dylan wrote the lyrics. William Shatners version became the most well known.

1968- Pope Paul VI announced excavations in the ancient Roman cemetery located in the sub-sub basement of Saint Peters Basilica had discovered the bones of Saint Peter himself. There were a few red faces when it was also found out that a Vatican librarian had removed the crucial piece of stone with the inscription "Here is Peter" and had kept it for himself.

1990- The IRA detonated a bomb in the elite conservative hangout in London called the Carleton Club. The exclusive club's rules are so strict that Prime Minister Margaret Thatcher had to be named an "Honorary Man" before she could enter.

1992- Secretary of the Navy William Garnett resigned over the Tailhook Scandal, when Navy pilots went wild partying at a convention and sexually assaulted and groped 26 women including 14 fellow officers. Female officers testified of having to run a gauntlet of drunken pawing pilots tearing at their clothes.

2000- THE GENOME- Scientists announce they had cracked the human gene code and now had a rough sketch of how our DNA is assembled. Custom drugs could now e developed matching the DNA of an individual patient. It is called the biological equivalent of the landing on the moon.

2003 - Lenin said the Workers Must Control the Means of Production. Today a group of strippers bought the San Francisco bar the Lusty Lady.
----------------------------------------------------------------------------------------------
Yesterday's Quiz: What was the origin of the phrase, the Real McCoy?

Answer: During Prohibition bootleg booze made with shoe polish, Coke and rubbing alcohol was passed off in speakeasys as genuine brands like Johnny Walker or Seagrams. A rich young yacht owner named William McCoy ran his own boat to Jamaica and smuggled quality brand alcohol back. So to attest to the genuine quality of a drink was to say" It's the Real McCoy."
| | |
| --- | --- |
| | |