VIEW Blog Titles from November 2006
ARCHIVE
Blog Posts from November 2006:


Well, I'm back in LA but I'm still buzzing about my time last night at the New York Booksigning! The speakers area of the Chelsea Barnes & Noble was standing room only.




Lots of old friends from ASIFA*East like Mike Sporn, John Dillworth and David Levy. Lots of friends from The School of Visual Arts like my old teacher Howard Beckerman and Animators Ink fellow Jose Maldonado. Julia Lord, a lovely literary agent who encouraged my pursuing a writing career, and Jeremiah from the Hubley clan. And lots of new friends, animation students from SVA, NYU and points east. We told stories, and swapped laughs and a great night was had by all.




MONDO THANK YOUSE to all my old friends who came out, and thanks to Don and Reeves and the SVA and Barnes & Noble folks who put it all together.

-----------------------------------------------------
Birthdays: Samuel Clemens aka Mark Twain, Winston Churchill, Jonathan Swift,Gordon Parks, G. Gordon Liddy, Alan Sherman, Abbie Hoffman,Virginia Mayo, Ephram Zimbalist Jr, Richard Crenna, Robert Guiliame,Mandy Patinkin, Luther Ingram, Ridley Scott is 69, David Mamet, Ben Stiller is 41, Shuggie Otis, Billy Idol, Joan Ganz Cooney the creator of Sesame Street, Dick Clark is 78,

1782- On a dark snowy day in an upstairs room on the Rue Bonaparte on Paris' Left Bank, The United States and Britain signed the first of several protocols leading up to the full peace treaty ending the American Revolution in 1783. John Adams,John Jay, Benjamin Franklin and Richard Lawrence signed for America, a parliamentary
delegation led by Lord Oswald signed for the Crown. On British diplomat said The Americans are the greatest quibblers I have ever dealt with, and I pray never to again in the future!

1886- Paris' famed naughty nightclub the Follies Bergere opened. The home of the Can-Can, Toulouse Lautrec, Josephine Baker, Brickttop, Maurice Chevalier.

1900- Oscar Wilde died of meningitis in a hotel in Paris. His last words; "This wallpaper is appalling! Either it goes or I do."

1924- The first fax message sent. A photo of the Prince of Wales was wired across the Atlantic by radio transmission.

1940-actress Lucille Ball married Cuban band leader Dezi Arnez de Acha. Together they pioneered the new art of sitcom Television. They divorced in 1960.

1970- First day shooting on William Freidkin's film The French Connection.

1974- In a dry gully in Ethiopia Dr Dennis Johannsen discovered the perfect skeletalremains of one of the earliest human ancestors, an ape that walked upright named- Australiopithicus Afrancenis or Lucy. Johannsen liked the Beatles song Lucy in the Sky with Diamonds.

1979- ESPN, the 24 hour sports channel began broadcasting.

1982- Nova Pictures is founded, but due to conflict with a PBS t.v. show of the same name they change theirs to TriStar Pictures.In 1994 TriStar was merged into SONY Pictures.

1985-Punk band The Dead Kennedys released their album Frankenchrist.

2003- Roy Disney Jr, the last member of the Disney family was forced to resign from the Walt Disney Company. It was claimed to be the mandatory retirement policy but more likely he was forced out by the exec he hired to run the company in 1984- Michael Eisner. Roy and the Disney family attorney Stanley Gold fought back by organizing a grassroots campaign of former employees and investors called SaveDisney.com. In 2005 after Eisner announced his retirement Roy Disney was restored to an emeritus consultant position.
Spent a nice Tuesday at the School of Visual Arts talking to the students.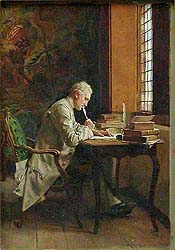 TONIGHT I'LL BE BOOKSIGNING AND DISCUSSING DRAWING THE LINE WITH MY NEW YORK FRIENDS AT THE CHELSEA BARNES & NOBLE, 675 SIXTH AVENUE, NEAR 22ND STREET AT 7:00PM. SEE YOU THERE!
I wrote this because this is our story, the story of all who make their living in the art of animation. My one regret is I wish I could have put a copy in the hands of Art Babbitt, Bill Scott, Maurice Noble, Walt and Selby Kelly, Bill Hurtz, Jules Engel, John & Faith Hubley, Grim Natwick, Chuck Jones, Sadie Bodin, Ellen Jenson, Lillian Friedman, Eric Larson, Moe Gollub and Shamus Culhane. Now at least people will hear the missing parts of their stories. How they were more than just great artists, more than great filmmakers. That they spoke out and took a risk for all of us, and made of our business a real family.

-------------------------------------------------------------------------------------------
Birthdays: Gaetano Donizetti, Busby Berkeley, C.S. Lewis, Louisa May Alcott, Chuck Mangione, Vin Scully, Gary Shandling, Cathy Moriarity, Don Cheadle, Joel Coen, French President Jacques Chirac, Kim Delaney, Howie Mandell, Susee "Chapstick" Chafee

1890- The first Army-Navy football game held at West Point. Midshipmen beat the cadets 24-0.

1913- John Randolph Bray's "Colonel Heeza Liar in Africa" cartoon. Bray adapted Henry Ford's assembly line system to making animated cartoons, creating positions of layout, background painters, inkers, cel painters, checkers and camera. Before this one artist like Winsor McCay and an assistant did everything. Paul Terry, Walter Lantz, Max & Dave Fleischer and Shamus Culhane all got their start at Bray's.

1929- Commander Richard Byrd radioed he'd made the first airplane flight over the South Pole. Commander Byrd had flown over the North Pole in 1926 with his friend Floyd Bennett but Bennett had since died and when Byrd made it over the South Pole he dropped a small American flag weighted with a stone from Bennett's grave.

1959-The Second Grammy Awards broadcast for the first time on television. Bobby Darins' rendition of Mack the Knife won top honors.

2001- former Beatle guitarist and composer George Harrison died of cancer.
Living Large in the Big City. Had a nice time at NYU Tisch School of the Arts talking with students. I also stopped in to the Strand Bookstore in Greenwich Village to see my book in the stacks. I loved to go browsing there as a student years ago. It is a great rush to have something of my own there. Makes the last four years of rewrites and footnoting and rejections from publishers somehow worthwhile.

Then spent the day with Emily Hubley going over artwork and photos from the careers of her parents, John and Faith Hubley. John saved a lot more Walt Disney material than I expected. More about that later.

Down to Lombardi's on Spring Street in the Little Italy section of Manhattan for dinner. For those who don't know its significance, it is called the Oldest Pizza Parlor in the USA. Gennaro Lombardi brought his family recipe over from Italy in 1897 and began making them for the public in 1905. His brick oven is still the one used today for my dinner. Wow. Like Dali' said, it ain't Art unless you can eat it!

courtesy American Heritage Magazine

QUIZ What is a Pizza Margherita and why is it called that? answer below-

Tomorrow a visit to the School of Visual Arts animation department.
-------------------------------------------------------------------------------------------
Birthdays: Jean Baptiste Lully, William Blake, Frederich Engels, Brooks Atkinson, Berry Gordy the founder of Motown Records, Randy Newman, Anton Rubinstein, Ed Harris is 56, Paul Schaefer, Laura Antonelli, Joe Dante, Michael Ritchie, Jon Stewart is 44, Anna Nicole-Smith is 39

1922- The first Skywriting display. Former RAF pilot Cyril Turner wrote HELLO USA , CALL VANDERBILT 7-200 in the skies above New York City. 47,000 people immediately telephoned the number.

1925- First radio broadcast from the Grand Ol' Opry in Nashville.

1947- Disney's cartoon "Chip and Dale".

1948- Hopalong Cassidy premiered on television.

1981 - Moviestar Natalie Wood drunkenly toppled off her yacht near Catalina Island and drowned. Her husband,Robert Wagner and friend Christopher Walken, were onboard having an argument and unaware of her predicament. Wood had once confessed to a friend that she had a horror of drowning.
---------------------------------------------------
QUIZ:
What is meant by a Pizza Margherita?

ANSWER: The second king and queen of Italy after modern unifiication were Umberto Ist and Queen Margherita. They spent their coronation year, 1880, touring aroung Italy. When going through Naples, the cooks there wanted to present the queen with a pizza decorated with the colors of the Italian flag. So it was Tomatoes for the Red, Mozzarella for the White and Oregano for the Green. The queen loved it, and to this day a plain pizza with no extra toppings is called a Margherita.
Dropping in today on John Canemakers class at NYU, then a visit with the Hubley family.

More Wisdom from the Ancient Animators.




The safest, most secure studio is two flops from disaster. One flop and the response from the leadership is" It's okay, we'll learn from this and move on." But after the second flop, when you hear" Time to re-evaluate", it means get your portfolio in order.
-Shamus Culhane 1908-1996

------------------------------------------
Birthdays: Cornelius Vanderbuilt, Jimi Hendrix would have been 65, Bruce Lee- real name Lee Jun Fan- would have been 66, James Agee, Chaim Weizmann, David Merrick, Marshal Thompson-Daktari!, Robin Givens, Judd Nelson, Buffalo Bob Smith

1582- William Shakespeare 27 married Ann Hathaway 25. They had a son who died and two daughters. In 1585 Shakespeare left his wife in Stratford on Avon, and by 1591 was known as an actor in London. He invested in land in Stratford and in 1616 retired to the country to spend time with his daughters and grandchildren but he never went back to Ann. It's been speculated that she was a Puritan while Shakespeare enjoyed making fun of Puritans in Comedys like "Twelfth Night"."Just because thou art Virtuous thinks there shall be no more Cakes and Ale?"

1921- English writer Alastair Crowley proclaimed himself Outer Head of the Order Templeis Orientalis- or Order of the Temple of the East. Alastair Crowley had spent years studying and mastering various occult devotions- Freemasons, Rosicrucians, Gnosticism, Iluminati in order to fuse them into his own form of black magick devotion- Thelema he called it based on the satires of the 1500's French poet Rabelais. He boasted often that he wanted Crowleyism to eventually replace Christianity. He sold virility pills to men that contained a drop of his own semen in the formula. His own mother called him:"The Wickedest Man in the World".

1924- The First Macy's Thanksgiving Day Parade in New York. The marvel of the parade were large displays that moved down the street thanks to small automobiles concealed under them. They seemed to "float",so they are called parade floats today. The huge balloons were added in 1934. Originally after the parade the balloons were let go to float away into the sky. Macy's offered a bounty to people who found them after they landed, sometimes in rural New Jersey.

1933- Former Terrytoons animator Art Babbitt, now at Disney's, writes to fellow animator Bill Tytla encouraging him to move to California. "Terry owes you a lot and Disney has plans for a full length color cartoon!"

1936- Max Fleischer's cartoon featurette, "Popeye meets Sinbad the Sailor". This two color featurette was Max's attempt to get one up on Walt Disney and his feature length cartoon idea- Snow White.

1953- Playwright Eugene O'Neill died of pneumonia and Parkinson's Disease at 65. He had been writing on cardboard laundry shirt boards because he needed something large to write on because his hands trembled so violently. When O'Neill realize his end was near he tore up six plays he was writing because he wanted no one else to complete them. He was staying at the Shelton Hotel in Boston. As his father was an actor his family traveled frequently. O'Neill's last words were : "I knew it! Born in a hotel room and G-ddammit I'm dying in a hotel room! "

1960 – Gordie Howe becomes the first NHL player to score 1000 goals.

1967- The Beatles release Magical Mystery Tour.

1973- According to the X-Files this was the night Fox Mulder's sister Samantha was abducted by aliens.

1985- Steven Speilberg married Amy Irving. They later divorced.

Start Spreadin' da noose.." The Sito Booksigning Tour and Snake Oil Show is rolling towards the New York City this week. If you are anywhere in the Eastern Standard Time Zone, drop everything and head to my book signing Weds night. Strong men will weep!

-------------------------------------------------
Birthdays: John Harvard 1607(founder of Harvard University), Bat Masterson, Eugene Ionesco, Bruno Richard Hauptmann, Marian Mercer, Tina Turner, Charles "Sparky" Schulz creator of Charlie Brown and Snoopy, Cyril Cusak, Eric Severaid, Rich Little, Robert Goulet

1865- Lewis Carroll sent a copy of the completed manuscript of his fantasy Alice in Wonderland to his 12 year old friend Alice Liddell. Carroll later published the book with his own money. This is one of the first books written solely to amuse children, and not to educate or discipline them.

1896- AA. Stagg of University of Chicago invented the football huddle.

1926- Potato Chips, or Crisps in the UK, were invented in the 1880's and served in restaurants and fairgrounds. I remember in Brooklyn the Dugan's Bakery Truck delivering potato chips in a large tin container. This day Ms Laura Scudder was the first to put potato chips in a bag and sold them as a handy snack food. She sold them out of the back of her pickup truck until the business picked up. She ran her own company until 1959.

1939- The first Woody Woodpecker Cartoon, "Knock-Knock.'Mel Blanc originated Woodys voice until taken over by Gracie Lantz.

1945- Charlie Parker, Dizzy Gillespie and Miles Davis recorded Coco, the first true BeeBop Jazz single. The pianist at the session didn't have his New York union card so after his riff Miles Davis dropped his trumpet and did the piano backup to Birds' solo. The term Bop came from an earlier Lionel Hampton hit "Hey-Bop-A-ReBop".

1975- Former Charles Manson follower Lynette "Squeaky" Fromme is convicted of trying to assassinate President Gerald Ford with a starters pistol.

1976- Sex Pistols Punk single "Anarchy in the UK" released.

1990- Acting on the example of Sony's purchase of MGM-Columbia studios, Matushita (Panasonic) bought MCA- Universal studios for $6.6 billion. After a few fruitless years they sold it to the Bronfmans group, the distillers of Seagram's Whiskey.
| | |
| --- | --- |
| | |