Spent a nice Tuesday at the School of Visual Arts talking to the students.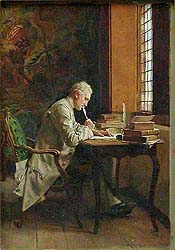 TONIGHT I'LL BE BOOKSIGNING AND DISCUSSING DRAWING THE LINE WITH MY NEW YORK FRIENDS AT THE CHELSEA BARNES & NOBLE, 675 SIXTH AVENUE, NEAR 22ND STREET AT 7:00PM. SEE YOU THERE!
I wrote this because this is our story, the story of all who make their living in the art of animation. My one regret is I wish I could have put a copy in the hands of Art Babbitt, Bill Scott, Maurice Noble, Walt and Selby Kelly, Bill Hurtz, Jules Engel, John & Faith Hubley, Grim Natwick, Chuck Jones, Sadie Bodin, Ellen Jenson, Lillian Friedman, Eric Larson, Moe Gollub and Shamus Culhane. Now at least people will hear the missing parts of their stories. How they were more than just great artists, more than great filmmakers. That they spoke out and took a risk for all of us, and made of our business a real family.

-------------------------------------------------------------------------------------------
Birthdays: Gaetano Donizetti, Busby Berkeley, C.S. Lewis, Louisa May Alcott, Chuck Mangione, Vin Scully, Gary Shandling, Cathy Moriarity, Don Cheadle, Joel Coen, French President Jacques Chirac, Kim Delaney, Howie Mandell, Susee "Chapstick" Chafee

1890- The first Army-Navy football game held at West Point. Midshipmen beat the cadets 24-0.

1913- John Randolph Bray's "Colonel Heeza Liar in Africa" cartoon. Bray adapted Henry Ford's assembly line system to making animated cartoons, creating positions of layout, background painters, inkers, cel painters, checkers and camera. Before this one artist like Winsor McCay and an assistant did everything. Paul Terry, Walter Lantz, Max & Dave Fleischer and Shamus Culhane all got their start at Bray's.

1929- Commander Richard Byrd radioed he'd made the first airplane flight over the South Pole. Commander Byrd had flown over the North Pole in 1926 with his friend Floyd Bennett but Bennett had since died and when Byrd made it over the South Pole he dropped a small American flag weighted with a stone from Bennett's grave.

1959-The Second Grammy Awards broadcast for the first time on television. Bobby Darins' rendition of Mack the Knife won top honors.

2001- former Beatle guitarist and composer George Harrison died of cancer.
| | |
| --- | --- |
| | |