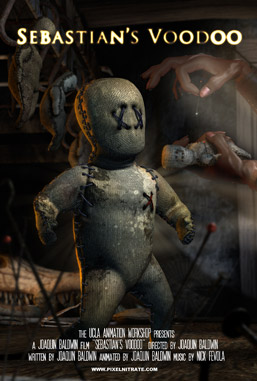 Today I heard one of my UCLA animation students, Joaquin Baldwin, has had his film SEBASTIAN'S VOODOO accepted at the Cannes Film Festival! He worked on it in class and it was a joy giving him notes on it.

I am very proud of Joaquin! Congratulations!

And thank you Melissa Graziano for making me aware of this.

It is running in a competition sponsored by the National Filmboard of Canada.
-----------------------------------------------------------------
Event: Support Bruin Joaquin Baldwin's animated film at CANNES
"Vote Online!!"
What: Exhibit
Host: CANNES SHORT FILM CORNER ONLINE
Start Time: Saturday, May 9 at 4:00pm
End Time: Wednesday, May 20 at 7:00pm
Where: http://www.facebook.com/l/;http://www.pixelnitrate.com/

To see more details and RSVP, follow the link below:
http://www.facebook.com/n/?event.php&eid=93719042648&mid=71c22fG47ad29adG334832G7

Another one of my students, Imran Shafi, has a film in the finals of the Student Academy Awards. Congratulations!
--------------------------------------------------------------
Question: One or two American Presidents went back to Congress after leaving office. How many British Prime Ministers went back to the benches after their term is over?

Yesterday's Quiz answered below: What is the difference between Beijing, Peking and Peiping?
------------------------------------------------------------------------------------
History for 5/11/2009
Birthdays: Salvador Dali', Jean Jerome, Chang and Eng Bunker-the original Siamese Twins-1811, Baron Munchausen, Irving Berlin, King Oliver, Martha Graham, Dr Richard Fenyman, Mort Sahl, Phil Silvers, Foster Brooks, Denver Pyle, Henry Morgenthau, Doug McClure, Randy Quaid, Natasha Richardson, Rev Louis Farrakhan

330 A.D. Constantine the Great founded his city of New Rome, called Constantinople on the site of an older Greek city called Byzantium. The Russians call it Tsargrad, the Turks Istambul or "The City". A favorite ethnic joke of the ancients was how the people of Chalcedon had migrated right past this perfect natural harbor and central location to build their city in a flat, arid desert. So to be" as dumb or blind as a Chalcadonian" was a surefire laugh getter in Athens or Sparta.

1189- German Emperor Frederick Barbarossa (red-beard) led 100,000 Crusaders out of Regensburg towards the Holyland. Two thirds of them never came home.

1780- A RUDE SHOCK TO THE INDEPENDENCE OF AMERICA.- That was how it was described by a Tory minister back in London, when the British Army captured the last major American seaport- Charleston, South Carolina. Colonial General Lincoln and 2500 regulars laid down their arms, it is the largest surrender of American troops in the Revolutionary War. At one time during the Revolution all of the largest US cities: Boston, New York, Philadelphia and Charleston were under British occupation. The capture of Charleston also wiped out what little was left of the U.S. Navy. John Paul Jones was sitting on a beach in New Hampshire waiting for a new ship. It was the French navy, not the American, that won the war at sea. Up till then the British strategy had been to wait out the bankrupt Yankees and concentrate on fighting the French and Spaniards in the Caribbean. George Washington recognized this strategy was working, since Congress was broke and the unpaid Yankee Army on the verge of mutiny. But their victory at Charleston encouraged the British to deviate from their plan and commit new armies to conquer America from the South. That decision led to the great British defeat at Yorktown.

1792- Captain Robert Gray discovered the Columbia River in the Oregon territory.

1812- A British merchant named Bellingham who's business was ruined by the Napoleonic wars, walked into the lobby of the House of Commons, and shot Prime Minister Sir Spencer Percival. He was the only British Prime Minister ever assassinated.

1864-JEB STUART FELL- Confederate commander of cavalry Jeb Stuart was a Beau-Sabeur who always rode into the thickest of a fight. This day one soldier shouted:" General, you must love bullets!" Stuart replied:" I don't love bullets, but I can't hide from them. I got a feeling I'm not going to survive this war." Then he rode into battle with Sheridan's cavalry at Yellow Tavern six miles north of Richmond. A dismounted Yankee marksman spotted the familiar gray horseman with the black plumed hat and cape. As he rode by he emptied his carbine into him. Gutshot, Stuart still managed to ride a mile to the rear before falling insensible from his horse.




He died shortly afterwards. He was 31. Jeb Stuart loved partying and kept around him a colorful crowd that included Sweeny the banjo player, accompanied by Stuart's manservant Bob on bones and a German aristocrat dragoon named Major Heros Von Borcke, who traveled from Prussia to fight for Dixie. Stuart called him "My dear Von". After his death Von Borcke returned to Germany where he flew the rebel Stars & Bars over his castle in Geisenbrugge in Thuringia until his own death in 1895.

1878-Young anarchist Erik Hymdel tries unsuccessfully to assassinate Kaiser Wilhelm Ist. People today fear Al Qaeda but in the "Gilded Age" 1870's to 1920's it was the Anarchist movement- the stereotypical men in broad hats and long black coats with smoldering round bombs. They believed that society itself was the problem and if it could be broken down only then would everyone be truly free.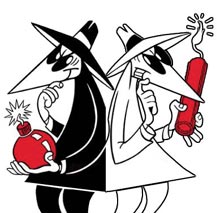 In the times mentioned they assassinated an American President -McKinley, the Tsar of Russia, the Kings of Italy and Portugal, The President of France, The Empress of Austria, took shots at Edward the Prince of Wales and dynamited countless buildings like Wall Street Banks and the Los Angeles Times. When they were executed they usually shouted "Long Live Anarchy!" at the end. Composer Richard Wagner flirted with the movement and once wrote the anarchist philosopher Bakhunin" I work for the same goal as you, namely, a World in Flames."

1945-After the Nazi Germany surrendered the Nazi governor of occupied Norway, Josef Treboven, committed suicide by sitting on a stick of dynamite. When Wile E, Coyote does it, its funny, but Norwegian Nazis? Its messy.

1946- The first CARE package sent.

1956 - Pinky Lee Show last airs on NBC-TV

1968 - actor Richard Harris attempted a singing career, releasing the song "MacArthur Park".

1968- The Vietnamese give up their siege of the Marine firebase at Que Sanh. The siege had lasted since January.

1969- In Vietnam the 101st Airborne and South Vietnamese forces began their assault on Hamburger Hill. Originally called the Ap Bia mountain, it was nicknamed Hamburger because of the meat grinder loss of human life to capture it. It was taken May 20th with the 11th assault.

1972 -On the Dick Cavett talk show Beatle and peace activist John Lennon said his phone had been tapped by FBI. It turns out it was, but at the time we all thought he was just paranoid from too many drugs.

1981- The musical play CATS opened in London.

1981- Bob Marley died of brain cancer at age 36. Jamaican Marley and his group the Wailers, made Reggae mainstream in pop music around the world.

1992 - Carlos Herrera, chef, bartender and inventor of the Margarita, died at age 90- Margherita was supposedly named for Hollywood actress Margaret Sullivan who wanted to drink tequila and lime but couldn't tolerate the strong taste. Herrera mixed the tequila and lime juice into an iced cocktail and put the salt along the rim. He mixed a batch whenever he heard the actress was in Tijuana, writing on the bottle- For Little Margaret- Por Margherita.

1997- Deep Blue, a computer developed at IBM, defeated top world chess champion Gennady Kasparov.
------------------------------------------------------------------------
Yesterday's Question: What is the difference between Beijing, Peking and Peiping?

Answer:Answer: There is no difference, they are all the same city. The Chinese name for the city called Northern Capitol- pinyin or Pei-Ching has been translated by westerners as Peking, The Mongols and Marco Polo called it Daidu. During Chiang Kai -shek's Nationalist rule, it was Peiping. When Mao tse Tung won and the People's Republic was declared in 1949, they said the proper name was Beijing.
| | |
| --- | --- |
| | |