Yesterday I had a nice interview with KPCC radio-journalist John Rabbe for his show Off Ramp. Don't know if it will air this Saturday, but I'll let you know. We met at El Coyote on Beverly in Hollywood. It's been there since 1931, and in those early years it was one of the places the underground animation union would hold its secret meetings. Present at those early meetings were President Ted Pierce, Grim Natwick, Ed Friedman, Shamus Culhane, Al Eugster and Frank Tashlin. No Walt Disney Artist would show up yet to support the nascent movement.
------------------------------------------------
Birthdays: Martin Luther, Guiseppi Verdi, Helen Hayes, Disney art director Mary Blair, Louis Lumiere of the cineam inventing Lumiere Brothers, Thelonius Monk, Warner Bros surrealist animator Rod Scribner, LaVerne Harding one of the first women animators, Alberto Giacometti, Tanya Tucker, Harold Pinter, James Clavel, Jodi Benson the voice of the Little Mermaid, David Lee Roth, Bradley Whitford, Sharon Osbourne is 55.

1469- Renaissance master artist Fra Filippo Lippi died, probably poisoned by the family of a girl he seduced. The great painter was a major influence on Leonardo daVinci and Massaccio, but for a Carmalite monk he had an immoderate lust for women. He left one son, the artist Fillipino Lippi, by his wife Lucrezia Buti, a nun he had carried off from the convent of Santa Margherita promising to use her as a model for the Madonna.

1886- The first Tuxedo jacket worn at the Autumn Ball at Tuxedo Park, New York. Another story of the origin of the fashion was supposedly invented by English gentleman on safari with Bertie the Prince of Wales. Wanting to appear at dinner formally but because of heat and high spikey grass they cut the lower part of their long dinner jackets off.

1953- "Winky Dink and You" show. Children were invited to place a piece of celluloid acetate on their t.v. screens from a kit and help Winky Dink through numerous adventures by drawing on their t.v. screens. Of course many kids didn't wait for the acetate but just drew on their family TVs with indelible markers. The birth of Interactive T.V. -?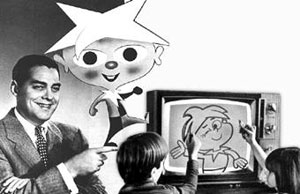 courtesy GoodDealGames.com

1957- RKO Studios, who produced King Kong, The John Ford Westerns and the Fred Astaire-Ginger Rogers musicals, was sold to Desilu- the television production company of Lucille Ball and Desi Arnez.

1962- The BBC banned on air play of a novelty record The Monster Mash, by Bobby Picket doing his impersonation of Boris Karloff. For some reason they considered it offensive.

1980- Actor William 'Billy" Thomas, also known in the Our Gang kiddie comedies as Buckwheat, died at 49. His last words weren't "O' Taayy !"

1985- Orson Welles and Yul Brynner die one hour apart. They were both 70. Welles had just finished taping yet another appearance on the Merv Griffin Show. Brynner had a furious smoking habit, supposedly leaving one lit cigarette in every room of his house as he paced around thinking.When he knew he was dying of the stuff, he recorded several television spots to be aired after his death. He looked squarely at camera and said: " I smoked. -Don't."
| | |
| --- | --- |
| | |