More Wisdom from the Ancient Animators




In animation, anything can work!
-Dwayne Crowther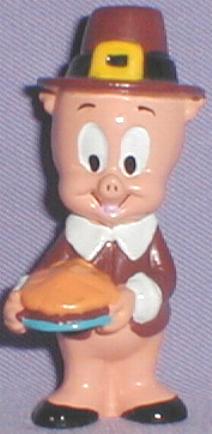 HAPPY U.S. THANKSGIVING- Since the earliest recorded times societies have had harvest festivals to give thanks to the appropriate deities that they're not going to starve come winter. Whether or not you believe in 1621 Pilgrim Gov. Bradford and Massacoit and his Wampanoag Indians sat down to dinner, the custom of Thanksgiving was a New England custom for decades thereafter. A few years later the New Englanders exterminated these same Indians and stuck Massacoits son King Phillips dismembered head on a post. In 1789 George Washington had called for a thanksgiving celebration in late November to celebrate the new Constitution but the holiday didn't really become an annual custom until the Civil War. Sarah Hale the editor of the Ladies Magazine had been lobbying the US Government to make the New England practice a national one. In 1864 after the capture of Atlanta and Mobile Bay it looked obvious that the Union was finally going to win the Civil War. President Lincoln issued a decree that the last Thursday of November be set aside as a feast of national Thanksgiving –Old Abe had just won his re-election so he had lots to be thankful for as well. As blue clad troops chowed down on their turkey and chicken dinners the Confederates withheld their fire in honor of the new Yankee holiday. To this day Thanksgiving is still declared by Presidential decree, probably buried somewhere in the back of today's newspaper.
In 1940 President Roosevelt tried to move Thanksgiving earlier in the month to help Depression-wracked business by spurring early Christmas shopping, but people were used to it where it was. If he was alive today he would see that Xmas shopping gets going before Halloween these days..
Thanksgiving is the mellowest holiday. somehow if you're not in a festive mood on New Years or July 4th you feel doubly guilty. All Thanksgiving demands is you make a big meal and eat it. So enjoy. Happy Thanksgiving.


---------------------------------------------
Birthdays: German Emperor Otto Ist 972AD, President Franklin Pierce, Krystoff Penderecki, Manuel DeFalla, William Henry Pratt better known as Boris Karloff, William Bonney better known as Billy the Kid, Susan Anspach, Victor Jory, Vincent Cassel, Robert Towne, Joe Esterhaus

1889- The first Juke Box installed at the Palais Royale Saloon in San Francisco. Created by Louis T. Glass it used Edison cylinders instead of records and cost 5 cents a play. Juke comes from Juke Joint, a slang term for a dance hall.

1897-First Royal performance for Queen Victoria of a Cinematograph moving picture, at Windsor Castle. Also on the program was Monsieur Taffary's Calculating Dogs.

1903- Italian tenor Enrico Caruso made his debut at New York's Metropolitan Opera in Verdi's Rigoletto. The great singer loved drawing cariacatures, collecting police badges, pinching ladies bottoms and doing practical jokes like filling your hat with flour. Painter Norman Rockwell recalled when he was paying his way through school by being a Met stagehand Caruso liked to talk art with him and he asked about George Bridgemans class, the great anatomist.

1936- The first florescent lighting tubes are installed, in the U.S. Patent office.

1936- Time Magazine owner Henry Luce launched LIFE Magazine. The first picture on the cover was a dam photographed by Margaret Bourke-White. The second picture was a doctor slapping a newborn baby with the caption: "Life Begins!"

1938- Bob Hope recorded his signature tune "Thanks for the Memory" for the movie The Big Broadcast..

1942- PLAY IT AGAIN SAM- The movie CASABLANCA premiered. Based on an unproduced musical play "Everybody Comes to Ricks', Howard Koch and the Epstein Brothers adapted the play into one of the most memorable Hollywood movies ever. It was never expected to be more than a rehash of the popular Charles Boyer film Algiers. The role of Rick was turned down by George Raft, and Hunmphrey Bogarts first reaction was " Aw..it's just some more sh*t like Algiers.." Bogart acted opposite Ingrid Bergman, although he had to stand on apple boxes to appear taller than his Swedish leading lady. During the famous scene where the French exiles drown out the singing Germans with a stirring rendition of le Marseillaise the Germans are singing Watch On the Rhine. The director wanted them to sing the Nazi Party anthem the Horst Wessel Song but the Warner Legal Dept discovered it was copywrighted! We're at war but we don't want them Nazis to sue us! At this time the real Casablanca was still in a war zone so director Michael Curtiz and his art director Carl Jules Wyl had to fake what a North African French colonial city might look like. A decade later while filming in Spain he took the ferry over to Casablanca to see how close they came. Driving around Curtiz remarked "Carl, this doesn't look anything like our movie!!"

1952- Animator Fred Moore, who drew Mickey Mouse in Fantasia and the Brave Little Tailor, died in an auto accident in the Tujunga Canyon area of Los Angeles.

1960- The Hollywood Walk of Fame is dedicated, featuring over 1,500 names- but not Charlie Chaplin, who was banned until 1972 because of his lefty political views.

1963- The first episode of Dr.Who premiered on the BBC.

1966-The film " Spinout " premiered. Elvis Presley pioneered the genre movie of bored male movie stars who use their studio muscle to make us watch movies of them in racing cars. James Garner in Grand Prix-arguably the best one, Steve McQueen in LeMans, Tom Cruise in Days of Thunder, Sly Stallone in Driven, etc.

1990- 37 year old baseball catcher Bo Diaz was crushed to death by a large satellite dish he was trying to install.
| | |
| --- | --- |
| | |