Birthdays: Tyrone Power, Karl Marx, Elizabeth Cochrane called Nellie Bly, Soren Kierkegard, Alice Faye, James Beard, Michael Palin, Pat Carroll the voice of Ursula in the Little Mermaid, John Rhys Davies, Lance Henriksen

Happy Cinco de Mayo! Like Saint Patrick's Day in Ireland , Cinco de Mayo in Mexico doesn't get that much attention, but it's a good excuse for Mexican Americans to show pride and all the rest of us to guzzle our Dos Equis and Cuervo Especial. Viva la Raza!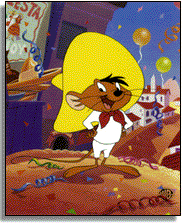 Warner Bros Character Speedy Gonzales, named for animator Frank Gonzales and designed by Bugs Hardaway.

National Cartoonist's Day.

1504 -Sir Anton of Burgundy, known as The Great Bastard, dies at 82. We don't know much about this knight but you gotta love that nickname!

1953- Broadway Director Jerome Robbins was riding high after directing hits like On the Town and King & I when he was labeled a Communist by Ed Sullivan. To save his career this day he testified before Joseph MacCarthy's House UnAmerican Activities Committee HUAC and named names. One actress he finked on -Margaret Lee said" I've just been stabbed by a wicked fairy". Ironically Robbins went on to direct two of his biggest hits "A Funny Thing Happened on the Way to the Forum and the Fiddler on the Roof using blacklisted actors like Zero Mostel, Bea Arthur and Jack Gilford, who all hated him.

1961- Alan Shepard became the first American in space on board Friendship VII. The rocket took him 115 miles into space but not high enough to achieve an orbit. That was done one year later by John Glenn. Shepard was kept on the ground in his capsule for so long he had to pee in his suit. In the upside down position the fluid ran up his back and puddles in his helmet behind his head. Ick.

1968- Albert Dekker, star of monster movies like Dr. Cyclops, was found hanged in his bathroom handcuffed and wearing ladies lingerie and with a narcotics syringe sticking in his arm. The police declared it an 'auto-erotic episode that had gone wrong."




1975- Anne Rice's novel The Interview With The Vampire first published.

1985- President Ronald Reagan started a firestorm of controversy among veterans groups when he laid a wreath in Germany at a cemetery in Bitburg that contained graves of Nazi Waffen-SS soldiers. Some of them may have participated in the infamous Malmedy Massacre of US prisoners. When looking for a place for Reagan to stay the State Department scouted around for a German host who was conservative but had no Nazi connections. Finally they found a Junker Baron who was born in 1942. So Reagan stayed at his castle. Once there the Baron revealed even though his father was not in the party, when born his godfather was Adolf Hitler! Doh!


Don't blame me, I voted for Cheney.
| | |
| --- | --- |
| | |