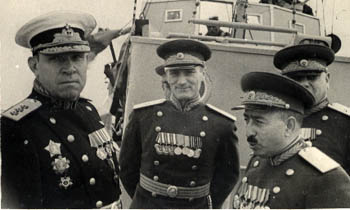 Typical Union Meeting. Comrade Ivan, I heard they are hiring board artists on Family Guy..?

For you Animation Guild 839 members in the LA area, next Tuesday is the meeting for nomination of new officers for the union. They will serve a three year term. I hear a lot of top jobs may be up for grabs. Even if you usually can't be bothered going to these, THIS is always the most important General Membership meeting you can ever attend.

This is your chance to have a direct impact on how decisions are made by the local. The people you nominate will have the power over the financial health of LA animation, which has ramifications for the rest of the country. A bad or militant board can provoke major ruptures within the business which could bring on a strike or drive work out of town. A lazy or apathetic board can let the relevancy of the union movement fall away from the newer members and could cause management to ignore your rights under our contract.

Ignoring this meeting is like lending your wallet to a stranger.

Under my presidency (1992-2001) we organized big studios like Dreamworks, brought more CGI artists into the union than any other such organization in the world, built a multi-employer 401k plan and helped create complete medical coverage for same-sex couples. Under current President Koch retraining and user groups for traditional artists to CGI accellerated, big studios like the Simpsons now enjoy union benefits, the first games companies unionized and a new 839 headquarters is being built. We are the fifth largest union in the Hollywood backstage.

I salute all of those who donate their time and energies to making the local answerable to all and force for good for all our Toon Town family.

A corporation is not a democracy. A company is not a democracy. Our union is us, artists united. We are a democracy. For all our sakes and our families, please participate.




__________________________________________________

Happy Yom Kippur

Birthdays: Louis Joliet as in the French explorers Marquette and Joliet, Gustav Holst, H.G. Wells, Stephen King,Cecil Fielder, Rob Morrow, Larry Hagman, Ricky Lake, Fanny Flagg, Ethan Coen of the Coen Brothers, Leonard Cohen not one of the Coen Brothers, Faith Hill, Bill Murray of Osmosis Jones is 57, legendary animation director Chuck Jones

courtesy toon images.

1327- English King Edward II was openly gay with his courtiers Piers Gaveston and later Hugh Despencer. In the Middle Ages it was okay to be gay if you were a big tough mo-fo killer like Richard Lionheart, but Edward was a weenie who lost battles to Scottish King Robert the Bruce. So he was overthrown by his own Queen Isabella the She-Wolf of France and her lover Roger Mortimer. This day Edward was murdered while being held in Berkeley Castle. The barons shoved a red hot spear up his butt. Edwards only son Edward III later killed everyone involved except his mom and became an utterly great king.

1589- During the French Religious Wars King Henry IV defeated a large Catholic League army at Arques. He wrote a friend later:"Go hang yourself my brave Creon, we were at Arques and you weren't!"

1793- The French Revolutionary Government throws out the calendar and makes a new one. So today was the FIRST DAY OF THE FIRST DECADE (week) OF THE FIRST MONTH OF YEAR II OF THE REPUBLIC ! If you didn't get it you were guillotined.

1846- Drygoods dealer Mr. A.J. Stewart opened a store in New York City that was so large he put the various items in their own departments, the Department Store. He also had the first large glass display windows which one writer labeled "A useless extravagance."

1897- The famous column by Frank Church in Joseph Pulitzer's New York World first appeared with the answer to 8 year old Virginia O'Hanlon's question : " ...and yes Virginia, there is a Santa Claus..."

1915- The British archaeological treasure Stonehenge was sold at auction to a Mr Chubb, who promptly donated it to the British nation.

1917-The Gulf Between, the first film shot in Technicolor. Because the process was more expensive than other processes in 1932 inventor Herbert Kalmus made a deal with Walt Disney to make his cartoons exclusively in technicolor to advertise to other studios the bold pure color.

1920- The Kimberly Clark Company introduces Kotex ladies napkins in a hospital-blue box. Before that women had to wear something like a linen diaper that they washed and re-used.

1938- It's very rare for a hurricane to reach up into the colder Mid-Atlantic waters of the Eastern seacoast of the US. This day the Long Island Express- A force 3 Hurricane slammed into New England killing 600. The Boston area was hit with 120 mile an hour winds and downtown Providence was flooded under 13 feet of water. Hurricanes and Typhoons didn't start to get names until the 1960s when they began to be tracked on radar and satellite.

1944- An internal FBI memo concludes "Communist infiltration of the Hollywood Guilds and unions and the only organization that could stop them was the Motion Picture Alliance for the Preservation of American Ideals" a conservative publicity group that included Louis B. Mayer, John Wayne, Gary Cooper and Walt Disney.

1945- Disney short "Hockey Homicide" the first Sport-Goofy directed by Jack Kinney. Producer Harry Tytle mentioned in his memoirs that although Walt Disney didn't complain about their success Walt never liked these cartoons and thought Goofy too stupid a character for the public to identify with.

1948- the first Texaco Star Theater television show featuring a minor nightclub comedian named Milton Berle. Berle's antics make him a major star and with Arthur Godfrey's show help grow television from a scientific curiosity to the entertainment every household had to have. For ten years the U.S. public never missed Uncle Miltie on t.v.


1950- General MacArthur's UN Army fought their way into North Korean occupied Seoul. On a hilltop the First Marines Div raised a US flag on a loose drainpipe found near a local school. This caused one regular Army commander to complain: "Ever since Iwo Jima the Marines never pass up an opportunity to be photographed raising a flag over something!"

1954- The USS Nautilus, the first nuclear powered submarine, was launched in Groton Conn. The submarines in the Finding Nemo ride at Disneyland were originally painted to look like the USN nuclear ships Nautilus, Wasp and one other I can't recall.

1957- The Perry Mason tv show with Raymond Burr premiered.

1970-first ABC Monday Night Football - Cleveland Browns defeated the NY Jets led by Broadway Joe Namath, 24-21. Announcers- Keith Jackson, Howard Cosell and retired Dallas Cowboys quarterback Dandy Don Meredith. In 2006 the show moved to ESPN.

1985- "Money for Nothing" by Dire Straights hit #1 in the Billboard charts. Writer Mark Knopfler was inspired by a workman in an electronics store making fun of celebrities on MTV and wrote his discussion down.
| | |
| --- | --- |
| | |