VIEW Blog Titles from July 2006
ARCHIVE
Blog Posts from July 2006: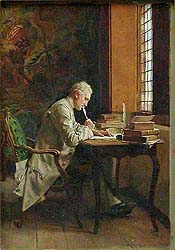 E. Meissonier, courtesy of artnet.com

Plans for Book Signing appearances for DRAWING THE LINE are currently being finalized for Nov-December at UCLA, USC, the Cartoon Museum in San Francisco and the School of Visual Arts in New York. We're inviting ASIFA/Hollywood, ASIFA/SF and ASIFA/East to make them all a fun reunion. Our first looks like it will be at Gordon Beirsch in Burbank on Good Luck Friday the 13th of October,courtesy of Creative Talent Network. I'm preparing a powerpoint talk with some images that didn't get into the book in time.

Stay tooned to this station for more developments. And when they come you're all welcome to drop in. I and my comrades will spin you some more ribald tales of Days of Yore when Animators were Animators and they didn't trust you if you weren't a Scotch drinker
Birthdays: Liberace, Sebastian Sperling Kresge the founder of S.S.Kresge stores. Wesley Snipes, Milton Friedman, Sherry Lansing, Geraldine Chaplin, Kurt Gowdy, Dean Cain-Remember when he was Superman?, Primo Levi, Ted Cassidy who played Lurch in the Adams Family and was the voice of Space Ghost and the Herculoids, and according to J.K. Rowling this is the birthday of Harry Potter

1873- San Francisco's famous cable car system starts up.

1930- Radio mystery show The Shadow premiered. "Who knows what evil lurks in the
hearts of men? The Shadow knows...heh, heh, heh...". Orson Welles did the voice of the
crime fighting Shadow for a year in 1937 for $185 a week, which for a 22 year old was pretty good money.

1995- The Walt Disney Company bought the ABC Network, the Discovery Channel and
ESPN, shutting the new company DreamWorks out of a television deal just negotiated with ABC. Disney later accused TimeWarner of monopolistic practices.
Birthdays: Georgio Vasari, Henry Ford, Emily Bronte', Vladimir Zworykin inventor of the television cathode tube, Arnold Schwarzenegger is 59, Peter Bogdanovich, sculpter Henry Moore, Lawrence Fishburne, Jean Reno, Hilary Swank, Christopher Nolan, Lisa Kudrow is 43

1932-Walt Disney's "Flowers and Trees" the first Technicolor Cartoon. Disney had worked out a deal with Technicolor creator Herbert Kalmus to use his technique exclusively for two years to show larger Hollywood studios its quality.

1932- The first Los Angeles hosting of the Olympic Games in their spanking new Coliseum. Gold medallist in swimming Larry Buster Crabbe later became a movie star. Another medalist, the Hawaiian Duke Kahanamoku, began to teach the Californians about a new sport- surfing!

1936- Producer David O. Selznick buys the movie rights to the best selling book "Gone With The Wind" from an ailing Irving Thallberg. The "boy genius" Thallberg was hoping that Selznick would ruin himself in the process of making this film. Thalberg was convinced that GWTW would prove to be a massive flop because "Costume dramas are box office poison."

1954 - Elvis Presley joins Local 71, the Memphis Federation of Musicians. "Uhh.Thankyuh..thankyuh…uhh, solidarity foh-eiveah!"
Dear Gang, My second book has gone up on Amazon for pre-order. I contributed the animation chapter to this ambitious work. It's three volumes and a bit more expensive than Drawing the Line, but hey, you're getting more authors and more info. Here is the link and the description in the catalog.

http://www.greenwood.com/catalog/C8793.aspx


Paul Buhle (ed.)
Praeger Perspectives Volume 1: Film, Television, Radio, and Popular Art Volume 2: Theater, Music, and Literature Volume 3: Sports, Leisure, and Lifestyle
Book Code: C8793
ISBN: 0-275-98793-0
Praeger Publishers
Publication Date: 12/30/2006
List Price: $300.00 (UK Sterling Price: £170.00)
Availability: Not yet published. (Estimated publication date, 12/30/2006)
Media Type: Hardcover
Trim Size: 6 1/8 x 9 1/4
Subjects:
Popular Culture » Popular Culture (General)
Interdisciplinary Studies » American Studies
Multicultural Studies » Jewish Studies
Description: Since they first began arriving in the United States in large numbers at the end of the 19th century, Jewish Americans have played a significant role in shaping American culture. The influence of the Jewish people is deeply and richly felt in many realms, including art, literature, politics, humor, and sports, to name just a few. The American film industry was pioneered by the likes of Adolph Zukor, Harry Cohn, and Jack Warner. Tin Pan Alley and Broadway gave the country George Gershwin, Irving Berlin, and Stephen Sondheim. Where would rock 'n' roll be without Lou Reed, Bob Dylan, and the Beastie Boys? Jews and American Popular Culture examines the influence of a highly creative and resilient people who have flourished despite the myriad forms anti-Semitism has taken since their earliest arrival.Chapters explore topics across a range of time periods and genres, including assimilation, stereotypes, and the Holocaust. In addition to examining the works of such compelling figures as Woody Allen, Philip Roth, Hank Greenberg, the Three Stooges, Allen Ginsberg, Wendy Wasserstein, and Ann Landers, a team of unparalleled scholars explains how a comparatively small, underprivileged group of people has managed to overcome great odds and wield wide-ranging influence on contemporary culture. Shut out of more traditional fields, Jews in the final decades of the 19th century and the opening decades of the 20th century embraced the new technologies of film, radio, and television, as well as new industries and areas of commerce, from the department store to novelty toy distribution. What resulted was an American culture shaped by a resilient minority population. From Betty Boop to Barbie, from The Honeymooners to Friends, the creative spirit of American Jews defines our culture. Edited by acclaimed author Paul Buhle, featuring the work of leading scholars and journalists, and presenting a never-before published comic strip by Harvey Pekar (whose life was featured in the film American Splendor), this definitive, comprehensive three-volume set represents the first-ever work of its kind.
Birthdays: Alex de Tocqueville, Benito Mussolini, Grigori Rasputin The Mad Monk, Clara Bow, Natalie Wood, Paul Taylor, Sig Romberg, Dag Hammarskjold, Peter Jennings, Michael Spinks, Ken Burns, Booth Tarkington, Professor Irwin Corey, David Warner, Steven Dorff

1927-Dr Phillip Drinker and Dr Louis Shaw installed the first Iron Lung breathing apparatus at Bellevue Hospital in New York, giving Bob Clampett lots of ideas for sick jones in his Daffy Duck cartoons.


1936 - RCA shows 1st real TV program: dancing, a film on locomotives, a Bonwit Teller fashion show & monologue from the Tobacco Road radio comedy show.

1942- Orson Welles leaves Rio De Janiero after RKO fires him and stops production of "It's All True". They also have "the Magnificent Ambersons" re-cut to a more acceptable 90 minutes.

1948- Animation assistant Hank Ketcham had left Walt Disney Studio after the 1941 Strike. After a stint in the Navy cryptographic unit he moved to NY and tried selling cartoons to The New Yorker Magazine. While he worked his baby son Dennis drove his wife crazy. One day after the kid smeared the contents of his diaper across the dining room Mom exclaimed in frustration " YOUR SON IS A MENACE!" This gave Ketcham an idea. Today the comic strip "Dennis the Menace," premiered.

1962- The film "Dr No" premiered, introducing the world to the suave spy James Bond 007 played by actor Sean Connery.

1987- Ice cream makers Ben & Jerry announce the flavor Cherry Garcia, named for rock singer Jerry Garcia of the Grateful Dead.
| | |
| --- | --- |
| | |